Yesterday, it was the Bills offense that put on a great show at training camp. EJ Manuel continued to show steady improvement, and the offense came back with a vengeance in the red zone. Wide receivers Sammy Watkins, Mike Williams and Chris Hogan put on a clinic to the delight of a sizeable crowd. The following are some of the observations I made while attending my last practice for the year.
Watkins Isn't the Only WR Turning Heads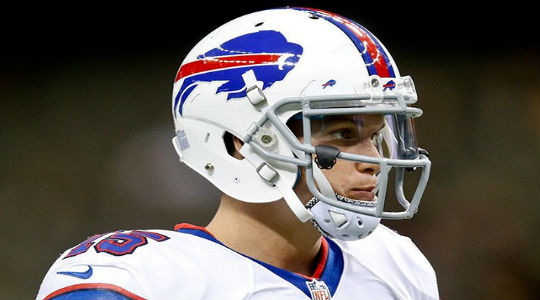 Sammy Watkins turned a perfectly thrown 40 yard pass from EJ Manuel into a 98 yard touchdown pass that hit Watkins in stride early in 11-on-11 work. It has become an expectation to see at least one stunning reception from Sammy at each practice.
However, Sammy was not the receiver who made my jaw drop the most on Thursday. That honor would go to Chris Hogan, who made several impressive catches despite being well defended. He wasn't alone in that regard, but Hogan has shown the biggest improvement of all the receivers returning this season from what I observed at camp this week.
Hogan's ascent up the depth chart answered any question about who should backup Robert Woods in the slot. He regularly found seams in the middle of the field and exploited the defense, seemingly at will. He was perfectly positioned, reaching around and over the top of defenders who simply could not stop him.
At one point, the receivers frustrated Aaron Williams so much that he had a mini-meltdown on the field. He clearly hates it when the secondary is beaten on any play. I haven't seen that level of passion coming from a player in practice in years. It doesn't seem to matter to him that it's "just practice." That's exactly what you hope to see from a player, a passionate desire to win every single play, every single day.
Cyril Richardson Does Well at LG as the OL Continues to Improve
After a slow start, Cyril Richardson has been getting reps at both guard positions. On Thursday, he lined up at left guard and did not look overwhelmed. Richardson (6'5", 343 lbs.) is definitely a work in progress, but the fact that Marrone is rotating him in with the first team is a sign of significant progress on his part.
Overall, the offensive line continues to improve with each practice. Despite moving players around, you can see the light starting to go on for the rookies on the offensive line. Kouandjio has yet to unseat Pears at the right tackle position, but is working hard to get better each day. It's understandable that the three rookies are not going to develop at the same rate, so it's important for fans to be patient as they develop.
Confidence can be a fleeting emotion when expectations are high, and a sense of urgency can sometimes create performance anxiety. The offensive line gurus that have mentored me along the way have shown me the technical aspects of proper footwork and hand placement. I have come to learn that one small error in proper body alignment can have disastrous results. Not everyone handles that type of pressure the same way.
Performance Anxiety May Be Affecting T.J. Graham
Performance anxiety is not only an issue for rookie offensive linemen at camp this year. T.J. Graham has continued to let too many balls slip through his hands. After another dropped pass thrown right into his hands again at Thursday's practice, his frustration was palpable as he continues to struggle securing the ball.
Marquise Goodwin has a similar skill-set, and with one less year of experience he has already surpassed Graham on the depth chart. With the acquisition of Sammy Watkins and Mike Williams, every drop he makes becomes a bigger issue. Once frustration and doubt starts to creep in, it makes it increasingly difficult to overcome.
What once may have come easily now becomes much more difficult to accomplish. Performance anxiety can block timing, peripheral vision, and become a self-fulfilling prophecy. When millions of dollars and a life long pursuit of a dream are on the line, the stakes don't get much higher.
Wide Receiver isn't the Only Highly Competitive Position Group on Offense
There is also a great deal of depth at the running back position. Throughout the week at camp, Ronnie Wingo has been quietly looking very good. However, he is buried underneath Fred Jackson, C.J. Spiller, Bryce Brown and Anthony 'Boobie' Dixon. If Wingo is placed on the practice squad, he will likely be snapped up by one of several teams lacking depth at the position.
Wingo is a powerful guy who has the strength to push for yardage with defenders all over him. Throughout the four practices I've attended, he has stood out as a guy who may perform very well if given an opportunity. However, that chance may not come playing for the Buffalo Bills.
It's pretty clear that when Whaley made the moves to acquire both Bryce Brown and 'Boobie' Dixon that he intended to make this a run oriented offense. Despite a plethora of talented wide receivers, this makes a great deal of sense for several reasons.
Running the ball effectively is the best way to keep the pressure to perform off of Manuel, who must make a big leap forward this season if the Bills are going to reach their goal of getting to the playoffs. Running the ball controls the clock, and it's a prudent strategy for a team that plays in bad weather for at least half of the regular season.
A strong running game established early in the season will also allow Sammy Watkins more time to develop with less pressure on him to produce right away. The offensive line will need to perform at a higher level than what we have seen in previous years for the running game to become consistent, especially on third down.
TE is the Position of Most Concern at This Point
While there is significant depth at the wide receiver and running back positions, the situation at tight end is desperately thin. Scott Chandler has a groin injury, and these types of injuries often nag at players for an entire season because they don't get a chance to properly heal. Lee Smith was also out with a "lower body injury" according to Doug Marrone.
Chris Gragg was recently hospitalized for problems with dehydration and is slowly getting back into the lineup. Dominique Jones was recently acquired to supplement the position, but he is a long way from digesting the entire playbook.
Could someone like Evan Rodriguez flip positions and play the TE position? Rodriguez is another guy I've been watching at camp who has looked very good every time he touches the ball. Fortunately, this offense does not rely heavily on TEs as do other teams like the Patriots. It's definitely the weakest position group on the team at this point.
A Big 'Thank You" to All the Great Fans I Met This Week
I will be returning to Wyoming on an early flight this morning and would like to thank everyone for making this the most enjoyable camp experience I've had to date. To all the people I had a chance to connect with at camp, I'm grateful for the time you took to visit with me. For those who I was unable to connect with this year, I apologize and will hunt you down next year.
It was fun tweeting live from camp because I consider Bills fans to be part of my family. I'm grateful to all of you who have joined me on Twitter, and look forward to continuing to communicate with all of you throughout the season.
For those of you going to Canton for the enshrinement of Andre Reed, be safe and have a wonderful time. Be sure to get on Twitter and share your experience with the rest of the BillsMafia. Again, thanks to all of you for making my visit to training camp a joyous experience. I look forward to sharing a great season of football with all of you.