Although I was only able to watch the first part of practice because of the rain delay, it was enough to observe some positive development over the three practices I've attended this week. Overall, the trend line looks up, with some notable improvement coming in several areas.
EJ Manuel Is Showing Steady Improvement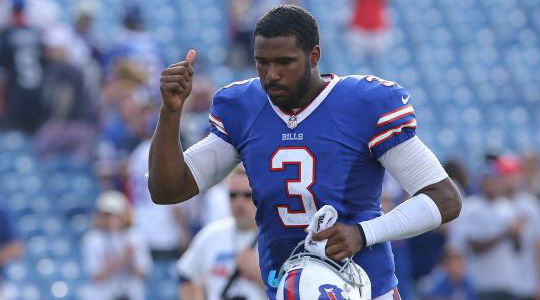 Today was one of those days where you could see things starting to come together for EJ Manuel. His passes were crisp, and he was throwing tighter spirals with improved accuracy. You can see the confidence he has in his receivers growing with each practice. His rhythm is better, his footwork is significantly improved, decisions are being made faster, and he is getting through his progressions with greater efficiency.
He threw a bomb that Marquise Goodwin caught in stride for a touchdown that looked effortless on both ends. It was a perfectly placed tight spiral that fell right into Goodwin's hands. This extra week of camp appears to be helping him as much as anyone.
One area where Manuel still needs to do some work is in short yardage situations in the passing game. He still seems to throw a better bomb than five yard passes at times. Hopefully this will improve as camp goes on.
Thad Lewis Is Losing Ground To Jeff Tuel
Lewis has been rather inconsistent over the three practices I've watched this week. He will throw a great pass, and follow it up with a blooper. He doesn't seem to be in rhythm with his receivers. We'll have to see whether he can shake the rust off, or continue to lose ground to Tuel in the fight for the backup QB position.
Tuel has the clear edge at the moment, in my opinion. He is getting his hard count down with an almost Peytonesque flare in terms of suckering the defense. I noticed he was doing that with some success last season as well. He's a smart young man with a burning desire to succeed. He is also a lot bigger in the upper body this year. Pretty clear he didn't loaf off much during the offseason. It will be an interesting battle the rest of the way to see who wins the backup job.
Guard Positions Are Anything But Settled At This Point
With Hairston leaving practice early because of "back problems," Cyril Richardson had a chance to get some work with the first string. Marrone is still moving people around and trying to identify his lineup at this point. This is another reason the extra week is a blessing because the RG position appears to be up for grabs. Urbik is seeing less time with the starters and might be losing his hold on the job.
Although Cyril Richardson had a rough start at camp, he is going to get his opportunity to make a move in the fight for a starting spot. If Hairston has to lose any significant time due to back problems, it will be Cyril's chance to move up the depth chart. All of the rookie offensive linemen need as many reps as they can get at this point.
Marrone will likely tinker around with the RG position until after the second preseason game. It would seem like he would want that position battle to be settled prior to the third preseason game (or fourth depending upon how he views having the extra game this year). He needs to have his starting group identified with enough time to get settled and functioning well as a unit before the regular season starts.
League Deals An Unexpected Blow To Nigel Bradham
Losing Nigel Bradham for the season opener against the Bears in Chicago because of a one game suspension for possession of marijuana (the case was dismissed by the court) came as a bit of a surprise to me. This will hurt the Bills in the opening game when they face the Bears in Chicago. It seems ludicrous when you compare the two game suspension handed down by Roger Goodell to Ray Rice for his arrest on domestic violence charges.
Both Marrone and Schwartz were profuse in their praise about how Bradham has matured as a player both on and off the field. The Bears will definitely try to exploit the loss of Kiko and Nigel in the season opener.
Without Alonso or Bradham, the job on opening day could go to Stevenson Sylvester, a fourth year player picked up from the Steelers after Kiko Alonso tore his ACL. It's possible that rookie Randell Johnson might get the nod, but he is listed as a strong side LB, and Sylvester has at least had some NFL experience with the Steelers.
It will be interesting to see who gets juggled around for the opener. Maybe think they Preston Brown can handle it, but would they want to mess with his development at MLB? It will be interesting to see which LB Coach Schwartz puts in at WLB for the first regular season game.
Will the Bills Keep Four RBs on the Roster?
Many teams have evolved away from the fullback position in recent years. Some don't have a FB on the roster. Nate Hackett did use Frank Summers quite a bit last season, and it's hard to imagine they won't carry a FB on this roster.
None of the four RBs on the team have practice squad eligibility, nor would any of them last on the practice squad even if they did. If the Bills run the ball a lot as they have implied, it could come down to some painful decisions when it's time to trim the roster down to 53 players.
It was reported that Whaley had worked for two years to get the Eagles to part ways with Bryce Brown. "Boobie" Dixon may be able to serve in a FB role of sorts, but it's unclear at this point what role Summers or Evan Rodriguez might have on this offense.
I've seen several plays where they are using two RB sets, so if that formation is going to be used a lot, they might need to keep four RBs on the roster. On one play, CJ was split out to the left and Fred Jackson was lined up inside. Manuel tossed the ball to CJ on a check down, and he scampered down the sideline for what would have been a decent gain in yardage.
Special Teams Are Getting More Work
This just in, Moorman can still punt the ball. Bills fans were delighted when Moorman was re-signed by the Bills last season. His contract was extended, and he already looks to be in mid-season form. Hang time and precision kicks were looking great in practice on Wednesday. He's still kicking those moon shots like a 25 year old.
When it comes down to the last few roster spots, being able to play special teams may well be the deciding factor in who makes the team this year. The Bills were obviously not good on special teams last season. Coach Crossman was in the crosshairs, raising the ire of many Bills fans. It was almost as painful to watch special teams last season as it was when Wade Phillips refused to fire Ronnie Jones in 2000, which ended up costing him his job.
My Last Day At Camp
Today will be my last day at camp. Hopefully the weather will cooperate and they are able to finish practice without a weather delay. I've enjoyed this camp as much as any I've attended. It's clear there is a new sheriff in town, and the days of 'Club Med' training camps are over as long as Marrone is the head coach.
He is being smart with players as far as making certain they are not overworked, especially with the extra week of practice. It's a delicate balance, but I like Marrone's approach. However, he does not appear to coach with fear of injury as much as Jauron, or even Coach Gailey did at times.
I found it very frustrating to watch this team under Dick Jauron, whose legacy of playing not to lose instead of to win became a self-fulfilling prophecy. Many fans may not like the way Marrone rolls the dice at times, but I think it's very important to make a statement that you believe in your players and put them in the best position to win games.
That's a wrap for now, folks. Thanks to all of you for your kind words of support. I will be returning to Wyoming tomorrow, but my heart will be right here with all of you in Pittsford as training camp continues. It has been a pleasure to meet many of you at camp. For those I was unable to connect with this week, I apologize and will try again next year. Hopefully we will be able to get a full practice in on Thursday and I can get one more camp report out before I leave. Go Bills!