Last week, we projected the six wide receivers that will make the cut when Doug Marrone announces his final 53-man roster late next month. So why not take it up a notch or two? With training camp nearing its second week of completion, it is time to look at the 53 players that will start the season in the red, white and blue.
As I mentioned in my receiver projection last week, injuries can always impact how the roster will be shaped. But, optimistic thinkers, "BILLievers" if you will, don't like to talk about injuries.
It is reasonable to expect that the roster will be comprised of positional numbers similar to last season. The one glaring difference will be in the defensive front seven with the switch from the 3-4 to the 4-3 base.
The Bills released their first depth chart early this week, and although that does provide some clarity in the many position battles currently ongoing, it does not tell the full story. Keep in mind also that several of the players that will be cut make for excellent practice squad candidates.
Here is how it should all shake out:
Quarterback (3): EJ Manuel, Thad Lewis, Jeff Tuel
Cut: Dennis Dixon
– There are teams in the NFL that have the luxury of only needing two active QBs on the roster. The Bills are NOT one of them. We learned that last year. The only real question with this group is who will win the backup job – the incumbent (Lewis) or the guy that this coaching staff seems to find reasons to love (Tuel).
Running Back (4): C.J. Spiller, Fred Jackson, Bryce Brown, Anthony Dixon
Cut: Ronnie Wingo
– Four may seem like a high number, but I view Dixon more as a special teamer. Currently, Brown is listed fourth on the depth chart, but I see him in the team's plans both short and long term, especially with Spiller entering a contract year. Dixon also provides short yardage and goal line value as a ball carrier. If the coaching staff is serious about utilizing formations with Spiller and Jackson on the field together (which I believe NEEDS to happen a lot), having depth with Brown and Dixon will alleviate some of the concerns in that area.
Fullback (1): Frank Summers
Cut: Evan Rodriguez
– "Frank the Tank" is an adequate option at fullback, and he has the experience. While Rodriguez provides more athleticism, I don't think he can do enough to dethrone Summers. I promised we wouldn't talk about injuries, but keep Rodriguez in mind as more of a hybrid if the Bills don't get healthy (Chandler, Moeaki) at the tight end position.
Wide Receiver (6): Sammy Watkins, Robert Woods, Mike Williams, Marquise Goodwin, Chris Hogan, Marcus Easley
Cut: T.J. Graham, Kevin Elliott, Caleb Holley, Naaman Roosevelt, Chris Summers, Tori Gurley
– Refer to last week's article for a full breakdown of this group. Graham is the big name cut. At his size and skillset, he is simply a lesser version of Goodwin. Hogan continues to perform well in camp, and I see him as a viable slot backup to Woods. Easley brings more special teams value than anyone in this group, plus he has the physical gifts needed if he is thrust into more playing time at wide out. Graham could be saved if the Bills view Easley strictly as a special teams ace.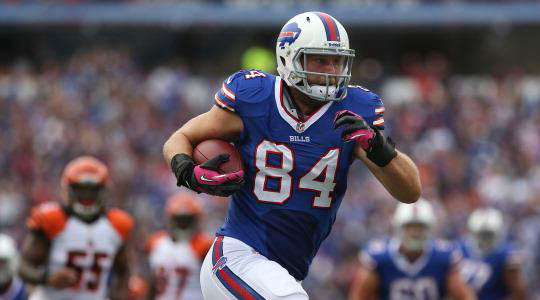 Tight End (3): Scott Chandler, Lee Smith, Tony Moeaki
Cut: Chris Gragg, Dominique Jones
– I keep breaking my own rule and mentioning injuries, but this is the group that is most likely to be affected by it. If Moeaki and/or Chandler aren't off the shelf in time, then Gragg is definitely in with this group. While Smith doesn't provide much as a receiving target, he is popular with the coaching staff as a reliable blocker. Moeaki is really the "wild card." If he can get and stay healthy, he has a chance to be a real contributor. But, there is a really big IF in that statement.
Offensive Tackle (4): Cordy Glenn, Erik Pears, Seantrel Henderson, Cyrus Kouandijo
Cut: Edawn Coughman
– Cordy Glenn is expected back in time for the opener, and Pears seems to be holding on to the right tackle job – partly by his own performance, but more because of the struggles of Kouandijo. Henderson has performed very well to this point, looking more like a second rounder than a seventh. Had the Bills not invested such a high pick in Kouandijo, he would totally be vulnerable to cuts. Hopefully, he is able to come around.
Guard (4): Kraig Urbik, Chris Williams, Cyril Richardson, Chris Hairston
Cut: Antoine McClain, J.J. 'Unga
– The Bills have more depth on the line because of Hairston's versatility. Williams and Urbik are the starters, although it would not be a surprise if Hairston wins the right guard job. If the "I word" creeps up again, Hairston can kick out to either tackle spot.
Center (1): Eric Wood
Cut: Doug Legursky, Macky MacPherson, Jared Wheeler
– Not much to analyze here. Legursky is finally expendable because of the players acquired during the offseason.
Defensive Line (8): Mario Williams, Kyle Williams, Marcel Dareus, Jerry Hughes, Manny Lawson, Alan Branch, Corbin Bryant, Jarius Wynn
Cut: Stefan Charles, Ikponmwosa Igbinosun, Damien Jacobs, Jacqueis Smith, Landon Cohen, Bryan Johnson
– The Bills go heavy on the D-Line to support Jim Schwartz's 4-3 base. There is not much depth when it comes to the true 4-3 end, and that is where Wynn comes into play. Depending on Dareus' legal issues, Charles may also be kept as a run-stuffer up front.
Outside Linebacker (4): Keith Rivers, Nigel Bradham, Stevenson Sylvester, Randell Johnson
Cut: Jimmy Gaines, Xavius Boyd
– The recent one-game suspension for Bradham keeps Johnson (a 2014 sixth-round pick) in the mix. Rivers and Bradham (except for the opener) look pretty locked into their roles. Sylvester seems to have made a quick name for himself in camp. The potential versatility of Preston Brown, grouped in with the MLBs, gives the Bills more depth than it seems on the outside.
Middle Linebacker (2): Brandon Spikes, Preston Brown
Cut: Ty Powell
– Spikes is going to be one of the key guys in this defense. While Brown will be his main back-up, I also see him taking some snaps on the outside when needed. Powell was referenced by Doug Marrone back in December as having "played well at times" on special teams, but I don't think that is enough to keep him around.
Cornerback (6): Stephon Gilmore, Leodis McKelvin, Nickell Roby, Corey Graham, Ross Cockrell, Ron Brooks
Cut: Michael Carter, Bobby Felder, Mario Butler, Kamaal McIlwain
– Last year was a perfect example of why you need depth at corner in the NFL. The Bills have that this season. Graham will be incredibly valuable as today's NFL requires a lot more four-corner packages. Cockrell was an investment of this regime as a fourth-round pick, and he has been fine during camp. Brooks continues to hold on as a bottom of the roster option.
Free Safety (2): Aaron Williams, Jonathan Meeks
Cut: Kenny Ladler, Deon Broomfield
– I am personally excited to see Aaron Williams as the team's top safety in 2014. I wrote earlier this summer that he is a budding star, and I truly believe that.
Strong Safety (2): Da'Norris Searcy, Duke Williams
Cut: Jajuan Harley, Derek Brim
– How the snaps will be divided between Searcy and Williams remains one of the most intriguing questions I have about this roster. You know what you are getting out of Searcy. He is solid in run support, but a liability in coverage. Williams is still an unknown commodity, but the potential is there. Even if Williams is unable to win the starting job, you have to figure that he fits better in coverage than Searcy. I also see the depth at corner (specifically with a guy like Corey Graham) as a way to compensate for any deficiencies Searcy and Williams may have in coverage.
Special Teams (3): Dan Carpenter, Brian Moorman, Garrison Sanborn
Cut: Dustin Hopkins, Jake Dombrowski
– The roles for Carpenter, Moorman and Sanborn are easy to identify. A lot would have to fall into place for Hopkins to get another shot to be the kickoff specialist the Bills had hoped for last season. Even occurrences like the Nigel Bradham suspension affect the team's ability to hold onto luxury players like Hopkins.
When it is all said and done, the Bills have more depth at key positions (CB, OL, WR) than they have had in years. The first kickoff of 2014 is just a few days away, and the season opener will be here before we know it. It's getting real now, and there are plenty of reasons to "BILLieve."
Now that I've projected the 53-man roster of the Buffalo Bills, let me know your thoughts on which players you see making the roster that I may have cut.