The Buffalo Bills have an outstanding defense on paper. Even without Kiko Alonso, Bills fans have a lot to look forward to this season with Jim Schwartz's defense.
All three levels of Buffalo's defense is full of talent. The front four of the Bills is one of the best in the league. At linebacker, the team is solid and deep. The secondary? The best that Jim Schwartz has worked with in years.
With all of the talent on the roster, my expectations for Buffalo's defense is through the roof. Here are 3 defensive predictions for the 2014 Buffalo Bills.
1. Jerry Hughes Leads the Bills in Sacks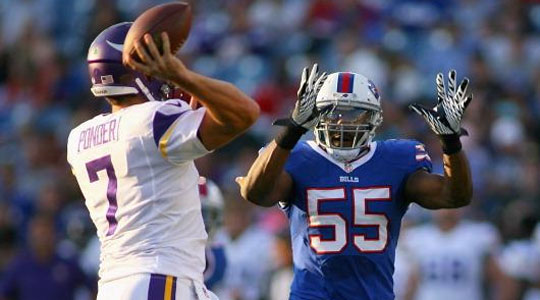 I've been saying this for a few weeks now. Jerry Hughes is coming off of the season of his life and it's only going to get better. Last season, Hughes was a situational pass rusher. In his 621 snaps (Subscription Required), Hughes racked up 10 sacks, nine quarterback hits and 39 (!!!) quarterback hurries. Over at Pro Football Focus, Hughes finished with the highest pass rush productivity grade for all 3-4 OLB with a 15.4.
This season, the Bills will be playing out of a 4-3 base and Hughes is currently penciled in as the starter across from Mario Williams. In their new base formation, Hughes and Williams will be spread out far in the Wide 9. Sal Capaccio of WGR550 did an excellent job of breaking down the Wide 9 and the role Hughes and Williams will play:
The defensive ends play a "9-technique," which is outside the tight end (or where the TE would be if there is none to that side).  A wide-nine simply means they space out even wider than the outside shoulder.  Usually 2-3 feet wider.  He also cocks his body on much more of an angle than keeping his shoulders square to the line of scrimmage.  Now, the tight end can't get his hands on the defensive end because he is lined up so far away.  However, the defensive end is now further away from the quarterback (and the entire offense, really).  It's a trade-off for the defensive end.  He sacrifices space to the QB but gains freedom and speed to get there.
That last line says it all. Hughes and Williams will sacrifice space to the quarterback, but they'll be able to use their speed to get to the quarterback. Hughes has outstanding speed and should thrive with the open space he'll see in the Wide 9. Hughes' position may be different this season, but his job is the same as last year: Attack the QB. While Super Mario will also get his fair share of sacks, look for Hughes to lead the Bills in 2014.
2. The Bills Become a Top 12 Run Stopping Defense Behind Brandon Spikes
The Buffalo Bills were 28th in the league in run defense in 2013. Needless to say, many running backs found success against Buffalo. To fix the problem, Buffalo brought in Jim Schwartz as their new defensive coordinator. Schwartz has had plenty of success as a defensive coordinator and coach in terms of run defense, but one thing he's always needed to have success is a run-stuffing linebacker.
Enter Brandon Spikes.
The former Patriot signed with the Bills for one year and has a track record of stopping the run. PFF has listed Spikes as the top run stopping ILB in the NFL for the last two seasons. Spikes' success in the run game in 2013 was impressive as he dealt with a knee injury. If he continues his domination in run defense, the Bills will be much improved. Look for the team to make a significant job in run defense this season.
3. Aaron Williams Successfully Replaces Jairus Byrd
Many people in the national media are quick to point out that Buffalo will be without Jairus Byrd this season. Many feel that his production and talent cannot be replaced and Buffalo's defense will suffer. Byrd was an outstanding player with the Bills, but I believe that Aaron Williams can successfully replace Byrd.
Williams was a breakout player for the Bills in 2013 as the team's strong safety. In 14 games, Williams had career highs in tackles (82), passes defensed (11) and interceptions (4). The team rewarded Williams' strong play with a contract extension in the offseason.
With Byrd in New Orleans, Williams will take over the free safety spot, although the safety spots are interchangeable in Schwartz's defense. The defensive coordinator gushed about Williams' versatility in June:
That's why I'm so excited to work with Aaron," Schwartz said of his top safety. "Aaron is showing all of those things. He can range from the middle of the field, he can cover a guy man to man. He's got those hybrid corner-safety skills. I hadn't studied him since he came out of college, but the thing that probably impressed me the most was his physical play. He's a tough guy, and really made a physical impact on the field last year.
Williams has had an outstanding training camp and seems very confident as one of the team's defensive leaders. Schwartz seemingly has big plans for Williams. When the season starts in September, look for Williams to continue his strong play. I wish Byrd the best in New Orleans, but I think Williams has a better season in 2014 and beyond. Don't be surprised if Williams is top five in interceptions this season.
What are some of your defensive predictions for 2014? Share your thoughts in the comment section!