Training camp is open for most, if not all, AFC East teams. Today, I rank all the AFC East teams by defensive positions.
Defensive End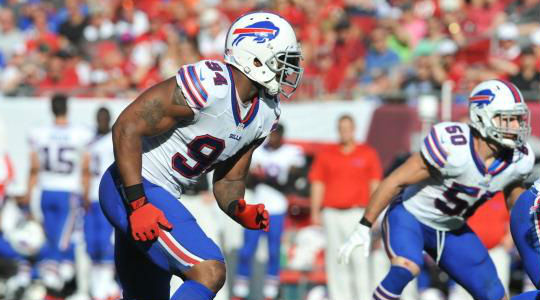 1.) Buffalo Bills- This was actually a tough call between one and two. Mario Williams and Jerry Hughes each had double-digit sacks, with Williams earning a Pro Bowl nod. The Bills are switching to a 4-3 defensive front that will probably benefit Williams more than Hughes. Depth is an issue as Lawson has appeared a fish out of water, and there isn't much else after him.
2.) New York Jets- This ranking is more about Muhammad Wilkerson than anyone else. Wilkerson is the premier 3-4 end. He's a threat to rush the passer and a disciplined run stuffer. Quinton Coples, technically an OLB, hasn't lived up to his billing, but Rex Ryan always seems to have pass rushers to make his defense work.
3.) Miami Dolphins- Yes, Cameron Wake is good. Olivier Vernon is okay and will Dion Jordan ever live up to his billing? The latter will miss the first four games of the season due to a suspension. It will be interesting to see how this unit holds together if Jordan doesn't emerge.
4.) New England Patriots- Rob Ninkovich and Chandler Jones have done well for the Patriots. Free agent signing Will Smith brings experience and depth, but the Patriots have always worked on a pass rush by committee rather than having one dominate end.
Defensive Tackle
1.) Buffalo Bills- The Bills two starting tackles both made the Pro Bowl so they get the number one spot by default. Depth is a concern as Stefan Charles needs to grow and Alan Branch was good as a back up, but beyond those four it's a crapshoot. Dareus and Kyle Williams are great players, but if one of them is hurt than the Bills tumble quickly.
2.) New York Jets- Sheldon Richardson was the most effective defensive rookie last year that wasn't named Kiko Alonso. Damon Harrison is an average starter at nose and Kenrick Ellis is a solid rotational player. The way Richardson controls the line of scrimmage was impressive, and if he can do that again this year the Jets will field another formidable run defense.
3.) Miami Dolphins- Jared Odrick is a solid player. He is a very good pass rushing tackle that holds up well against the run. Randy Starks is a similarly skilled tackle, just on the back nine of his career.
4.) New England Patriots- New England has the monstrous Vince Wilfork in place at defensive tackle. While talented, Wilfork is over 30 and there's a considerable drop off in talent if he goes down with an injury. Chris Jones will also contribute to the team at defensive tackle.
Linebackers:
1.) New England Patriots- The lack of depth or talent upfront is made up by the second level. Between run stuffing linebackers Dont'a Hightower and Jerod Mayo and pass rusher Jamie Collins, the Patriots have a nice mix of talent. It's always impressive how smoothly a Bill Belichick defense is run from the linebackers out.
2.) Buffalo Bills- They would have been tops if Kiko Alonso wasn't lost for the year, but this is still a good unit with a lot of depth. Brandon Spikes brings the hammer as a run defender, and Nigel Bradham may in fact be best suited as a weakside backer. Keith Rivers is good, but not great, and Preston Brown is a rookie.
3.) New York Jets- It's amazing how despite age this linebacking corps keeps producing at a high level, but each player has been in the system for so long that they all know their roles and responsibilities. Calvin Pace and David Harris compliment each other with Pace rushing the passer and Harris stifling any run plays.
4.) Miami Dolphins- Koa Misi has not performed as expected after a solid rookie campaign four seasons ago, and the Dolphins went out and signed Dannell Ellerbe and Phillip Wheeler a year ago to shore up the unit. It's a solid collection that will be solid against the run, but suffer in pass coverage.
Cornerbacks:
1.) New England Patriots- Darrelle Revis. Enough said. If he's at the top of his game only Richard Sherman can come close to touching him. Revis will take the place of the departed Aqib Talib and may actually outperform him. Brandon Browner is another strong addition to the Patriots CB group, as is Kyle Arrington.
2.) Buffalo Bills- The Bills may actually have the most talented overall group of any among their division rivals, but talent unrealized is only potential, and I'm looking at production. Leodis McKelvin started defending passes, and Stephon Gilmore will hopefully have a full healthy season and take the next step. Nickell Robey was a revelation as a nickel corner, and Corey Graham and Ross Crockell will provided needed depth.
3.) Miami Dolphins- Brent Grimes bounced back well from an injury a year ago and helped solidify the Dolphins pass defense, but they still had holes on the other side. Cortland Finnegan played his way out of St. Louis and is trying to resuscitate his career. Beyond that, it's a lot of questions for the Fins.
4.) New York Jets- What was once a strength is now a shell of itself. Dimitri Patterson was signed away from the Dolphins, Kyle Wilson showed he could be flustered (just ask Stevie Johnson), and Dee Milliner was benched multiple times last year because of up and down play. Ryan has to hope for a big step forward by Wilson and Milliner to turn the unit around, otherwise there could be a lot of big plays given up.
Safety:
1.) Buffalo Bills- It's funny, despite losing Jairus Byrd in free agency I still ranked the Bills top in the division at this position. It's because of my faith in Aaron Williams. Williams will transition to Byrd's old spot, which will allow him to utilize his pass reading ability. After a four interception campaign a year ago, I expect Williams to pull in six this year. Beyond that, the Bills have Da'Norris Searcy as an in-box run stuffer, and Duke Williams, who could possibly leap frog Searcy as the starter.
2.) New England Patriots- Devin McCourty flamed out as a corner so the Pats moved him to safety where he has played extremely well. Duron Harmon is the other starting safety  and there isn't much depth behind him. After McCourty, there isn't much that will strike fear into offensive coordinators, but the rest of the teams in the division are much worse off.
3.) New York Jets- The only reason the Jets are third is because of the potential of Calvin Pryor. He's a rookie starting at strong safety, and his backfield mate, Antonio Allen, is at best a stopgap and will not provide much support. The depth behind them is even weaker.
4.) Miami Dolphins- The Fins went out and signed Louis Delmas to provide some support in the back end of the field. Delmas will have to compete for a starting job with Jimmy Wilson. If Delmas can stay healthy for the full year, the Dolphins could jump to two in the rankings. Playing with Delmas is Reshad Jones and his erratic play. There is nothing safe about this position for the Dolphins as currently constructed.
Overall:
1.) Buffalo
2.) New England Patriots
3.) New York Jets
4.) Miami Dolphins
Agree? Disagree? Share your thoughts in the comments!