The decision makers at One Bills Drive will have a pretty good problem on their hands as training camp continues at St. John Fisher College. An abundance of talent at the wide receiver position is going to create tough decisions when final cuts are made near the end of August.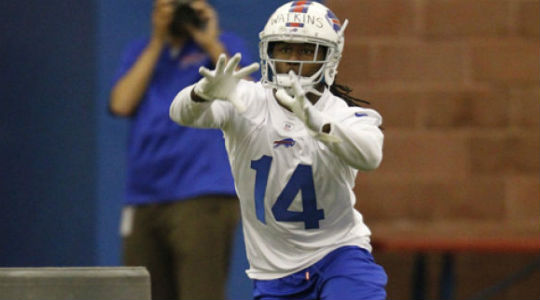 With the recent signings of Tori Gurley and Naaman Roosevelt, there are currently 12 players on the roster at wide receiver. Keep in mind, Doug Marrone's opening day roster of 2013 included six wide outs (a pretty standard number across the NFL), so it is logical to expect that half of those 12 will be cut prior to the season opener on September 7. It is possible that a seventh wide out makes the team strictly as a special teamer, but for that to happen, a lot would have to fall into place with the rest of the roster.
Looking back at recent Bills history, it is reasonable to label this receiving corps as the most talented since the Super Bowl years of Andre Reed, James Lofton and Don Beebe. The only group that comes close in that argument is the early-Bledsoe years of Eric Moulds and Peerless Price.
Yes I know, injuries can significantly alter the way in which a positional battle develops. I think we've been hit enough with the injury bug though, so let's remove that from the conversation right now.
It doesn't take much to predict the top three receivers on this team, but I don't think it is out of the question that two or three spots near the bottom of the roster are still up for grabs.
So, who will be in, and who will be out in the Bills wide receiver competition?
IN
Sammy Watkins – The No. 4 overall pick in the NFL draft (also worth next year's No. 1) is as safe as anyone on this roster. So far, he has done and said all the right things. He has also looked pretty darn good during practice (provided you put a lot of stock in non-contact, shorts and T-shirt activity). However you look at it, the expectations couldn't be higher for Sammy Watkins. While I fully expect him to be an outstanding professional, I hope Bills fans will give it some time before comparing his career to a certain Buffalo legend that will join an exclusive club in Canton early next month.
Robert Woods – The Bills top RETURNING wide receiver is a lock as well. The second-year product out of USC registered 40 receptions for 587 yards and three touchdowns as a rookie. He also shows promise with his "right hook." Sorry, I had to throw that one in there. But seriously, expect Woods to line up as the team's second starter opposite Watkins. When the Bills go to three or four wide receiver looks, Woods will shift into the slot, where he is best suited. The front office's expectations for Woods became pretty evident when the team shipped Stevie Johnson to San Francisco for a conditional fourth-round pick.
Mike Williams – Despite a report you may have heard after OTAs, the team's strong bearded wide out is safe. Williams has seasons of 11 (2010) and nine (2012) touchdowns on his resume. And, he has something that the Bills front office has often talked about – the ability to go up and grab the ball in traffic. Expect the Riverside High product to be the third wide out. When he comes on the field, he'll be outside opposite Watkins, and Woods will be in the slot. Of course, I am assuming that Williams avoids legal trouble during camp as well.
Marquise Goodwin – "Flash" Goodwin is pretty much a lock too. He emerged as the team's top deep threat in 2013 with three touchdowns of 40+ yards. Plus, he displayed the ability to make catches underneath when opposing corners played soft. Goodwin also projects to be one of the team's kick returners, although the importance of that position has diminished greatly in the NFL over the last few years.
Chris Hogan – The guy they call "7-Eleven" seems to be pretty popular in the locker room. He also seems to be a pretty productive player when it doesn't count (practice, OTAs, etc.). The question with Hogan is: Can he produce on Sunday afternoon (sometimes Thursday night)? So far, he hasn't shown any flashes of brilliance come game time. But, he is still young and offers up decent size (6'1, 220 lbs.) and reliable hands. Ultimately, it comes down to need. I think Hogan survives as a slot back-up to Woods and as a potential special teams contributor.
Marcus Easley – For various reasons, injury included, Easley has never been the factor we had all hoped for in the passing game. However, he brings size (6'2, 217) and a ton of value on special teams. When talking about special teams early this offseason, Marrone gave Easley quite an endorsement. "One of the things that we have to establish is a core," Marrone said. "I think Marcus Easley stepped up big for us. He would be a core-type player. What our goal is is to have six of those type players." While I wouldn't expect much from Marcus Easley the receiver, his value on special teams will keep him on the roster in 2014.
OUT
T.J. Graham – This will probably be the biggest surprise. In three seasons, T.J. has not lived up to his billing as a third-round pick. Although he has exceptional speed, he does not offer much in the size department (5'11, 188 lbs.), and he has not always been the most sure-handed guy. Had he been a later round pick, fans would probably be a little less harsh on him as well. However, expectations are what they are. With the Bills having a much better version of the small, speedy wide out (Goodwin), I see T.J. Graham on the outside looking in. He also doesn't provide much in special teams value.
Kevin Elliott – Elliott has been one of those guys that have occasionally turned some heads when it doesn't count. He brings good size (6'3, 205 lbs.) and familiarity as a two-year practice squad player. But, he has an injury history and couldn't latch on with a bad Jacksonville team when given an opportunity in 2012.
Naaman Roosevelt – A familiar face and sentimental favorite, Roosevelt was signed on Monday afternoon after being released by Detroit this past weekend. A Buffalo native and UB product, Roosevelt played in 16 games for the Bills between 2010 and 2011. In the latter of those two years, he posted 16 receptions for 257 yards and a memorable 60-yard TD against the Giants. However, much like he has been his entire career, he is a long shot to make this club. While you can never count this guy out, it would take a lot for Naaman Roosevelt to be on the active roster come September.
Tori Gurley – One of the new wide outs on the roster provides a bit of irony. He was signed by Cleveland back in 2013, and to make room, the Browns cut quarterback Thad Lewis. Now, both players are suited up for the Red, White and Blue. While Lewis is firmly locked in for a roster spot, I don't see the same fate for Gurley. At 6'4, 230 lbs., he has the size the Bills brass covets. However, he's not explosive, and he has already been cut by 20% of the teams in the league.
Caleb Holley and Chris Summers – I group these two together because they are really unknown commodities. They both provide good size – Holley (6'2, 200 lbs.), Summers (6'5, 215 lbs.) – but there are too many players in front of them to surpass. If Hogan falls off, and Graham shows no significant improvement, the door may be left open for one of the two. Holley was signed after rookie minicamp, so he did something that pleased the coaches. Summers has been a late camp cut in each of the last two seasons (Bears – 2012; Vikings – 2013). Obviously, these types of players make good practice squad candidates.
In the end, I wouldn't expect many surprises outside of T.J. Graham. The great news is, if injury does come into play, there should be no shortage of capable bodies to step up and fill a role. Now, the question is, how will the guy throwing to this talented group fare in 2014? EJ, the table is set for you.
Until next time, "BILLieve"