Buffalo Bills training camp is underway at St. John Fisher and Anthony Marino and Ryan Talbot couldn't be more excited. The two sat down and discussed what they've seen and heard thus far about the Bills at training camp.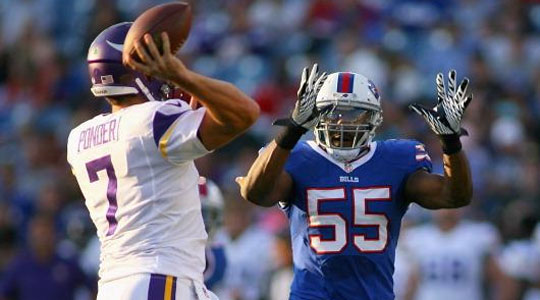 Among the positives? Sammy Watkins and Jerry Hughes have both looked dominant at times. Watkins, Buffalo's 1st round pick, has had his way with every cornerback on the roster at times. He has looked like the real deal thus far. Hughes on the other side of the ball has adjusted nicely to defensive end. After having a breakout year in 2013, Hughes hasn't missed a beat at training camp. He's given Seantrel Henderson fits, which is to be expected, but people are gushing about his burst off the edge.
Marino and Talbot also talk about Marcell Dareus, Cordy Glenn, the backup quarterback competition and more! After watching, share your thoughts on what you've seen and heard from Bills camp thus far!