It is time to get to know Buffalo Bills 7th-round pick Seantrel Henderson. Why? Because with training camp officially starting (finally) and Cordy Glenn still on the Active/Non-Football Illness List, he will be the one taking first-team snaps at left tackle.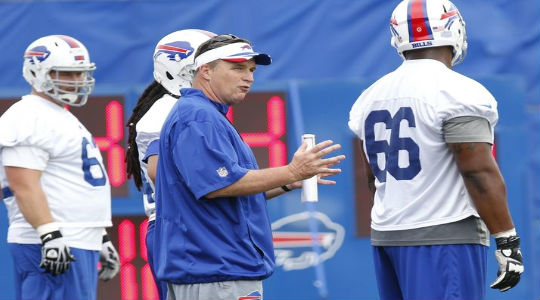 This is a golden opportunity for Henderson. He has all the physical tools to be a star in the NFL. As a 6'7″, 331-pound athlete with rare movement skills for someone that big, you might wonder why he fell all the way down into the seventh round of the 2014 NFL draft. Well despite the physical gifts, he underperformed in college and was plagued by off-field issues, including multiple suspensions and even a failed drug test at the NFL Combine.
"We know his demons off the field, and we think he's got a hold of those things," Buffalo Bills GM Doug Whaley said on the John Murphy Show Friday night. "We feel that, again, if he didn't have those demons, he would have been probably in the first round. We're excited to see him translate that to the field."
Whaley and the team are excited, as should we be as fans of the Bills. I'm not saying I want to see him replace Glenn, but getting a young project-player like Henderson some meaningful first team reps might be just the jumpstart his career needs. If the Bills are going to run the ball as much as some experts predict, it is going to help to have someone they can rely on in a pinch should injury or fatigue ever become an issue with the offensive line.
I hope for a speedy recovery by Glenn, who in the opinion of many around the NFL is one of the best LTs around, but in the meantime I'm going to enjoy the shakeup on the offensive line and see just what Henderson is ready to bring to the Bills offensive line in the coming years.