The words may sound familiar, but the tone is definitely different at St. John Fisher as training camp opens today. For the first time in 54 years, the Buffalo Bills begin a season without their beloved founder and owner, Mr. Ralph C. Wilson.
Buddy Nix is firmly entrenched in retirement mode (as a general manager). 'The Dougies' know this season is their statement about why they should be allowed to continue in their jobs. This is anything but "business as usual" for the Buffalo Bills.
Arguably, it has never been more important for the Bills to break their status quo cellar dweller reputation than it is now. The Bills need to fill Ralph Wilson Stadium for every game this season. Fans need to show a new owner they will support this team by putting fannies in every single seat.
That will become a huge challenge in December if the team is out of playoff contention by mid-October, as has been the case for far too many years. Bills fans are sick of hearing from players and coaches that they are not responsible for fifteen years of misery because they weren't with the team through this seemingly unending nightmare. The buck stops right here, right now.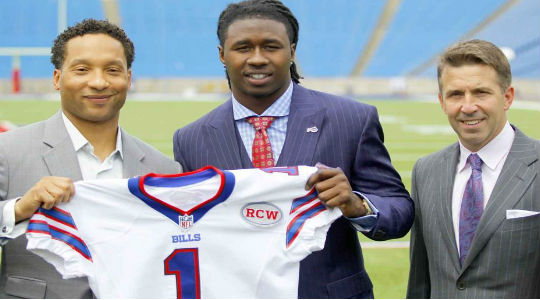 There are no places to hide from the stark reality that this team has failed miserably for a decade and a half in its quest for a playoff bid. Thankfully, the 'Dougies" have decided enough is enough. If they lose their jobs, they are going to go down swinging.
It's clear from reading and watching interviews that this season is all about taking responsibility and not making excuses. Doug Whaley has been upfront in his interviews over the last couple of days that there is no longer any room for complacency on this team.
What evidence is there that suggests this is not just the same old spew we hear every year? The consistency of the spew from players is a bit unusual so far this season. Many of us that are so hardened from listening to the same old lines might miss the distinction if we aren't paying close attention.
For example, Mario Williams has never been known as a "fiery" player. He readily admits that his laid back personality sometimes makes people wonder how he motivates himself to play at such a high level. Most Bills fans understand Mario's "company line" quite well by now.
However, check this out in a recent tweet by Mario:
Started camp early today. Knocking down all barriers blocking out all distractions. I'm going all in… http://t.co/dN7AWZy7na

— Mario Williams (@bbwolf94) July 16, 2014
This is an interesting example of how some players are beginning to talk differently about their commitment to the game, and to the Buffalo Bills. They are not only showing it by their words, but actions as well. The "Why So Serious?" mantra/question of the Stevie Johnson era is now being replaced by the rest of the team with a solid and loud, "Because we HAVE to win now" reply.
The coaches and front office have obviously been communicating the "greater good" message as a motivator this season. Mario infers as much in his tweet by talking about a need to fulfill a greater purpose beyond his own personal gain. This is strong talk coming from Mario, and should bring a big smile from Bills fans. This is the Mario we have been waiting to see.
Furthermore, there is a consistency in the message other players are giving to the media as well. Guys like Kyle Williams and Eric Wood are stepping up in a much more vocal fashion already this season. They realize along with Fred Jackson that it IS their time to shine, now or never.
In fact, if you look at how Fred Jackson showed up at camp with his black shuttle bus/family ride, you probably noticed that "Grandpa" seemed to be taking it all in, as if this might be his last of nine training camps at St. John Fisher. We hope not as Bills fans, but he's not getting any younger. Guys like Bryce Brown were brought in for a reason.
I can't help but get the feeling that with new ownership, and the future of the Bills in Buffalo up for debate, that this team realizes there is more hanging in the balance than one football season. The economic fate of an entire region of the country is at stake. I believe these players realize the magnitude of the situation.
There is little doubt in my mind that someone at One Bills Drive ran the numbers for the players to show them what happens to Western New York economically if the team is relocated. There have been many references by different players regarding the urgency to win now "for the fans" and for "the region." They are speaking with more sincerity and less "talking points."
The players seem to have a different sort of reality check about the importance of getting back to the playoffs this season. You can tell, not by the words, but by the tone in players voices when speaking about the upcoming season. However, the biggest change in tone I've noticed regarding this sense of urgency is coming from Doug Whaley, not the players.
Listen to his interview with John Murphy from the other night if you want to gauge the difference from last season. At the beginning of training camp last year, Mr. Wilson was still alive, and Doug Whaley was in his rookie season as a general manager.
Now Mr. Wilson is gone, along with 'the Dougies' job security. Buddy Nix is off campus most of the time, and this is now or never time for Whaley. He knows it, and seems to embrace the opportunity.
This is a man who boldly takes calculated risks, and he will not shrink from the harsh light that will be shined upon him as the man who must deliver the playoffs this season. This season IS his job interview for the next owner.
I can hardly wait to get to camp and sense the vibe. I'll be posting one more installment on my blog next Tuesday, and then stay tuned for my training camp posts on my blog and live twitter updates @wyobilzfan.
A reminder (and warning for those who choose to avoid wyobabble):
I will be at training camp on July 27, 28, 30 and 31. I will be tweeting live from practice on those dates. Send me your questions/comments/suggestions!
Also, stay tuned for more about my series, "The Intangibles." I'm thinking this series might need a video introduction and a theme song. Kind of like "The Avengers." Hit me up with your best suggestions in the comment section below. Let's have some fun with this, and welcome to a brand new Buffalo Bills season!