Lets rewind the clock a bit – just two short years, in fact – to the 2011 season. Chan Gailey was in his second season as Head Coach of the Buffalo Bills and was directing an offense predicated upon attacking opposing defenses with a quick-hit passing game based out of plenty of spread formations. This led to 569 pass attempts, over 3,800 yards and a contract extension for one Ryan Fitzpatrick. Unfortunately, it also led to a disappointing 6-10 record and last place in the AFC East. Buffalo ran the ball just 391 times in 2011 at a clip of about 24 rushing attempts per game.  This was good for only 27th in the entire NFL. The tempo of the offense was faster-paced than most, which isn't so different from what we're seeing today, but the philosophy was the polar opposite. The Bills passed the ball to set up the run and that's putting the ratio very mildly. Unbeknownst to anyone at the time, things were about to change soon, and they would change drastically.
A New Philosophy 
When Doug Marrone was named the Head Coach of the Bills prior to the 2013 season, he brought with him down the I-90 a vastly different approach to offensive football than the one his predecessor had preached and installed. Marrone has always believed in having an effective running game, and even more importantly, being committed to that running game. What resulted with this change in regime and offensive belief was an NFL-high 546 rushing attempts by the Bills in 2013. Two years after finishing 27th in the same category. The offense averaged over 34 rushing attempts per game, ten carries/game more than in 2011. Pretty remarkable, right? Well, I'm here today to tell you that I think this is just the start.
First, lets examine what was done this off-season and what it signals about the offensive plans of Marrone, Nathaniel Hackett and company. The Bills were certainly not resting on their laurels as far as the run game went. They made three major moves along the offensive line this off-season and it is pretty clear that all three were made with the run game in mind. Veteran Chris Williams was brought over from St. Louis to be the starting left guard. The four-year, $13.5 million contract he signed indicates as much, at least for this season. Now, Williams has clearly not lived up to the billing of being selected as the 14th overall pick in the '08 draft as a tackle out of Vanderbilt, but since he's moved over to the guard position, he's found a niche in run blocking. At 6'6 and 330 lbs., Williams is a pretty massive guard. He was obviously brought in with the run game in mind. Then in the 2014 NFL draft, the Bills used two of their first five selections on run-dominant offensive linemen Cyrus Kouandjio and Cyril Richardson. Though I personally feel that Kouandjio will be a complete tackle in the NFL, he will excel at RT in run-blocking – and that's certainly Richardson's strength as well. Cyril probably has the run-blocking ability to start in the NFL today, but he does need work with his technique and foot movement in pass-blocking, so this makes him a bit of a project. Regardless, all three of those off-season moves are clear signals that Buffalo is committed to being a team that is going to run early and often every Sunday. The additions of Bryce Brown and Anthony Dixon reflect this as well.  This is an offense that will be absolutely focused on running the football. It's a far cry from what we saw during the Gailey regime, and Doug Marrone certainly appears to be willing to hang his NFL coaching hat on this philosophy.
Volume Up in 2014
The Bills off-season additions along the offensive line and at the running back position are indications that we can expect an even greater focus on the rushing attack in the upcoming season. However, I think there are other factors that point to even more rushing volume in 2014. To me, one of the most interesting stats in connection with all of this is how unsuccessful the Bills' offense was on 3rd down last season. They finished the year 29th in the NFL, with only a 34% conversion rate. For some perspective, the Jaguars were worst in the league at 31% and the Chargers were best at an astounding 49%. The league average in 2013 was about 38%. A 4% difference between the Bills' conversion percentage and the league average may not seem like much, but it really is. If they can get to even that average mark in 2014, that means they will convert approximately 10 more third downs than last season, which means at least 30 more plays for the offense. This in turn means more opportunities for Hackett to dial up a running play. On a side, the Bills were also terrible in 4th down conversions last season, checking in third-lowest in the league at 28.6% over 14 attempts. Only AFC East pals Miami (25%) and New York (12.5%) were lower in the entire league. More lost opportunities for the offense.
A lot of this can be attributed to the quarterback situation last season. The Bills had three guys without any prior NFL experience taking snaps in regular season games. You have to expect to suffer on 3rd down due to this fact alone. With EJ Manuel a year older and (hopefully) healthy for a full-season, this number is bound to get better. The pace of the offense should pick up do this fact, too. It isn't easy for an inexperienced quarterback to run a fast-paced attack like Buffalo wanted to do in 2013, and it's safe to assume that the Bills should play at an even faster pace this season with a year of learning the system under their belts. Further, the Bills consistently ran with volume last season, but certainly not with with consistent efficiency. I think that also improves in 2014. The upgrades along the offensive line and in the running back position should put the offense in better positions on 3rd down by running it more effectively on 1st and 2nd. All of this will cause the offense to stay on the field much more than it did in 2014, which will mean even more running of the football.
A Quick History Lesson
The 1998 and 1999 versions of the Buffalo Bills were the last teams in franchise history to even approach the frequency with which they ran the ball last season. Those teams pounded the rock 531 and 519 times respectively. What I think is attainable for the Bills' offense in 2014 hasn't been done in the NFL since 2009. The '09 New York Jets, with rookie quarterback Mark Sanchez, were the last team to eclipse the 600 rushing attempt mark with 609 attempts. Oh, by the way, they made it to the AFC Championship game that season.  I think that the Bills could easily reach that 600 attempt mark this season. With the new help along the offensive line creating more frequent running lanes for a more talented running back group and a 3rd-down conversion rate that seems destined to increase, the opportunities will be there. The Bills averaged 34 rushing attempts per game as a team in 2013, and my prediction for 2014 is 39 attempts per game which would result in 624 rushing attempts for the season. The all-time NFL record is 681 rushing attempts by the Oakland Raiders in 1977. Is that approachable? Probably not, but I believe if Doug Marrone has his way, and the offense makes a sizable jump from last year to this one, they could make a run at it.
Workload for the Backs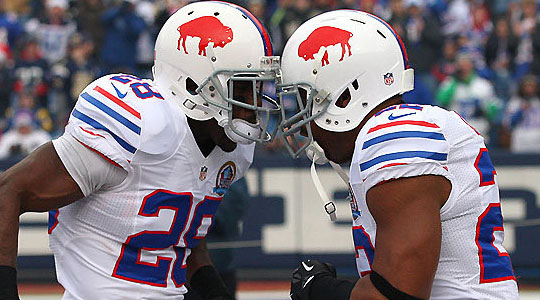 So, lets assume for a moment that my prediction holds up and the Bills eclipse 600 rushing attempts as a team in 2014. What would this mean for each individual running back and the workload that they will see as a result? We'll use the number I came up with (624) and round down to 620 attempts just for the sake of making it even. I will also knock 70 off that number for Manuel, considering he had 53 attempts in 10 games last season, and I believe he will be running slightly less this year. This leaves 550 carries for C.J. Spiller, Fred Jackson, Bryce Brown and whoever wins the battle between Anthony Dixon and Frank Summers. Summers had 12 carries last year. If Dixon makes the team, I bet he has closer to 40 because he's more of the pure running back, so lets split that difference for these purposes and count one of them in for about 25 carries. There is still 525 left to go around between the three-headed monster that could be Spiller, Jackson and Brown.  Spiller should still be the "feature" guy, so we will give him 225 carries, or about 14/game. Jackson is next in the pecking order so we will give him 190 carries, or just under 12/game. This would leave 110 carries, about 7/game, for Bryce Brown.  To me, this would be pretty ideal distribution to have between these three talented backs.
Clearly, all of those numbers are assuming guys stay healthy for the entire season, which unfortunately has an extremely unlikely chance of happening, but I think it paints a good picture of what's possible for the rushing attack. If the Bills run the ball with the volume that I think is very possible for them to achieve in 2014, not one running back in the room is going to go hungry. That would be a very good thing for the Bills and a very bad thing for opposing defenses. Buffalo's 546 rushing attempts set the pace for the NFL last season and it won't take much for the Buffalo offense to pound the rock over 600 times by the end of 2014.
Run. Rinse. Repeat. This should be the offensive mantra of the 2014 Buffalo Bills.