If the NFL is pass-happy, the Bills should be pass-happier. At the least, they should make it look like they are. The alignment they tend to choose should provide the option to chuck it even if they don't always take it, namely by utilizing spread offenses as their default formation. The best way to get a look at as many receivers as they can during camp is to throw lots of them on the field at once.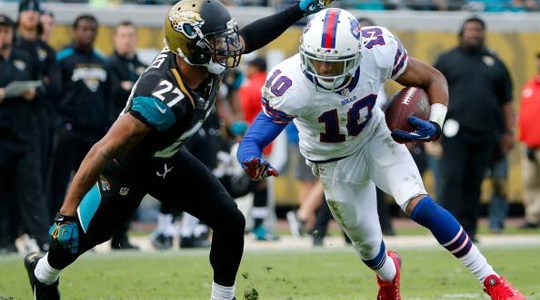 Using three or four wide receivers at a time is an easy way to get a deep crew playing time, even on plays where none of them get targeted. Handing off from a typical passing formation is a straightforward way to be confusing. Other teams might be upset at the skulduggery of running from a traditional passing formation, but they should stop whining and start trying to tackle.
Good schemes start with the right personnel. This roster looks to have quality wideouts in quantity. If the youngsters play up to their scouting reports, they offer an intriguing mix of field lengtheners both horizontally and vertically. The combination of talents would allow them to dominate all of this world's dimensions.
The quarterback just needs to align his throws on the same planes. The lack of extra protection for EJ Manuel would be offset by the plethora of targets he'd get. Scattering wideouts wouldn't confuse him with the horror of innumerable decisions; it would allow him to make any throw he can envision. He'll be fine as long as he relaxes enough to go through his progressions in a second or two. If he's adjusted to pro speeds, Manuel would benefit from West Coast principles, or at least Western New York ones.
It's not just the aerial game's participants that could benefit: a player perpendicular to the line should welcome the spread. Consistently deploying three or more receivers would be most helpful to C.J. Spiller. As someone who's not precisely a wishbone-style runner, he should dream of defenders aligning out wide to face receivers.
At the least, committing to a passing philosophy could force other teams to pay attention during practice the week before. Every opponent should make their nickel corner run laps at practice that week so he has the endurance to play more than usual. Letting the team's third and fourth-best cover men play as much as they feel they deserve is the most direct adjustment defenses would have to make. As a result, they would also be light in the box, which would allow Spiller to smirk at the prospect of open spots.
I double-checked, and teams are still only allowed 11 players on the field. More receivers than typical would lead to spaces elsewhere on account of mathematical rigidity. For the Bills, an abundance in one area means they might not have a fullback. But that may allow Spiller to play to his advantage, as he's not the sort of back one pictures following a bruiser through a hole. It's better to concentrate blocking on the line's edge for him, where teammates in the suggested lineup will just happen to congregate.
The forward pass is everyone's favorite diversion. Putting nearly as many receivers as allowed in the huddle means more players who not only catch but also draw coverage. By rule, teams can be tricky that way. It's not just the secondary to baffle: the Bills should be trying to deceive defensive lineman into focusing on sacks so much that they only see rushers from the nameplate side. By the time the ball carrier breezes by, the defenders way out back will be forced to make plays.
Overpower pathetically fretting opponents by stretching them across the field's length.  Buffalo can even call throws for the multitude of receivers. Part of the fun of good distractions is reminding enemy coordinators that the young Bills receivers aren't just decoys.