The biggest strategic movement in the NFL right now is about how analytics are used as tools that contribute a great deal to the effectiveness of a coaching staff by getting as much productivity out of players as possible. By nature, analytics are in and of themselves defined as measureable variables. That means they give you data by measuring something physical, or tangible in nature.
These data points are then converted to variables or factors that allow coaches to make inferences based upon "hard evidence." The basis of behavioral research methodology is to identify and study variables of this nature and how they impact performance and behavior. However, analytics cannot by definition measure intangible variables that we all know exist, yet defy definition.
Intangibles are the 'squishy' things that affect outcomes but drive coaches crazy because they cannot be defined, nor necessarily controlled. For example, it's not difficult to imagine the emotional reasons why Brett Favre played the game of his life the day after his father suddenly died some years ago.
For most people, that outcome was "understandable" given the circumstances. He played with tremendous emotion, and most would tacitly accept that as a reasonable correlation to explain his record shattering performance.
The intangible factor/variable in this example is how the emotion of grief affected the outcome of a football game. In fact, the same conclusion might be made if in fact Brett Favre threw seven interceptions in that same game and the team lost by 50 points. The factor/variable at play here was Brett Favre's emotional state at the time he played that game, and how that emotional state may have impacted his performance.
Though consistently acknowledged by many coaches as being legitimate factors in outcome performance, few seem to take the science regarding 'the intangibles' seriously enough to examine and address ways they may use these factors/variables to enhance productivity. Since there is often little overall difference between teams regarding physical talent, wouldn't it make sense to also spend a little time to consider how 'the intangibles' might affect a particular player and/or team as a whole?
Having spent an entire professional career as a behavioral analyst and health care professional, it was that very skill of making sense out of 'the intangibles' that led to my awareness of their power to change behavior, and therefore life outcomes. Year after year of experience at identifying patterns of behavior that changed outcomes made it easier to see the effect of 'the intangibles' on a daily basis.
Why and how does this have any relevance to Bills football and my BillsMafia articles?
This season I will devote a great deal of time to the analysis of the intangible factors that will impact the Buffalo Bills' success or failure to return to the playoffs in January. After all, isn't playing in January the ultimate goal for all who love the Bills?
I'll let the expert analysts of the "Xs and Os" do their job because they do it far better than I could ever hope to accomplish here. My expertise lies in the area of ferreting out the unexplained variables that affect behavior and performance.
Let me begin by discussing an example regarding one intangible factor that may affect EJ Manuel's performance this season. [Please Note: This should give you a good taste of wyobabble, which unfortunately for all of you is about to be rapidly expanded on Twitter @wyobilzfan, as I hit training camp on July 27, 28, 30, and 31st. Hit me up with your feedback/questions as I bring you along to training camp, BillsMafia style.]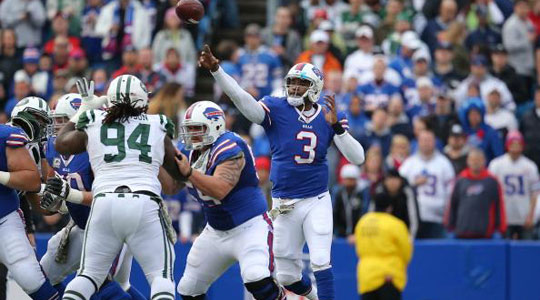 Arguably no player on the roster has more need for the intangibles to fall into place for him this season than EJ Manuel. For what it's worth, I think all his talking points were right on target during the off-season. However, now he must perform the season of his life to quiet critics who do not believe that he will become a successful QB in the NFL.
If you watch Manuel closely, he seems to exude more confidence as he heads into his second season. Take a look at his latest interview on NFL Network the other day if you haven't seen it yet. EJ not only looks more relaxed, his demeanor is communicating much more as leader than rookie, as appeared was the case last season.
Too many people forget that EJ Manuel was a developmental prospect when he was drafted. If it weren't for Kevin Kolb's concussion, he could still be carrying a clip-board into this season without having played a down in a regular season NFL game.
Therefore, one BIG intangible factor involves how much EJ has or will integrate from his previous NFL experience last season regarding his level of confidence as he moves forward this season. Confidence is another one of those 'squishy' concepts that means different things to different people. It is considered another intangible factor that we instinctively know is critical to successful performance, but in and of itself is difficult to predictably measure.
We know the importance of confidence exists, but we can't easily measure it, if at all. Those are the types of factors/variables that will be the focus of my analysis of our beloved Bills this season. Consider yourselves warned in advance that it is my goal to bore you all to tears wyobabbling about these intangibles all season long. Intangibles don't get enough love in the sports world, and it's my aim to provide more discussion and insight into what is less easily measured.
I will begin my first blog installment of "The Intangibles" here on Saturday. The focus of that discussion will be on looking at what the intangible factor regarding the change in ownership might have on the success or failure of the Buffalo Bills this season.
Remember, this season is the first of its kind as a "lame duck" season regarding ownership of the Buffalo Bills. There has never been a point in time during the existence of this franchise when a front office, coaching staff, and group of players simultaneously experienced this type of change. That will play a huge role in how each one of these groups approach the season, both individually and collectively, for a variety of reasons.
Get ready and buckle your seat belts for what could be a very fun ride through wyobabble country this season. Guarantee it will be entertaining, if not as ridiculous as possible. Let's go. I'm ready to roll. Are you?