This is the point in the off-season, as teams are preparing for camp to start in another week or so, that people covering the teams begin searching for stories somewhat. We're desperate for football news and to see players in action so that we can report on how they look rather than how we think they might look if this or that. Personally, I don't mind. I love combining statistical analysis with my football IQ and coming up with what I think are safe and smart predictions; but with this article I want to be unsafe. I want to make 3 bold predictions for the Bills 2014 season.
1. The Bills will make the playoffs in 2014 with a 10-6 record
I've looked at the schedule hundreds of times, trying to see how possible this really is and let's just say that's why it's called a bold prediction. The Bills do face 4 teams that had worse records than them in 2013 though so if you assume those four games are wins, then if they can duplicate their success against the Dolphins last year (2-0) and figure out how to win a game against the Patriots (something they could have easily done week 1) you're already at 7. The Bills have two games with the Jets, let's say they win the home game like they did last year and you're up to 8. Then it is just a matter of winning two games against better teams. The two games I see as potential upsets are the season opener against the Bears in Chicago and at the Lions Week 5.
2. EJ Manuel will put up Andrew Luck numbers in 2014
This might be the boldest of my three predictions. But it fits nicely with the first one because if the Bills are going to win 10 games this season then I'm either going to have to be playing Madden 15 or EJ Manuel is going to have to shine. Manuel has all the physical tools to match Luck, based on their combine measurements and with new, more potent, offensive weapons around him, there's no reason to think he couldn't (when making bold predictions that is).  Manuel started 10 games for the Bills in 2013, throwing for 1,972 yards and 11 TDs with a completion rate of 58.8%. If he produced those numbers over a full and hopefully injury-free season, like he could have in 2014, Manuel would have thrown for 3,154 yards and close to 18 TDs. That would put him about 700 yards and four passing TDs away from Luck, in other words less than what I expect from Sammy Watkins in his first year.
3. The Bills run defense will finish in the Top 10 in 2014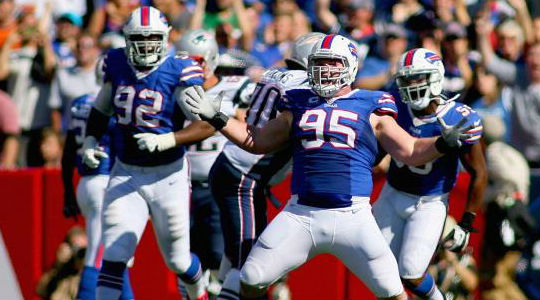 This has more to do with Jim Schwartz than anything. In three out of the last four seasons he accomplished this feat with the Lions. Last season his Lions defense, which is less talented on paper than the Bills, finished No. 6 overall in run defense. He is known for stout run defense from his days in Tennessee and it is one of the main reasons the Bills hired him. With Mario Williams, Kyle Williams, Marcell Dareus and Jerry Hughes on the line with an upgraded LB corps, even without Kiko, behind them, Buffalo greatly improves their run defense. This prediction is only bold because of how poorly the Bills did against the run last season. I fully expect the Bills run defense to be vastly improved.