Last week we took a look at Buffalo's exciting defense in 2013 and predictions were made on how the unit would fare in 2014. This week the offense will get the over/under treatment. Unfortunately, Buffalo's offense wasn't nearly as exciting as it's counterpart.
There's plenty of reasons why the Buffalo Bills' offense was dismal in 2013: a new offensive coordinator in Nathaniel Hackett, a rookie first round quarterback, injuries that led to Thad Lewis and Jeff Tuel starting, etc. That said, excuses are like Donte Whitner… they're overrated. Good teams find ways to move the ball and win games.
Let's take a look at how the team fared in certain areas and predict if the Bills will go over or under the totals from 2013.
Over/Under 21.2 PPG: Over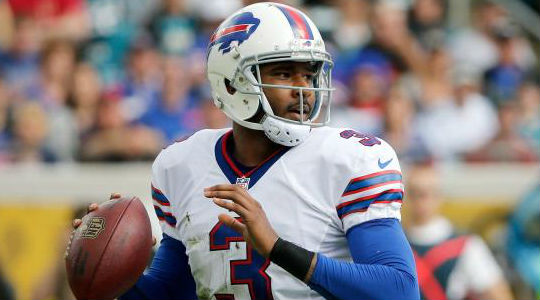 Buffalo's 21.2 point per game was good for 22nd in the league. The team should be able to put more points on the board in 2014. Last season, the Bills started three quarterbacks, all in their first year on the team. The playbook was watered down for Manuel, Lewis and Tuel as they were called into action. This season, the playbook should be wide open for Manuel as they take off the proverbial training wheels.
C.J. Spiller, the team's most explosive running back, fought with a high ankle sprain all season which limited his production. He recently said that he's feeling great:
"This is the best I've felt since 2012 when I had that great year. The ankle feels wonderful."
The wide receivers have also received a makeover. Stevie Johnson, the team's former No. 1 receiver, was traded to San Francisco and the Bills added Sammy Watkins and Mike Williams. Watkins, Williams and Robert Woods will be the team's starting trio this fall. Talent was also added to the offensive line via free agency and the NFL draft as well.
With all of this factored in, look for Buffalo's scoring to go up in 2014.
Over/Under 3,373 Passing Yards: Over
The 3,373 passing yards were the combined total of Manuel (1,972), Lewis (1,092) and Tuel (309). These totals average out to about 211 yards per game. All we heard in the offseason is how the Bills planned on upgrading the offense around Manuel. The team wasn't lying. Watkins and Williams were added at wide receiver, Tony Moeaki has looked terrific at OTAs and the offensive line was upgraded by the additions of Chris Williams, Cyrus Kouandjio and Cyril Richardson. The team also added two new running backs in Anthony Dixon and Bryce Brown. The protection and talent is certainly there for Manuel to make a leap in 2014.
Doug Marrone said that Manuel, as well as Lewis and Tuel, were in the advanced stages of learning the team's playbook:
"Now when you're talking to them it's like a light is going off," Marrone said. "They see it now and you're able to get the different steps. So from the standpoint of what you're doing in the classroom, you're working through the advanced stages now with them."
Between the talent surrounding Manuel and his knowledge of the playbook, I'd be shocked if Manuel didn't average more than 211 yards passing per game. The Bills may still be a run-first team, but Manuel will be expected to throw early and often this season.
Over/Under 2,307 Rushing Yards: Under
This was a tough one to predict. Buffalo finished second in the NFL is rushing yards, but had the most carries (546) in the NFL. With the weapons the Bills added at wide receiver, I don't see them rushing as much in 2014. That said, the team can still get close to this total considering they have a healthy Spiller, Fred Jackson, Bryce Brown and Anthony Dixon. On paper, this is an extremely talented group from top to bottom. While I see their rush yards decreasing, the group, especially Spiller and Jackson, should be more involved in the passing game.
Over/Under 46 20+ Yard Plays Receiving: Over
The receivers need to get involved in the article, so let's take a look at big plays. In 2013, the Bills accounted for 46 plays of 20+ yards in the passing game. This was good for 22nd in the league. While I don't see the Bills having a Philadelphia Eagles type of season (80 plays going for 20+ yards), this is another area where the team should improve. As mentioned, Manuel should be throwing the ball more this season. With weapons like C.J. Spiller, Fred Jackson, Sammy Watkins, Mike Williams, Robert Woods and Marquise Goodwin, the team should have their fair share of big play opportunities. This doesn't even account for guys like T.J. Graham, Scott Chandler, Tony Moeaki and others. The Bills should easily top 46 plays of 20+ yards.
BillsMafia, what are your over/under predictions for Buffalo's offense in these categories in 2014? Share your thoughts in the comment section!