The Buffalo Bills front office doubled down this offseason, in an attempt to improve their receiving corps.  The team traded for veteran, and former Doug Marrone player, Mike Williams, before trading up in the draft to select Sammy Watkins out of Clemson.  With those additions, plus the two draftees last year (Robert Woods and Marquise Goodwin) it's left former third round selection TJ Graham on the outside looking in, for a spot on the Bills' 2014 53-man roster..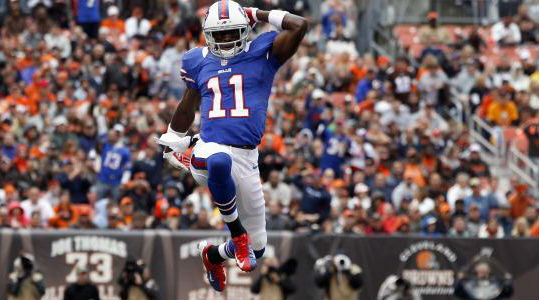 Graham enters his third professional season in a make or break situation.  He was counted on filling the role of a speed receiver on the outside, but poor route running and some drops have left fans and coaches wanting more from the team's third-round pick of the 2012 NFL Draft.
There is no question that Graham has speed, but he currently holds a 46.6% career catch rate.  In fact, his decline from year one to year two is maddening to consider.  Graham put up more TDs and yards in year two, but had fewer catches.  And it wasn't for a lack of passes his way.  Graham actually saw the same amount of targets in 2012 as he did in 2013.
Here is the breakdown:
Could there have been a disconnect between Graham and rookie QB EJ Manuel? Perhaps, as his two best games were with Thad Lewis under center.  In those two games, one against Cincinnati in week 6 and the other opposite New England in week 17, he put up a combined 7 catches, 136 yards and 1 TD.  That is about a third of his yearly output in those two games.
But what happened last year is exactly that: last year.  Graham's primary focus should be on showing improvement and that he provides value to the team.  This could be done in a variety of ways.
One option is to find an additional role to thrive in. This should include trying to earn the starting kick/punt return duties. Right now, early reports state that both Spiller and Watkins will get looks as return men, but Graham needs to try to take that job. If he fails, it's hard to justify his roster spot as typically the fifth receiver is relied on to contribute to special teams.
The other option is for Graham to show in camp that he is focused and on the same page with Manuel.  Chemistry between a quarterback and a receiver is crucial in the passing game.  Manuel trusts Woods and Chandler, but is still learning Williams and Watkins.  If Graham can show that he can cut down on the drops, while becoming a trustworthy target for Manuel, it will provide extra incentive for the coaches to keep him around.
Training camp is right around the bend and for Graham this could be his last as a Bill if he doesn't come in with his mind, and game, right.