He's going into his sixth season as a Buffalo Bill. He was drafted as the 28th overall pick in the first round of the 2009 draft, after 'All-Bust' Aaron Maybin.
Most Bills fans know Eric Wood once taunted Aaron Maybin during training camp by telling him to live up to his draft status and earn his paycheck. He was instantly adored for that blunt honesty ever since.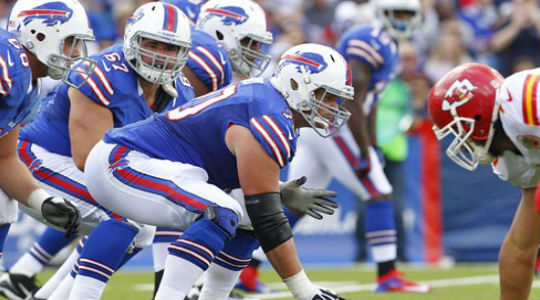 His blonde 'fro' sticks out like a laser-lighted bird's nest. Though a massive man in terms of body structure, Eric Wood could earn the nickname "Tiny" from his teammates on the Bills offensive line this season. At 6'4", 310 lbs., he is likely to be the smallest starter on a line that will likely be chock full of gargantuan newbies.
One of the benefits of growing old as an ancient sports fan is the ability to identify those special players who are considered "once in a generation" kind of players. We know them because we have seen them in the past, and have lived through the drought until their next reincarnation arrives. Having experienced this as a fan several times over the years, you develop a keen awareness when you see 'it' again.
When I started reading about Eric Wood in preparation for the draft during the early spring of 2009, the descriptions of him reminded me of our dearly departed, but never forgotten Kent Hull. Both Wood and Hull are/were big southern boys with a nasty attitude and a rabid passion for the game. One trait they also share in common that some fans may not realize is that they both are/were highly intelligent.
However, their intelligence is/was not limited to the classroom. They share a less common type of intelligence that comes from acquiring wisdom through the process of learning from others. It's a deeply practical type of wisdom that requires finely tuned active listening skills, and a highly intuitive mind. Both gentlemen (term being loosely applied here) are/were loaded with both skills in spades.
Kent Hull's death rocked me for a long time. I still can't believe that he is gone. However, if he were alive today, I believe he would be pleased to watch Eric Wood play center. He would definitely approve of Eric's willingness to get in the face of anyone trying to inflict his QB with bodily harm.
Kent Hull went to three Pro-Bowls during his career (1988, 89, 90). Eric Wood has yet to be named to one at this point. Of course it did help that Hull was the man in front of Jim Kelly.
The career of a center is often wound tightly around the quarterback they are paid handsomely to protect. Eric has had Trent Edwards, Ryan Fitzpatrick, EJ Manuel and several back ups as quarterbacks throughout his career.
No wonder Eric Wood hasn't had enough serious Pro-Bowl consideration. He's also had the horrible misfortune of breaking both his tibia and fibula during his rookie season. If that wasn't bad enough, he tore his ACL in 2011 and then suffered an MCL tear in 2012. He's been the poster boy for bad luck on a bad luck team.
But he loves us, and we love him. Why? Because he fits the persona of what it means to be a Buffalo Bill, arguably as much as Kent Hull did back in the day. Sheer grit, determination, star leadership, and a deep appreciation by a supportive fan base are among just a few of Eric's special connections with Bills fans.
Eric is at the peak of his career in terms of age and wisdom. He's been a team captain, and I don't expect that title to go anywhere this season. In fact, I believe his leadership role will play a huge part in coalescing up to two rookies that could end up with starting jobs along the offensive line.
However, his role as a leader will not stop there. Marrone was an offensive lineman in the NFL. With Marrone entering his second year as head coach, he and Wood have had the opportunity to get to know one another very well at this point.
I believe Eric Wood understands the importance of his role in supporting EJ Manuel's development during his all important second year. Wood has also been with the team long enough to understand the pressure to produce this season, as a new owner determines the fate of the Bills franchise.
For all the media attention focused upon the role of Sammy Watkins, C.J. Spiller, Robert Woods, Fred Jackson, etc., it's really the role of Eric Wood in this offense that intrigues me the most at this point. I believe that Eric Wood's greatest season is ahead of him. Hopefully, it will be a healthy one as well.
Eric Wood is finally surrounded by huge players with more talent and athleticism across the line than a Bills offensive line has seen in years. He has a head coach that understands his position. If he can avoid catastrophic injury, or even something that might dog him all season, the stars are lined up for him to have a Pro Bowl year.
Eric Wood is to this Bills offense what Kyle Williams is to the defense. Leader, baller, and passionate player. Yet Kyle has been recognized for the special player that he is, and Eric has yet to achieve that pinnacle of peer recognition and fan awareness. It will come, and I believe it will be the key to the success or failure of the Bills entire offense this season.
For the record, my obsession with offensive linemen goes way back, and I've been blessed by friends who have taught me the finer points of 'hog' culture over the years. These days I'm most likely to be the little old lady pressed up against the fence at an 8 AM practice watching offensive line drills with binoculars and making notes.
It certainly won't be any different at this camp which is rapidly approaching! I will be stalking out the best view of the offensive line that I can find and pray that temperatures are not in the mid-90's like it was the last time I visited training camp.
At the top of my list will be spending time watching offensive line drills. Camp is frustrating for me because I want to be able to watch all drills, at all positions, all the time. Again, with the help of friends I've been able to learn to prioritize and catch a decent overview.
It will be interesting to watch how Eric Wood conducts himself during camp this year. I expect this season he may come into his own in terms of asserting veteran leadership on and off the field. His steady presence is vital for EJ Manuel's badly needed development.
Where Eric Wood goes this season will determine the success or failure of this offense in my opinion. Eric is more than the sum of his massive parts on many levels. I'll be keeping a 'wyo-eyeball' on how much this guy takes his game to an even greater level this season.
By the way, camp is around the corner. I'm not hearing from enough of you regarding your suggestions/comments for training camp coverage. Please post your questions/comments by hitting the reply button here, or tweet @wyobilzfan with your questions or comments for training camp.