This past Tuesday, Buffalo Bills fans everywhere were hit with the terrible news that Kiko Alonso had torn his ACL and would likely miss the entire 2014 season. After such a promising rookie season and off-season of hype it is a devastating blow. The defense will surely miss Alonso's playmaking ability. Fortunately, linebacker is one position on the Bills roster with a good amount of depth, so it will simply mean Nigel Bradham, Preston Brown and company will have to step up. The defense won't be as good as it could have been, but it should still be solid.
Now that I got that out of the way, we can take a look at the other side of the ball. Last week I gave you my slant on the Bills running game. That post got me thinking about the offense in general and where it needs to improve if we don't want to end up giving Cleveland a high first round draft pick in 2015.
Looking at the offensive statistics for 2013, I was eventually able to narrow down the area the Bills offense most needs to improve in 2014 to just one thing. Now this one thing is painfully obvious and something every team would like to improve on, but how the Bills might suddenly accomplish it in 2014 is why I point it out – Scoring.
The Seattle Seahawks proved the old coaching adage that "Defense Wins Championships" with their dismantling of the seemingly unstoppable Broncos offense in the Super Bowl. Now the Bills defense is still a few years away from being anywhere close to as good as the Seahawks, but they're on the right track. It is good enough to win them about 4 games a season. If the Bills ever want to make the playoffs again they're either going to need that number to increase to 8+ or they're going to have to score the ball more consistently.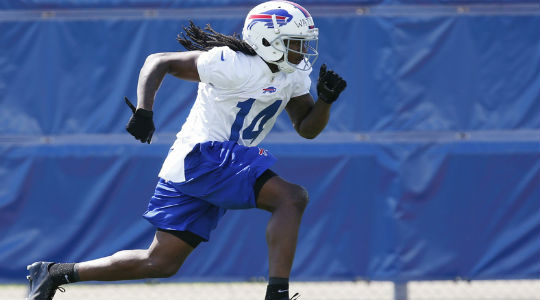 The first way they can help themselves score more regularly is throw the ball down the field more. The Bills averaged a dismal 5.9 yards per pass attempt in 2013. There is world class speed in the Bills receiving corps, but they need to find better ways to use it. I've already said I expect Sammy Watkins to be the biggest help in this area as well as Doug Marrone having another year to help grow EJ Manuel. Marrone's system will work and I think 2014 could be its true coming out party.
Next they need to figure out how to hold on to the football better because they ranked 30th in the NFL with 12 rushing fumbles. Fumbles kill offensive drives and take away scoring opportunities. It is something they should be able to improve upon through hard work in training camp and dedication to fundamental running techniques. At the very least they could use Coach Boone from "Remember the Titans" saying, "You fumble the football, and I will break my foot off in your John Brown hind parts and then you will run a mile."
Finally they need to get it together in the red zone. Last season Buffalo ranked 25th in the league in red zone drives with just 44, despite having 207 offensive possessions, the most in the league. With more weapons for Manuel to choose from in the form of a couple high-point receivers that can win jump balls in single coverage and such skilled RBs, especially the addition of a short yardage specialist (Dixon), it is another area I believe they'll improve in.
If they can right the wrongs they committed in those three areas for the 2014 season, they could be as potent an offense as there is in the NFL.