It took a lot of effort on my part to resist the temptation to proclaim the Buffalo Bills completely cursed after Kiko Alonso tore his ACL. You could hear the collective sigh of despair coming from Western New York and across Bills Nation. The words "here we go again" immediately came to mind, like that nasty song you cannot get out of your head.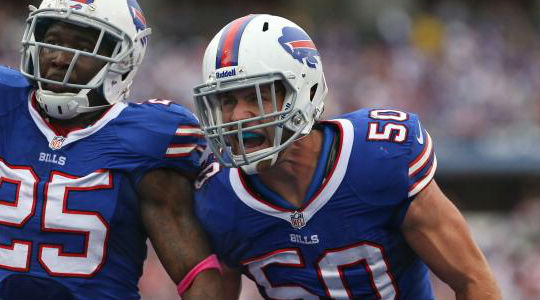 Bills fans are conditioned to respond to any kind of bad news regarding the team with a loud "here we go again." This type of reaction is a good example of the principle of operant conditioning. Extinguishing those types of responses from Bills fans after a decade and a half of losing will require that the Bills win a lot more games, and consistently dominate their opponents. That means business as usual for the Bills must change.
There are numerous reasons why I believe this season will be like no other for the Bills. It already is. We are entering the next era in ownership. The Bills have now been demarcated as "Before Mr. Wilson" died (BMWD), and "After Mr. Wilson" died (AMWD). For the first time since creation of the team, we are launching ourselves into a strange new "after" world.
That alone makes this season unique. There is pressure on the team to make the playoffs for a new owner. If there isn't, there ought to be pressure on fans to fill every seat in the stadium for the entire season. After three 6-10 seasons, jobs are on the line. The team's very existence in Western New York is on the line.
So, with that realization we move forward with trepidation as fans. Having experienced almost every conceivable permutation of bad luck, bad timing, bad choices, and so on, we trudge forward to an unknown future with serious questions. That fact alone makes this season unique. These are NOT in any way the "same old Bills."
Even if the Bills finish 6-10 yet again, that old mantra will not apply to this team. Nothing will be "the same" as it was BMWD. It may take fans time to realize the consequences of the shift in ownership because we have enjoyed the comfort of predictability for over 50 years.
The only thing we can count on in life is change in one form or another. We tell ourselves to let go of the stress over things we cannot control. Whether we realize it or not, most of us are steeling ourselves for that horrible possibility the team may be moved.
As experts in 'loserology,' we understand life as a loser sports fan better than most. We've got negative thinking down to an art form. The team's decade and a half of failure has been like a cloak that blocked out the harsh light of reality that one day this team might not even exist in Western New York. Now we are confronted with this possibility, and it's one more layer of emotion to have to process as a Bills fan. No, this is not the "same old Bills."
Ask a hundred Bills fans what the first word was that came to mind when the news broke about Alonso being out for the season, and many would likely reply with the word "doomed." That word has been seared into our brains for far too long, and frankly it's no longer appropriate.
A new owner means a new universe of possibilities, as well as an immediate culture shock to a system that has been quite comfortable and profitable for over 50 years. In a low interest economy, any billionaire buying the team will be likely financing all or at least part of the deal, so this team has already ceased to be the predictable "cash cow" as we knew it. Nope, this is not the "same old Bills."
In the context of all this upheaval, another season of football is around the corner. This might turn out to be one of the most interesting training camps I've ever attended. It would not surprise me to see a few prospective owners show up to check out the facilities and team. I'll be watching how operations flow and the general mood around camp.
No matter what kind of professional face the staff at One Bills Drive puts on for the fan base, it can't be easy wondering if you are going to have a job down the line. Players also won't be sitting fat and happy on their contracts knowing that if the coaching staff gets fired (as often happens when owners change), they may soon be following them out the door.
By now, many of you reading this are probably irritated about being reminded of the fear of the unknown regarding the future of the Bills. However, the purpose of framing all of this is to point out that as fans, we need to realize that we also should not be toting the "same old Bills" mantra around any longer.
If we shift our way of thinking and focus on the fact that NOTHING is the same as far as the Bills are concerned at this time, it frees us from the shackles of despair and hopelessness that have plagued this fan base for far too long. Anything becomes possible now, and it might be time to expect the unexpected.
In other words, if we unlock our brains from the "same old Bills" mantra, a new owner will be able to see exactly how unique the Bills fan base is because we remain passionate after nearly 15 years of failure. If new ownership is familiar with the Western New York area, they already know this about the fan base.
However, what is unknown is the effect it would have on the success of the team if the fan base were to shift their mindset from expecting to lose to demanding to win. We have all witnessed a great bond develop on Twitter between Bills players and their fan base by way of our very own BillsMafia hashtag and web site (maybe not ex-players like Donte Whitner, but you get my point).
Maybe in the age of social media, we can work together to rid the fan base of the "same old Bills" mantra, and replace it with "expect the unexpected." That includes unexpected catastrophic injuries like Alonso's knee injury. We have to find a way to get back to the resilience we once had as fans. Most teams face the loss of key players before and throughout the season.
This team is deeper at almost every position across the board than it has been in 15 years. It is also the youngest team we've had pass through The Ralph in a long time. Remember the phrase "get them when they are young?"
In terms of teaching, the belief is that it is easier to make connections and learn when we are young. If this is true, then these young players need to learn WHY Bills fans are different than any other fan base in the NFL, with the exception of the Green Bay Packers. They need to feel what we feel and become inspired to accept nothing short of a championship to honor this fan base and its long legacy of devotion.
Jim Kelly gets this concept more than any other player to ever wear the uniform. He is an inspiration and completely understands the mentality and culture of Western New Yorkers. His continued health is one more form of love and leadership he is giving back to the Bills fan base.
Kelly is once again the bridge between a passionate fan base and a group of young players in need of clarity of purpose. As Bills fans, we should take comfort in knowing that No. 12 will never accept anything less than total dedication from this team. His influence on this young team has arguably never been more important. In no way, shape or form is this team the same old Bills.
Let's move on from that mantra, and allow ourselves to experience the joy of believing that anything is possible once again. I realize this might be a foreign feeling for many of us, and that we are tightly conditioned to expect the worst from the Buffalo Bills. Maybe if we change our way of thinking, and come to realize how different this team will look five years from now with a new owner, it just might change the loser mentality that has plagued this team and fan base for far too long.
One more reminder: I'll be at training camp on July 27, 28, 30 and 31. Send me your questions or comments regarding what you'd like me to focus on while I'm at camp on Twitter: @wyobilzfan.