The Kiko Alonso injury hurts, but it doesn't derail Buffalo's 2014 season. Buffalo currently has plenty of depth on their roster who could contribute in 2014. Brandon Spikes and Keith Rivers are both penciled in as starting linebackers. Nigel Bradham, Pro Football Focus' Secret Superstar for the Bills, is waiting in the wings alongside rookie Preston Brown, Ty Powell and Randell Johnson. Even with this depth, the Bills would be wise to look for additional talent still available in free agency.
Unfortunately, by July the proverbial well is usually dry in terms of free agents. That said, there are still a few options available that may entice the Bills. The five players listed are not to be considered as starters, but purely as added depth. While Alonso was set to play weakside linebacker, some of the better options available may be strongside linebackers, forcing Rivers and Bradham to play on the weakside. Here are 4 linebackers the Bills could bring in for training camp.
James Harrison
How weak is the remaining crop of FA linebackers? The top player available is 36 years old. Harrison would be brought in as a strongside linebacker so that Rivers or Bradham could move over to the weakside. Much like Brandon Spikes, Harrison is not a three-down linebacker, but he is still a very valuable run-stopper. Pro Football Focus (Subscription Required) graded Harrison as the fourth best 4-3 OLB in regards to run defense.  Harrison started 10 games in 2013, but only played 409 total snaps. He finished the season with 30 tackles, two sacks and an interception. He could be used on early downs, but teams may look to pass early against the Bills with Harrison and Spikes on the field.
Erin Henderson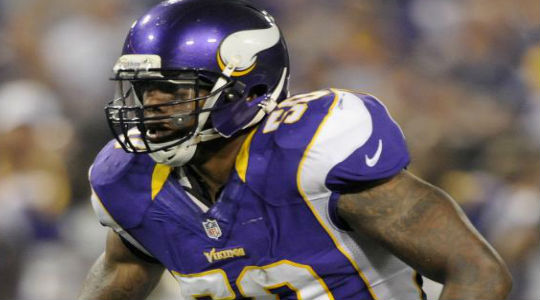 Henderson was a popular choice on social media after the Alonso news broke. The linebacker is familiar with Fred Pagac, Buffalo's LB coach, and is a versatile player. In his career, Henderson has played in all three linebacker spots. Henderson was released by the Vikings in February after two arrests. The linebacker has admitted to having a problem with alcohol and marijuana and is just waiting for an opportunity to play.
"For me, it's nothing different than when I came out here to the Vikings as an undrafted free agent. Once I get on to a team and get on to a roster, I trust myself and believe myself. It's just a matter of somebody going out on a limb and trusting me."
The Bills have rolled the dice on players with character issues recently, so Henderson may be the most logical choice. In 2013, Henderson spent the majority of his time as the Vikings' middle linebacker. He played in 14 games, starting 12, and saw 868 snaps. Henderson graded out well at PFF as a run stopper (+6.7) and fared well as a pass rusher (+1.2). He struggled in coverage with a -6.6.
Out of the four names listed, Henderson may be the most logical as he can play at any of the three linebacker positions and is familiar with both Jim Schwartz and Pagac.
Marvin Mitchell
Marvin Mitchell is also very familiar with Buffalo's linebacker coach Fred Pagac. Mitchell only played 310 snaps in 2013, all of which were at the strongside linebacker position. That said, he played in all 16 games, starting 10. Mitchell isn't a standout linebacker by any means, but he holds his own as a run defense and coverage. Mitchell finished the 2013 season with 42 total tackles.
Michael Boley
Boley had a season to forget in 2013. After signing with the Cincinnati Bengals last season, Boley hardly saw the field. The LB played in 10 games, starting one, where he finished the season with 10 total tackles. Before the 2013 season, Boley averaged a shade over 85 total tackles per season.
One thing that Boley has going for him is that he's best at weakside linebacker.His drop in production from last season is worrisome, but he was buried on Cincinnati's depth chart. The Bills may kick the tires on Boley to see if he'd provide depth on the weakside.
There are other linebackers currently on the market that the Bills may prefer over the four listed here. They could also go an alternate route. On Twitter, I suggested that the Bills sign Jason Babin as a backup defensive end to Jerry Hughes, and move Manny Lawson back to strongside linebacker. That'd free up Rivers or Bradham to play on the weakside and not harm Buffalo's depth.
The Bills won't rest on their laurels for long. While none of the options above are long-term solutions, they can be a one year stopgap until #TheLegendofKikoAlonso returns in 2015.