It was hard not to reminisce and get downright sappy about the 'Glory Days' when the NFL Network dedicated a week of programming to great teams of the 90s this past week. In fact, it got me thinking about a lot of things I've missed during the twenty years since the Bills were relevant to anyone outside the hardcore fan base.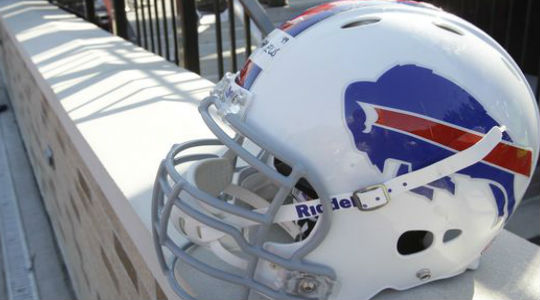 One small positive is that at least we haven't had to contend with bandwagon fans for quite awhile. I'm pretty sure they went extinct at least ten years ago. There is a credible rumor that one of the bandwagon fans was recently found flattened underneath a giant 'collection' tub in one of the men's restrooms during stadium renovations at The Ralph. He was wearing two Drew Bledsoe jerseys, a Patriots* jersey underneath and the Bills jersey over the top. That was a dead giveaway.
I suppose before babbling about bandwagon fans it might help to operationally define what I classify as a "bandwagon fan" for the purpose of this discussion. The term is somewhat nebulous and used in a variety of contexts.
From my perspective, bandwagon fans come in a variety of forms. Most are identified by how recently they became Bills fans. During the 90s, the majority were fans that started jumping on board when the Bills made their first Super Bowl appearance.
If I asked a fan during 1991 how long they had been a Bills fan, and they replied sometime around the acquisition of Jim Kelly and Bruce Smith, they immediately met bandwagon status by my definition. Bandwagon fans tend to follow a pattern of finding an individual player they adore, and their loyalty following the player to whatever team colors he wears. Bandwagon fans are like bad fish. In fact, they are a lot like most Dolphins fans now that I think of it.
However, one group I am in complete awe of regarding all the Bills fans I've met over the years are those who did not grow up in Western New York, but who have loved the team from afar even through the lean years. They are a rarified group.
These people are the "anti-bandwagoners." They should be held in very high esteem for their dedication and loyalty. Many of us were born into the obsession as a result of geography and the type of character we are as native Western New Yorkers.
After watching the series "The Missing Rings" on the NFL Network, it occurred to me that it's been ages since I remember being annoyed seeing people running around in brand new shiny Bills gear in New Mexico, Oregon, Montana, and Wyoming. It's the people I know from these places that are STILL Bills fans who I hold in the highest regard. They have suffered with me and resisted the temptation to bring up the Super Bowl losses and subsequent decades-long malaise.
Bandwagon fans also tend to out themselves by what happens when 'their' team gets blown out in the Super Bowl. After the Seattle Seahawks put the paste on the Broncos in the last Super Bowl, I had to keep from laughing myself silly at the fans around Wyoming that said they were fed up, and that whenever Peyton retires they were finding another team. Nothing says 'bandwagon' like that kind of remark.
As my mind wandered around this notion of the extinction of Bills bandwagon fans, it occurred to me that after all these years, we may have lost touch with how to handle them when they inevitably reappear (hopefully sooner than later). We keep talking about this year being so critical with respect to getting back to the playoffs, but has anyone stopped to think about what will happen when hoards of people start circling the wagons again instead of the drain?
Gasp. If the players need to focus on getting their game back, then so do we! Let us not get caught off-guard and unprepared when it happens. The Bills are still 0-0 at this point. Are we as fans ready for the shocking possibility that this team could make the playoffs sooner than later?
It might be a shock to the system if we are traveling across the country and we suddenly started seeing Sammy Watkins jerseys everywhere we go. How will we respond while wearing our tattered Peerless Price jerseys as we cruise through an airport in Arkansas and hoards of people are sporting shiny new Bills merchandise?
Perhaps it might be prudent to plan ahead for how to respond to the first sign of a bandwagon fan. I realize it may be a farfetched thought at this time, but it's better to prepare ahead of time and not get caught off guard at the first sign of 'bandwagonism.'
Recognition is the first line of defense. However, since our playoff experience as fans has been put on mothballs since the start of the new millennium, we may not be quick enough in response when we first encounter these creatures again. Seriously, by definition can there be such a thing as a bandwagon Bills fan after 14 miserable seasons?
The following are a few questions to throw out when you spot your first Bills bandwagon fan. Ask these questions and you will out them in a flash. I'm certain the rest of the BillsMafia can help me out here and add more to this list in the comment section below:
Are the Zubaz you're wearing from this generation or last?
Do you think any of these offensive linemen coming to training camp this year will ever be as good as Jamie Nails?
Will Seantrel Henderson have a better career than our "other 66," Lauvale Sape?
You get the point. It's time to sharpen our claws and prepare for our training camp as fans. We must prepare as we hope the players will, and expect this team to win and then face the consequences of winning. It's time to prepare for the appearance of that extinct group of animals, the bandwagon Bills fans. Be warned. They are coming.
Also, please keep sending me your questions and suggestions regarding what you would like me to focus on at training camp. I'll be attending practice sessions on July 27, 28, 30 and 31st. Use the comment section here, or tweet me @wyobilzfan.