We all have that friend or acquaintance that talks a big game. Anytime someone shares a story, they one-up that story. The spotlight always needs to be on them. They're arrogant, brash and most of the time you wonder why you're friends with this person.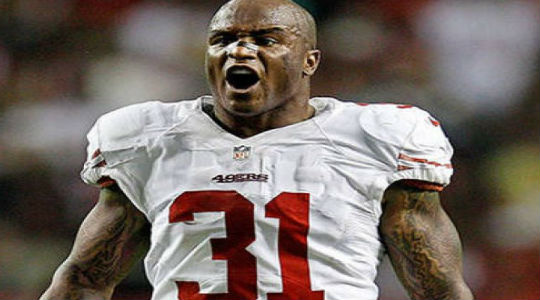 Now I'd never call Donte Whitner a friend or acquaintance, but the description above fits him to a T.
Whitner is desperate for attention and it become apparent on Friday when he tweeted out the following:
Be quiet Sammy. Trust me!

— DonteHitner (@DonteWhitner) June 27, 2014
All you wack buffalo fans don't have to feel this. Sammy will! — DonteHitner (@DonteWhitner) June 28, 2014
The Sammy of course is Buffalo's Sammy Watkins. What did Watkins say to get Whitner upset? Well, nothing really. Watkins was in Ohio for the NFL Rookie Symposium Play 60 Youth Football Camp and was asked if he'd have a chip on his shoulder when playing the Browns, who traded their pick to the Bills instead of selecting Watkins themselves. His response?
"I have a chip on my shoulder for every game, so it's not just the Browns," Watkins said. "I come out and dominate my opponent every game. I'm sure they've got great cornerbacks and great safeties, but my job is to do my job on the field no matter who's in front of me, whether it's [Browns cornerback] Joe Haden or [New England Patriots cornerback Darrelle] Revis or [Seattle Seahawks cornerback Richard] Sherman, all the greats. My job is to win on the field and do my best."
No insults. Nothing disrespectful. Just responding to a question from an Ohio journalist. 
This isn't the first time that Whitner has taken to Twitter for attention. Back in 2010, Whitner was begging for Twitter followers. In fact, if you helped Whitner get to 10,000 followers he'd give away 2 free Super Bowl tickets. Whitner easily raised his followers with this contest and once he hit 10,000 followers he changed the rules. You want the Super Bowl tickets? Predict both conference title games correctly and they were yours. Whitner said nothing about a contest until after he reached the follower total he seeked. Needless to say, no one's crystal ball was working that day and no one won the tickets. When fans started bashing Whitner, he told them to just unfollow him. Many did.  Whitner being Whitner.  At the end of his tenure with the Bills, Whitner wasn't happy with the contract he was being offered but he claimed he wanted to stay with the Bills but noted that the team and his reps were far apart on the new contract:
"There was supposed to be another conversation today, but if things continue the way that they're going, obviously I'm going to have to hit the free-agent market and see my true value."
Buddy Nix, Buffalo's GM at the time, was more blunt in saying that Whitner probably wouldn't return. It was clear that Buffalo didn't value Whitner the way that Whitner valued Whitner. Just Whitner being Whitner.
He left the Bills in free agency and signed a 3 year, $11.65 million contract with the 49ers. Whitner found more success with the 49ers, but being surrounded by an All-Star cast on defense certainly helped. Yet, as his contract was nearing its end, the 49ers weren't in a rush to re-sign him. Whitner again took to Twitter:
Y'all want me here next year?

— DonteHitner (@DonteWhitner) December 17, 2013
What was Whitner's end game here? No idea. He sent out a tweet to people who follow him, so of course they'd say yes. I wish he had sent that tweet to me so I could say, "You've improved, but you're still a liability in coverage and give up too many big plays and penalties. I'd pass." Of course, that didn't happen. Whitner followed that tweet up with this one:
I give so much to this shit

— DonteHitner (@DonteWhitner) December 17, 2013
Pardon the language, but it was apparent that Whitner was desperate to re-sign with the 49ers, but only at an amount he deemed acceptable.
Whitner being Whitner.
As we all know, the 49ers didn't re-sign Whitner. Instead, the former first round pick will be playing for his third team, the Cleveland Browns. After signing in Cleveland, Whitner did an interview with John Clayton. Bill Williamson wrote a piece on the interview and an excerpt can be found below:
In the interview with Clayton, Whitner said the Browns offered him "$8-10 million" more than the 49ers did over the course of the deal. He also indicated there was some "tricky language" in the 49ers' offer. He said he didn't feel like the 49ers were offering Whitner his "true value" based on what he brought the team. 
As he was leaving Buffalo, Whitner noted he didn't feel he was getting his true value. The same "true value" excuse was being used again after Whitner left the 49ers. Once again, it was Whitner being Whitner.
Unfortunately, Mr. Whitner needs to wake up and realize that his self-assessed value clearly isn't what other NFL teams see. Since 2007, Pro Football Focus has listed Whitner as the 54th, 56th, 64th, 52nd, 7th, 53rd and 6th best safety in the NFL. While he did have two strong seasons as a 49er, his entire career has been very inconsistent. In 2012 for instance, no safety was credited with giving up more touchdowns in his coverage area (8). While his stats overall were strong in 2013, he had the third lowest penalty rating among all safeties with a -2.4. He was called for 7 penalties alone in 2013. Whitner embraced the penalties and tried changing his name to "Hitner."  This was his brilliant response to believing he was being improperly penalized for unnecessary roughness.
Whitner being Whitner.
Browns fans, right now you're in a honeymoon period with Whitner. I've been there with players. It's nice. Everything they say and do is hilarious and awesome. They're talking a big game and man, oh man, when the games begin look out!
Now, don't get me wrong. I think Whitner is a terrific fit in Mike Pettine's defense. He'll make some good plays, but he'll also have his fair share of missed tackles and blown assignments. It's just the Whitner way. It's not a coincidence that Whitner is playing for his third different team since entering the league in 2006.
Four years from now, if Whitner actually plays out his contract with Cleveland, Whitner will be pandering to the Browns fan base for support as he seeks a new contract. Yet, if he leaves Cleveland, he'll be sure to bash the Browns and their fans whenever he can.
It's just Whitner being Whitner.