They're aren't many third chances, so it's best to make the earlier attempt count. The Bills can forgive some past transgressions without treating intermittent miscreants like charity cases. The willingness to take on a reclamation project requires balancing a player's ability against how many cops know him by name. The goal is to win games and not church choir tournaments, but the team's front office has to live in the area with the players they bring aboard, too.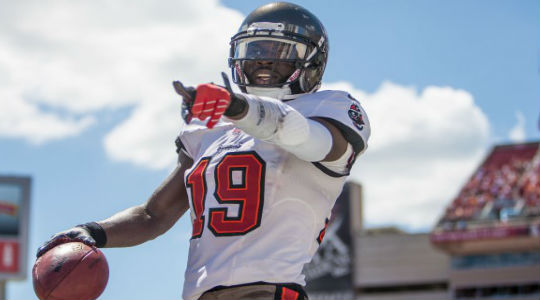 As for a new Bill with old issues, it's amazing how trouble has found Mike Williams. In fact, it's almost as if he's displayed a pattern of questionable decisions. His ability is unquestioned, as he's continually run uncannily evasive routes while playing taller than his listed height. During a rough patch for Syracuse football, he wasn't merely a talented player: he was the talented player. But he drew commotion as easily as he shed cornerbacks.
Still, I can forgive Williams if his college coach can. Doug Marrone seems willing to give him another shot after the Orange boss saw red flags raised in person. The receiver is blessed to get this opportunity, as the Nickel City native begins again where it all began.
He must leave tumultuousness behind along with Tampa.  Williams can display maturity by having a relaxingly boring personal life.  In fact, he must do so if he hopes to employ his innate shiftiness in Buffalo. If he can't seize this chance, at least we know it wasn't fate's fault that he failed to reach potential. To avoid worrisome incidents, he just has to make his cave comfortable without being excessively stimulating.
Shrewd teams differentiate between potential employees who are bad guys and those who had a little too much fun in college. For example, Kiko Alonso wasn't available at the 46th pick because general managers thought he couldn't disrupt offenses: he occasionally had difficulty choosing between being a linebacker and hoodlum. Bills fans ended up being glad he was a confused youngster, even if they don't excuse his misadventures. The franchise was willing to believe he got it out of his system. Now as a pro, he's obviously grown up enough to think of nothing but pulverizing the bones of ball carriers.
Even the presumed savior had a blemish. Those familiar with Sammy Watkins as a politely focused young man may be surprised to learn he committed a relatively mild but still notable offense as an undergraduate. A skittish franchise could have branded him a potential nuisance, but Buffalo saw that an otherwise respectful teen's screw-up was an atypical moment.
The draft's end offers a chance to place the last chip on a favorite roulette number instead of cashing it to plunk away in the nickel slots. Seantrel Henderson is the sort of risk to take in the seventh round in the hope he'll learn to like football more than recreational drugs. Well, they are fun, according to reports. But he could be an NFL starter instead if he really felt like it. The reason he was there among the remainders could spur tremendous motivation if he's interested.
Some wagers offer such low risk that it would be foolish to abstain. By the seventh round, the odds are in a team's favor. As a pure end-of-draft calculation, general managers may as well go for a player who fell for off-the-field reasons versus one who didn't excel on it. Cutting such a player is an easy call if he fails to remain upright. If the potential high return on a tumultuous player doesn't pay out, it means you statistically missed on a likely practice squad candidate.
Meanwhile, an established starter must live routinely enough to not confirm a wayward reputation. Fans and the franchise wait to learn if Marcell Dareus will be suspended for curiously partaking in synthetic pot and actual drag racing. A lack of focus could cost him a lot of money and an extended career. Therefore, we can look forward to him excising hijinks and dominating the line's interior to make a point. Right?
Assembling a roster shouldn't be a cunningly simple exercise that resembles recruiting in prison yards. Putting up with agitators if they'll win football games may not lead to success even aside from ethical concerns. The risk brought by a player with a rap sheet should bring a guarantee of one victory for every felony, but it's hard to get that in writing.
Regardless, NFL clubs should neither serve as holding centers nor halfway houses. General managers don't have to act like jury members to be considerate of legal issues. While character improvement is a result of excelling at football and not the goal, it's rewarding to see both. Roster members who pay attention to what a coach is really saying have the chance to improve during and between games.
Amateur football psychologists must determine the difference between a bad decision and person. The discerning franchise adds decent fellows who've had rough patches while letting the Jets nab Michael Vick.
Opportunities to start anew don't always work out, even if for football and not penal reasons. But the side benefit of second chances remains a first chance to learn and improve. After all, hoping they'll do better despite previously falling short is why people keep following the Bills. Good footballers have the chance to be good citizens, as long as misbehavior is an exception and not a tendency.