One of my favorite things to do during the "dark period" before training camp is to take a look at the roster and pick out a few players who I think might produce at such a high level they will give coaches headaches and heartburn trimming the roster to 53 players. For example, I still shake my head at what happened during the summer of 2006 at training camp.
After watching Fred Jackson, it was clear to me that Dick Jauron was out of his mind to play the "A-Train" ahead of this fabulous D-3 guy from Coe College who wowed fans after playing in the now defunct NFL Europe. If you attended that particular training camp, it was obvious to even the most casual observer that Fred Jackson was a star in the making.
That was an epic training camp to attend for another reason. This was the same training camp where I confused John McCargo with Kyle Williams. Every single drill I watched, it was Kyle who appeared to adapt to the speed of the NFL game much more so than the first round draft pick from that year in McCargo. Kyle's footwork and instincts were much sharper than McCargo's, who seemed sluggish in comparison. I still have my notes questioning why Fred and Kyle looked like emerging stars in comparison to the guys that Jauron and his staff seemed to favor at the time.
So, let's take a look at this year's roster of NFL hopefuls and identify who we should be carefully eyeballing at training camp this season. One thing that obviously stands out in my cursory view of the roster is that this year's team is much deeper in talent than we have seen in many years. Furthermore, with the exception of the DE position, both the defensive and offensive lines appear to have much more depth than the Bills have had over the past decade.
As a proponent who believes it all starts up front with the big guys, I couldn't be happier with the talent going into training camp this year. Marrone and Whaley obviously have a prototype for offensive linemen that can be summed up in three letters; B-I-G. When Eric Wood could validly be nicknamed "Tiny" on this line, you know you have some very big hogs up front. I love hogs. Really big hogs… with fast and nimble feet.
It's noteworthy that guys like Seantrel Henderson expressed gratitude that his head coach played on the offensive line in the NFL, and will learn a great deal from his experience regarding the nuances of footwork, etc. You can tell that all three rookie prospects appreciate getting this much attention from the head coach, and they have confidence that he will help them become solid pros.
I expect this offensive line to be one of the best we have seen in many years. We may see a few growing pains this year, but they are young and hungry. I believe "Tiny" will reach his peak as a leader for more than just the offensive line. Eric Wood is about to become a great leader for this entire team. As long as he stays healthy, he could easily emerge as one of the most vocal leaders this offense has seen in a while from a lineman. He could be "Kent Hull" good this season in that regard, and that's high praise coming from one of Hull's greatest fans.
So who will be some of this year's players to "emerge" at training camp? First of all, let's define "emerge" so there is no confusion about how I operationally define the term for the purposes of this discussion. First of all, when I consider the term "emerge", I am referring to players that are not only rookies or inexperienced players, but those whose best performances could go to the "next level" this season.
While most Bills fans are excited to see what Brandon Spikes will bring to the table because of his previous success, the most curious issue for me will be whether or not he becomes a "three down" linebacker this year. Though it is admirable that he set that goal for himself, one guy I expect to see breathing down his throat to compete for playing time is Preston Brown.
Jim Schwartz made a point during most of his off-season interviews to talk about Preston Brown, and how impressed he is at how fast Preston is developing. Obviously, this is a very good situation for the Bills because Spikes is only signed for one year, and Brown's play on the field will undoubtedly push Brandon to achieve even greater success at his craft. This level of competition is something we have not seen for years at the middle linebacker position.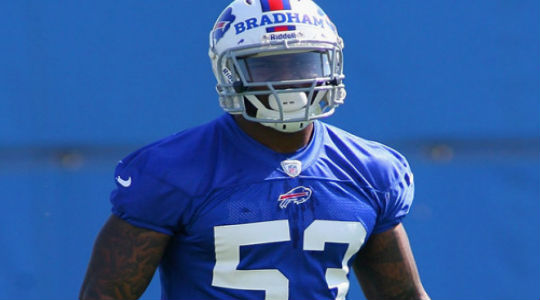 Another linebacker who has my attention and curiosity this year is Nigel Bradham. One can hardly blame defensive players for slow development when the Bills are on their fourth defensive coordinator in as many years. Nigel has shown flashes of potential in three years, but this is the year he must "emerge" and showcase his immense talent. It's definitely a make or break year for Nigel, and this Bills fan hopes to see him shine.
One player who also might make camp interesting in the fight for a LB position is the Bills' seventh round pick, Randell Johnson. When the Bills also drafted Seantrel Henderson in the same round, most of the attention was drawn to him because of how far he fell in the draft.
Focusing on Henderson may result in some Bills fans missing the potential impact of what Randell may bring to the defense this season. Let's not ignore the fact that the Bills have had seventh round picks that have produced more over the last decade than many first or second round players. Stevie Johnson or James Hardy? 'Nuff' said about the Bills horror show regarding their early round failures. You get the point. Keep your eyes on Randell Johnson during training camp.
Randell Johnson may have some serious upside by adding depth to a LB corps that seemed to be the weakest link on defense last season. I keep reminding myself that depth players can make or break a team in terms of making the playoffs. Injuries are to be expected, and it's the second-level players who come in when a starter gets injured who can make or break a team in any given season.
Another player on defense to focus on during training camp is Nickell Robey. His biggest knock is his diminutive size, but the guy just keeps going out there and making big plays. Some may argue that he has already emerged, but I believe he isn't even close to reaching his full potential in terms of what he will contribute to the success of the team this season. Robey has great instincts as a ball hawk. He may have learned a great deal from watching and learning from Jairus Byrd last season (how to play, not how to avoid playing). I will cringe if the Bills allow Robey to escape to another team.
Aside from my obvious obsession with offensive linemen, the most interesting battle I'll be watching on offense this year at training camp will be between T.J. Graham and our very own 7-11, Chris Hogan. Though I love Graham's speed, the number of body catches and drops last season were very concerning regarding his overall performance. Graham will have to perform at an extremely high level at wide receiver in training camp to have a chance to make this roster, which is the deepest it has been at the WR position in many years.
Graham also suffers a distinct disadvantage in competition for a spot on the roster this year. Graham was a Gailey/Nix acquisition, and the Dougies have far less investment in Graham than they would have if he had been selected as one of "their" guys. There is no question T.J. Graham is speedy, but his "catch radius" seems about half of what we have already seen coming out of OTAs and mini-camp from Sammy Watkins.
Marrone and Hackett praised Chris Hogan for catching every ball thrown his way during OTAs and mini-camp. The fact that he is one of the better special teams players doesn't hurt his value to the team either. I believe this will prove to be a breakout camp and season for Hogan. From the limited amount of action we have seen during the off-season workouts, Hogan has shown more than Graham to this point.
Considering wide receivers, I also have a serious level of curiosity about Caleb Holley as well. However, there wasn't enough information about him for me to conclude that he may "emerge" or even make the roster this season. However, it might be useful to check this guy out regarding adding him to the practice squad.
One thing I think many fans fail to consider is how important it is to have the very best strategies for stashing the right players on a practice squad in any given year. Which positions produce the most success for teams when they have to resort to pulling players off the bench? It's a serious science; one where analytics will also play a special role in developing now and into the future.
These are just a few rambling thoughts regarding emerging players to look at when training camp rolls around. As I begin to refine my list of "must-watch" players for training camp, I'll toss along a few more thoughts in this regard. In the mean time, please feel free to add your suggestions regarding who to keep an eye on during training camp, and why. Your thoughts and comments would be greatly appreciated.
If I am able to attend training camp this year (barring family obligations), I will take along a list of suggestions from all of you regarding what to watch during training camp and report back my findings (with endless wyobabble). Also, stay tuned for my updates on Twitter during training camp. I hope to be able to attend a few days of camp and take in the Hall of Fame festivities as well. As they say, "God willing and the creek don't rise."
Start the suggestions now: Who are some players to watch during training camp?