Training camp is less than one month away, but it still feels so far away. Waiting for training camp is the worst. Once the Bills take the field at St. John Fisher, answers will start to come to light about the team's 53-man roster, how the rookies look, Jim Schwartz's defense and most importantly, has EJ Manuel improved enough to lead the Bills to the playoffs?
As we wait for training camp, I figured it'd be a decent time to squeeze in a Mafia Mailbag. Once again, we went to Facebook and Twitter to look for questions. Pickings were slim. Perhaps it's because ESPN's Mike Rodak does a mailbag of his own. I was tempted to just cross out Rodak's responses and answer the questions he received, but that wouldn't be right. Instead, I answered the questions sent my way.
@RyanTalbotBills Why is Jeff Tuel still employed by the Bills? Let alone the NFL. #scrub#couldnotstartatwsu#noskill#onlygoodinpractice

— Kyle Fox (@KyleJFox4) June 19, 2014
Kyle, tell us how you really feel about Jeff Tuel. For the record, Tuel did start 26 games at WSU and the talent around him was slim, but I digress.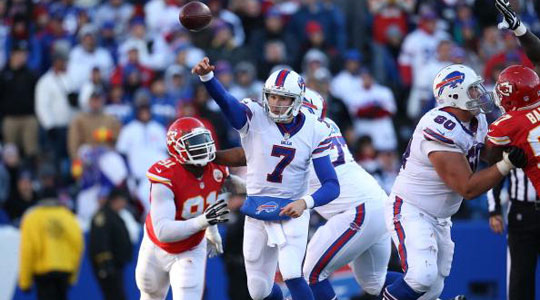 It's become pretty clear this off-season that Tuel has his fair share of detractors, but I'm not sure that it's deserved. The quarterback played very well in training camp and did well enough in the preseason that the Bills felt they couldn't place him on their practice squad without losing him.
The team never planned for Tuel to play. Originally,EJ Manuel would be dueling with Kevin Kolb, but a concussion ended that battle. They also brought in veteran Matt Leinart and traded for Thad Lewis. Leinart was really bad and the team had to part ways with him and Lewis didn't know the playbook well enough to be placed on the 53-man roster. Buffalo played a dangerous game by having Tuel as Manuel's backup, but the team never expected Manuel to suffer the injuries he did.
When Tuel was called into action against the Browns, he was atrocious. That said, the majority of the team's practice snaps were going to Manuel. Most quarterbacks would struggle in this situation. Tuel was bad enough that it forced the Bills to elevate Lewis to their main roster. For that, we should thank him.
When Manuel and Lewis battled injuries, Tuel was given practice reps to prepare for the then undefeated Kansas City Chiefs. He benefited from the running game, but he showed much improvement from his appearance against the Browns. Yes, there was the costly pick-six that swung momentum in Kansas City's favor, but he held his own against a defense that was near the top in the league at that time.
The Bills' official website recently wrote an article on how Tuel looks much improved and may push Lewis for the backup job. Some may not put much stock into this article, but I believe Tuel has the skill-set to be a successful backup in the NFL.
Let's jump over to Facebook as this question is a good followup to the Tuel question.
In truth, probably not. Dixon is a mobile quarterback who can create, but he isn't a very accurate quarterback. The quarterback hasn't appeared in an NFL regular season game since 2010, so I don't have much hope for him. That said, I hope Dixon plays well and pushes Lewis and Tuel on the field.
@RyanTalbotBills @TheBillsMafia How many games are we gonna win this year? — Andrew Moser (@ClassicShmosby) June 19, 2014
I'm not generally a fan of predicting how many games the Bills will win in 2014 as we don't know how the team will look, what injuries will occur to the Bills and their opposition, etc. However, since you asked I'll try to answer as best I can.
The Patriots, Broncos and Packers are the only games that make me shudder. The Patriots don't have as much overall talent as the Bills, but Tom Brady has had his way with the Bills in his career. Until that changes, I worry about the Patriots. The Broncos lost Knowshon Moreno and Eric Decker, but Peyton Manning and the offense will still be one of the best in the league. After Manning's 2013 regular season, there's no reason to think he's going to regress significantly in 2014. Last, Green Bay's offense is as explosive as any in the league, so that game worries me as well. The silver lining in that game is that the Packers have NEVER beaten the Bills in Buffalo. Besides those games, none strike fear in my heart when I see them. Official prediction as of June 22nd? Buffalo goes 9-7 and finds themselves in the playoff hunt as a Wild Card team.
@RyanTalbotBills @TheBillsMafia Best #Bills One-Year Wonder: Lonnie Johnson, Jonathan Linton, or B. Spoon? — K. Carlson (@kdcarlson15) June 21, 2014
I'm eliminating Lonnie Johnson from the conversation right off the bat. He wasn't spectacular, but he had three straight seasons of 40 receptions or more from 1995-1997. His career was more accomplished than the other two in this conversation.
Brandon Spoon's career was odd as he started in 2001 as Buffalo's MLB for 14 games. His 45 tackles, 2 interceptions and 2 touchdowns make him a candidate for best one-year wonder, but injuries pretty much cut Spoon's career short. In August of 2002, Spoon suffered a bicep injury that kept him out of action for 172 days. He didn't play again after his 2001 season, so I almost feel like he cannot be considered a one-year wonder as no one knows what his career would have been like if he stayed healthy.
That leaves us with Jonathan Linton. The running back played three seasons with the Bills and had a big jump in production in 1999. Linton appeared in all 16 games, starting two. He racked up 695 yards on 205 carries (3.4 ypc average) and scored five touchdowns on the ground. He also added 29 receptions for 228 yards and one touchdown. The yard per carry average was lacking, but his production in 1999 was significantly better than his 1998 and 2000 seasons. Based upon the three candidates, Linton wins best one-year wonder.