I remember a couple of years after Kyle Williams was drafted in 2006, he was once asked by a reporter to respond to a question regarding the behavior of another teammate. His response at the time was that he felt it was not appropriate for him to speak out about the matter. That statement mildly irked me because I had perceived Kyle as a candid and astute player who was not afraid to 'speak his mind' on many issues since the start of his NFL career.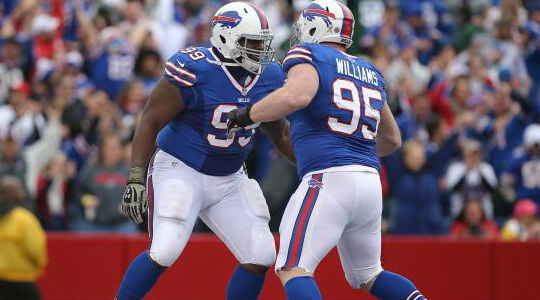 Kyle sort of reminds me of a reluctant prophet; a wise soul, albeit cautious with his words. However, during the last few years several coaches have encouraged him to become more of a vocal leader. Make no mistake, Kyle Williams clearly has brilliant leadership capability, but he's only really been putting it to use over the last couple of years regarding his role with the Bills.
Sometimes events in our lives or the lives of others present opportunities to learn and grow as a person, as well as a professional. One giant opportunity presents itself now for Kyle Williams to learn and grow as a leader this season, and perhaps for a lifetime. That opportunity comes in the form of a mammoth man and teammate who needs to cultivate a moral compass that will help him learn how to thrive and make better decisions in life. That man is Marcell Dareus.
It is easy for fans to make rash judgments about players who consistently find themselves in trouble with the law. Most of the mantras from fans that I read go along the lines of harping about rich entitled young men who throw away a fortune of money only to become destitute or worse in the end.
While statistics do bear out the fact that many young professional players often lose much of what they earn, it is also true that many young men who enter the NFL carry a tremendous load of emotional baggage with them into their professional careers. One of the largest (literally) fellows to come our way in this regard is Marcell Dareus. He came to the city of Buffalo carrying more emotional baggage in his life than anyone in their early twenties should ever have to face over many lifetimes.
The Cliff Notes regarding Marcell's personal life are chilling. He lost his father at age six. He also lost his mother, two mentors and one very close friend. This all happened before he was drafted by the Bills as the third overall pick in 2011. He barely had time to get used to the role as an up and coming star in the NFL when his brother was gunned down in a senseless drug related crime. Understandably, he was barely able to function on the field for the remainder of that entire season.
If this seems like a treatise of excuses for Dareus' poor choices, it is not at all. In fact, the intent here is to describe what happens to a person who is repeatedly and emotionally traumatized by the death of all the people closest to them when they were children/young adults. Growing up with one death after another makes it become difficult to trust or reach out to anyone because rightfully so, there becomes a constant and sometimes subconscious worry that anyone they love will die and/or leave them.
If no one is present to help guide the development of a personal moral compass, any person would have great difficulty understanding the difference between making good and bad choices. Early life was very hard for Marcell because he also put the pressure of supporting his siblings on his own back while simultaneously competing at a very high level playing football.
Life doesn't come with an instruction manual. Ever since Dareus made it into the NFL, he has not played at a level commensurate with his immense (literally and figuratively) talent. Furthermore, it has been obvious to anyone who understands human development and behavior that Dareus spent his first contract with the Bills still trying to find himself as a man.
Enter Kyle Williams, and to some extent Mario Williams. Both are being presented with one of life's golden opportunities. The opportunity to lead, teach, and give back to help ameliorate someone's happiness in life. This is a rare and beautiful thing.
It is clear that Marcell needs mentoring, and no one is better suited from a peer perspective than Kyle Williams. Kyle is an exemplary human being, father, and an astute observer of human behavior. I suspect that Kyle Williams is like any father, and expects/hopes his children will grow up to become highly productive citizens who are all happy in life.
There was a very good article published this week in the Buffalo News by Jay Skurski regarding the pivotal 'turning point' facing Marcell Dareus at this juncture, with some excellent quotes and observations made by Kyle Williams.  Kyle elaborated much more than he usually does about any issue in this article, and its clear that he views himself as an integral part of a team of people who are surrounding Marcell Dareus. They are providing him with the emotional support he needs to turn his life around and live up to his potential as a professional football player and human being.
Reaching out and trusting another person at this point for Marcell likely creates some anxiety that anyone in his shoes might naturally feel. What is most encouraging about some of what Kyle shared regarding his concerns regarding Marcell is that he seemed to be focused upon using the term "pouring into" Marcell's life. He used this term "pouring into" several times in describing how he, teammates and coaches are working toward helping Marcell reach his true potential. Very interesting terminology, and quite apropos from my vantage point.
I believe the term captures what Kyle likely thinks has been missing in Marcell's life. Sometimes unresolved grief can even lead to major depression because there is too much emotional energy expended just trying to get by. That constant drain of energy proves to be a challenge when trying to live the demanding life of a professional football player and role model for siblings and other family members.
Furthermore, untreated major depression can sometimes lead to making plenty of bad choices over a lifetime. Using substances to self-medicate and treat an underlying depression for years in order to avoid the emotional pain that gnaws away inside a person's soul is more common than you think. The gift in this difficult situation for both Marcell and Kyle is that they can BOTH help one another grow as human beings. How Kyle can help Marcell by being a steadying influence in his life seems obvious.
However, Marcell can also help Kyle gain wisdom as he raises his own children and their lives become more complex. There is little, if any, down side for Kyle in supporting Marcell, as well as for Mario and others by reaching out to Marcell. They can help Marcell come to realize that caring about someone doesn't always result in losing them through death. Trust is a fragile thing, but obviously an essential component for a happy and emotionally healthy life.
Sometimes 'tough love' is the right approach when a person screws up. Sometimes dedicating unconditional love for a person experiencing chronic despair can be equally as effective in helping someone make a big turn around. Even an empathic fan base that supports Marcell's effort to mature as an adult can go a long way in helping him gain the trust he needs to believe that the world is filled with good people who care about him, and want him to be happy and successful.
Most of all, if Marcell does his part, he will learn that his fans aren't going anywhere as long as he gives back to us by investing in making better decisions in life. I can't think of a better fan base to help support Marcell, and with the help of Kyle Williams and the rest of his teammates and coaches, this is the greatest opportunity of Marcell's young life. Let's hope he makes the most of it.