The 2014 Buffalo Bills are poised to field a roster that could be their most talented since their last playoff appearance back in 1999.  It's a team that has proven Pro Bowlers (four in all) and a lot of young talent that could be on the cusp of pushing the team back into the playoffs. With only a month before training camps open, here's a breakdown of where the strength of the Bills roster lies.
1.)    Defensive Line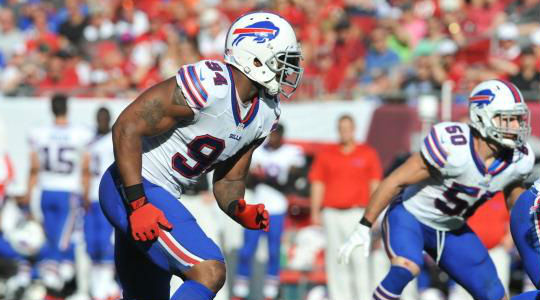 This group boasts three of the Bills' four Pro Bowlers, with two making multiple trips to Hawaii.  Stalwarts Mario Williams (DE) and Kyle Williams (DT) are known commodities at their position with their proven and recent production.  The reason this group is rated as the highest is because of the young talent and depth that they have.  Marcell Dareus made his first Pro Bowl this past year and Jerry Hughes was the only other Bill to record double digit sacks.  Those four players will make up the first wave on defense, but the unit has depth with players like Corbin Bryant, Alan Branch, Stefan Charles and converted linebacker Manny Lawson.  New coordinator Jim Schwartz has made a name for creating imposing defensive lines and strong secondaries (when with the Titans, not the Lions) but if there is a weak spot it's the defensive end depth.  Can Lawson and Hughes scheme back into a hand in the ground defensive end?  The top end talent should lead this group to another top five sack performance.
2.)    Running Backs
Fred Jackson, CJ Spiller, Bryce Brown and Anthony Dixon are set to become Buffalo's new Four Horsemen as each provide a unique skill-set and rushing technique that could give defenses fits.  Spiller is your prototypical speed, or air, back with agility and quickness that can't be matched.  Jackson is the savvy veteran grinder that gains most of his yards after contact.  Brown is a newcomer with fresh legs that could become the bell cow for the team, and Dixon is jackknife as he can pave the way for the other three backs, carry it in short yardage and contribute on special teams.  It's a dynamic group that can beat defenders in a myriad of different ways. Having this much depth and talent is crucial as the NFL's leading rushing team (per attempts).
3.)    Defensive Backs
The loss of safety Jairius Byrd is a huge loss, but with that said the Bills still finished 10th in the league in pass defense and accumulated 23 interceptions, second in the league, with Byrd missing six games.  Aaron Williams made the transition from corner to safety, just like Byrd, and did well in intercepting four passes.  He seems like a known and set piece on defense that will keep opposing receivers in check as he transitions to Byrd's former position. Williams, along with emerging Nickell Robey, a hopefully healthy Stephon Gilmore and an underestimated Leodis McKelvin who finished third in the NFL with 21 passes defensed, will help offset the open safety spot as either Duke Williams or Da'Norris Searcy look to cement themselves in the starting lineup.  The Bills did bring in Buffalo native Corey Graham to help with the depth and he will be used in different areas including slot corner, possibly safety and on special teams.  In all, the unit has good size, speed and instincts to keep aerial attacks from reaching liftoff.
4.)    Linebackers
SB Nation recently labeled the Bills linebackers as an elite group; I have them as the fourth best group because outside of Kiko Alonso and Brandon Spikes, the group carries untapped potential, and potential that is never realized only leads to shortcomings.  Alonso being moved to a more natural and free flowing weakside linebacker should be a boon for the defense as a whole, and for Alonso as a playmaker.  Free agent acquisition Spikes is one of the best run stuffing middle linebackers in the game, and Keith Rivers is a solid player that could be pushed for time from third year pro Nigel Bradham.  Bradham is a player that was touted by Pro Football Focus as a secret superstar waiting to happen, the problem is that he has to be able to get on the field to use his skills.  Third round pick Preston Brown looks good, but will play this year spelling Spikes and on special teams before getting significant time.  From there Randall Johnson seems set to be a practice squad player, as the team figures out if he is a defensive end or a linebacker.   The group has talent, but it's their ability to help the run defense that will be critical.
5.)    Wide Receivers
Much like the linebackers, the wide receivers are full of talent, but lack proven play.  Players like Robert Woods and Marquise Goodwin should improve in their second seasons and carry more of the workload, whereas rookie Sammy Watkins could be the most dynamic receiver to come out since A.J. Green.  Mike Williams is the oldest vet of the group playing in a make or break season for his hometown.  All the players bring homerun ability, speed and great hands, but what isn't known is how they will gel with second year quarterback EJ Manuel.  There's a lot of good will and hopefulness surrounding Watkins, which leaves players like TJ Graham, Marcus Easley, Kevin Elliott and Chris Hogan on the bubble.  A year ago, the Bills retained six receivers into the season.  I don't see Hogan making it and Graham will be pushed by players like Easley, who can contribute on special teams. There's also Giants castoff, Ramses Barden, a tall receiver with questionable hands.  Right now Woods is the farthest along in connecting with Manuel, but each receiver needs chemistry with Manuel if the group is to succeed.
6.)     Offensive Line
The Bills have two stud players at important positions with Cordy Glenn at left tackle and Eric Wood at center.The other three positions are question marks though.  The Bills brought in free agent Chris Williams to stop the turnstile that was left guard, and then the Bills drafted more depth at guard in Cyril Richardson. Buffalo also has Kraig Urbik, J.J. Unga and Chris Hairston working in at right guard. The organization even tried to upgrade right tackle by taking Alabama standout Cyrus Kouandjio in the second round to push Erik Pears, who was rated as one of the worst run blockers at the position by PFF.  In order for EJ Manuel to get better, the line has to do a better job to keep him upright.  The line can and should be better for Manuel and the team's running backs in 2014.
7.) Quarterback
EJ Manuel is the undisputed starter and will make or break Buffalo's season, but coming from a depth point of view there isn't much there.  Thad Lewis won two games, which was good, but he also struggled against good teams and showed that he did have limitations to his game.  Lewis is a good backup option, and Jeff Tuel was propped up by a good defensive effort and ground game in his lone start against the Kansas City Chiefs. Dennis Dixon will try to push Tuel for the team's third QB spot. It's not an ideal quarterback situation, but it's one that will only get better if Manuel improves and stays healthy.
8.) Tight End
Scott Chandler was Buffalo's leading receiver last year.  Let that sink in for a minute.  Chandler is a good player, but not a game changer. The Bills brought in Tony Moeaki and stashed him away hoping for that he returns to his former self this season. He has been mentioned a lot by Buffalo media in terms of who has looked good for the Bills. With blocker Lee Smith and second year player Chris Gragg, it will be interesting to see who steps up.  Moeaki and Chandler are solid contributors and Gragg is a wildcard, but this isn't a group that will strike fear in opposing defenses.