The graceful spiral that bonks off the wide-out's helmet shows why timing is everything. Being on schedule is crucial not just for individual players but also for collective careers. A well-constructed team features players who are concurrently at the height of their powers.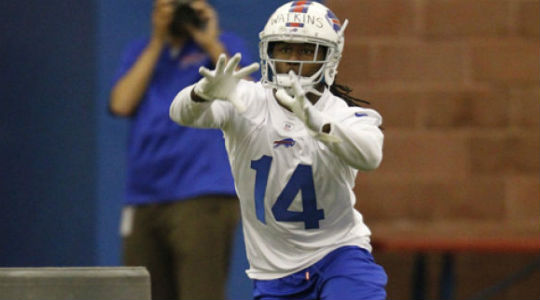 The roster should be comprised of fellows who are not merely skilled, but experienced enough to make use of them before they diminish. Obtain a couple dozen guys like that, and you can be an NFL executive.
It's useless for football players to try the climb on their own. Nobody gets to the mountaintop without Sherpas. Having multiple players simultaneously reaching their peaks is a feat of personnel management that's easy to want and tricky to attain.
We've repeatedly seen the negative results of some learning on the job while others think of pensions. Too many Bills teams during the famine have seen veterans declining before youngsters complete ascending, which is wasteful for everyone. Just once, we'd like to see all involved parties get the delivery right.
The right amount of experience can make all the difference. If nothing else, watching a rookie quarterback play like one is out of the way. Still, EJ Manuel's understandable struggles may not mean that he's ready to move past them as much as we hope it's automatic he'll progress. But the high-ceilinged player's uneven first year was worth enduring if that's what it took to adjust to the pro game's speed. While it's unsettling that he performed shakily during OTAs, he has a chance to calm down during minicamp. Wait until maybe July to enter Panic Mode.
Can the pitcher and catcher get their signals straight? Unfortunately, the learning curve can be severe for receivers. Fortunately, Sammy Watkins seems like the sort of focused dynamo who could be ahead of it. As someone who is legal to drink as of Saturday, he has youth on his side. But is that an advantage? He needs to learn guile quickly so he and his budding quarterback can accelerate together.
The passing game has to catch up to rushers who are already in gear. Nathaniel Hackett should lean on C.J. Spiller not just to simply get value out of his career, but also so his performance coincides with his huddle mates' glory days. Similarly, Fred Jackson continues to smash away as he still enjoys the effects of gamma rays. It would be nice if he was helping push to the playoffs along with his fellow Avengers instead of punching in vain on his own.
As the ultimate team game, football requires many players leaping through the same slim window for success. If you're not ensuring your guys get as many prime years as possible together, you end up with Barry Sanders playing out of his mind while 10 guys around him happen to wear the same outfits.
Will all the Bills be uncorked at the proper vintage? If any whippersnappers would like to mature hastily, now's the time. This is the equivalent of Watkins' senior year, which should augur against immediate success. But his skill level paired with dedication will give him a chance to learn quickly alongside relatively grizzled teammates.
You're only aware of timing when it's not there, and the inability to maintain a consistent pace is especially noticeable when some are crawling as others are using walkers. But the Bills have an occasion to all grow. This could be the Afterschool Special without the bittersweet ending. We'll see if these kids can skip a grade together.