Since entering the 'dark period' in the NFL season with nothing but mini-camps and a few team activities leading up to training camp, my mind has way too much time to ruminate about the upcoming season. This is usually the time I find myself going through the roster to look for players that I think are being underutilized or simply flying under the radar. True to the persona of a lot of Bills fans, I love an underdog and seek to identify players in that role each year.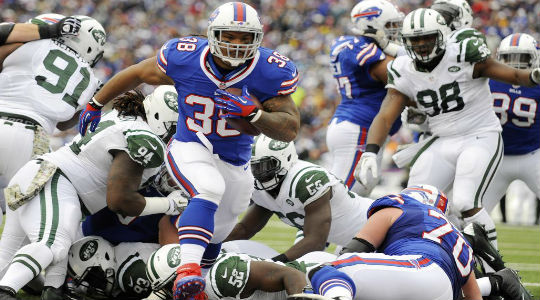 There are a few 'sleepers' on my radar at the moment, but none nearly as much so as Frank Summers. After watching the ebb and flow of the fullback position over the last 40 years, I can't help but wonder when we are going to see an inevitable resurgence in focusing on the fullback position. Some teams with a stable of tight ends don't even have fullback on their roster.
When Summers signed with the Bills during April 2013, I was ecstatic to see the Bills remain dedicated to keeping a multi-faceted fullback on the roster. My initial thought was he was being brought in primarily to pave the way for C.J. Spiller. Even though that remains an important role, I believe Summers is sometimes overlooked by some fans as having great potential to be used with much more creativity in the second year of the Hackett regime.
Hackett didn't use Summers often as a receiver last season, but when he did it grabbed my attention. Summers has decent hands, but he can also put the paste on anyone he hits. I believe he should develop those hands and aspire to become a receiving threat like Larry Centers. I think he is being overlooked by some fans as a potential weapon in this offense.
In offenses that feature a lot of two tight-end sets it makes sense to emphasize keeping a stable of tight ends on the roster. However, the Bills are not that type of team, and it justifies sacrificing an extra tight end on the roster to keep a guy like Frank Summers. Frankly, I believe that Scott Chandler, Tony Moeaki and Chris Gragg would suffice on the roster, perhaps keeping a tight end on the practice squad for insurance.
Summers makes a strong case for keeping a fully functioning fullback over a fourth tight end in my opinion. He is a hard-nosed instinctive player who can get separation and catch the ball.
It would make sense to toss some short passes his way, because opponents must cover either Spiller, Fred Jackson or both. Toss in the mandatory double coverage on Sammy Watkins, and you can create nightmares for opposing defenses.
Utilized properly, Summers could prove to become Robert Woods' best friend. Woods would likely see single coverage as long as Watkins is in the game. If defenses are forced to focus on Summers, along with the other running backs and wide receivers, Woods stands to gain the most opportunity to burn opponents.
This kind of offensive diversity would allow Nate Hackett to show us the mad scientist on 'roids that we all know resides (barely) beneath the surface of his personality. If they design more plays for Summers, he could be a key component to making this happen.
However, we all saw last season how Nate Hackett's offense was not in sync with the type of scheme he employed throughout the season. EJ Manuel was not ready for the fast paced offense, and at times it showed in painful fashion. Hopefully this season with a mammoth offensive line, players will have the necessary time to develop and properly execute their assignments. This offense must improve drastically for the Bills to have a chance to sniff the playoffs.
Instead of becoming just another 'me-too' offense mimicking the Patriots* use of multiple tight end sets, why not resurrect the 2001 offense that had great success with Larry Centers? Insert Summers into a similar offensive scheme and force defenses to account for the fullback in a serious fashion and watch what happens.
There is no doubt in my mind that Summers could also become Manuel's new best friend. Give Summers a little attention and let him roll. He is like trying to stop a polished granite bowling ball rolling at high speed. He gives Manuel one more short option, and a great outlet when getting repeatedly blitzed.
It is this type of creativity that I hope to see from Hackett's offense this season. Of course most of the offensive productivity will depend upon the team's newly constructed offensive line.
However, I'm confident that between the Dougies, they have found their prototype. Now it is a matter of getting them in sync and able to function at a high level. There is no reason to think there isn't enough talent there to make it happen.
This team has more talent and depth along the offensive line than we've seen in years. Now they must deliver the goods sooner than later. I have every confidence that having a head coach that played the position in the NFL will greatly speed up the development of the young players necessary to function at a high level. This would immensely help players like Summers.
Go back and think about how Centers contributed to the offense when he played for the Bills. Summers should spend his time catching passes and placing emphasis on developing his receiving skills.
This training camp season I will be watching Summers very carefully. I suggest other Bills fans do as well. Hopefully we will gain insight from some of the great fan reporters that attend camp.
If the Bills could get even a portion of the kind of productivity from Summers as they did from Larry Centers, he could become one of this season's more pleasant surprises. Count this Bills fan as one that believes Summers should be a bigger part of the Bills' offensive plan going forward.