To fans and organizational personnel alike, there are tons of question marks for every team in the NFL this time of year. OTAs have come to a close so everyone has gotten their first looks at rookies and free agent signees. They've gotten a partial glimpse at what a new defensive scheme could look like come regular season or how a new coach acclimates to his new city and team. The one real question on everyone's mind though – Will it help us win?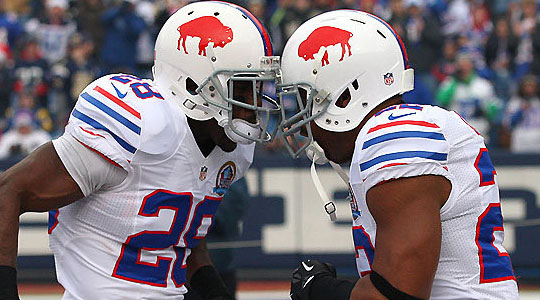 I've never worked for an NFL team, but working for Ohio State football has to be as close as it gets. I can tell you from that experience that fans with this frame of mind, the ones who only see wins and losses, are not the types of fans you want to be grouped into. Friends would often ask during spring practices, "So how many wins you think we'll get this year?" and I would always be tempted to respond like the hologram of Dr. Lanning in I, Robot, "I'm sorry, my responses are limited…you must ask the right questions."
With that in mind, I've come up with 5 questions every Bills fan should be asking during the offseason if they want to have realistic expectations. I left off the obvious question of who will own the team because it doesn't influence the players and personnel yet. Once someone new owns the Bills we can look into it, but for now I'm focusing on the team itself:
How much has EJ Manuel improved and how is his timing with the WRs? Specifically Sammy Watkins.
Will the Jim Schwartz coached defense get to the QB as much as last year and how will changes help or hurt the team?
Will the offense stay run heavy with CJ Spiller, Fred Jackson and now Bryce Brown or will they be air it out more after drafting Watkins and trading for Mike Williams?
How much of an improvement at their position, if any, are the free agent signees and drafted rookies over last year?
Who is most likely to miss time during the season and how impactful will their absence be?
Although in my opinion you can't really have answers to these questions until the first few games of the season are in the books, the 5 questions every Bills fan should be asking gives fans a chance to be more knowledgeable and better fans this offseason. Focus on the areas the questions address and you should have a much clearer expectation of the team's success in 2014. I'll do my best to address all these questions as I'm better able to closer to the season starting.
Also, I want to hear the questions you'll be asking. These were my 5, but I'm sure the rest of the Bills Mafia has good questions of their own. Share your questions in the comment section, on Facebook or find me on Twitter.