It was tempting to write about Terry Pegula and his interest in the Buffalo Bills, but something tells me you'll have plenty of articles to choose from on that topic.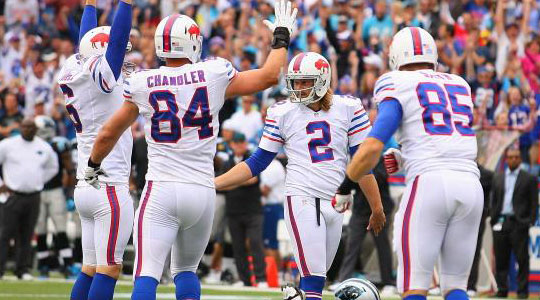 Instead, Buffalo's roster became my point of focus.Yes, it's early (too early) but predicting the 53-man roster is always enjoyable. After looking at Buffalo's talented and deep roster, some tough cuts had to be made. Here is what the finished product looked like:
In a few months it'll be entertaining to look back at this and see just how wrong I was, but for now let's take a look at some of the more interesting cuts.
No Fullbacks
Frank Summers and Evan Rodriguez are both quality fullbacks, but there is just no room to carry a fullback. Buffalo will keep four runners on their roster and Fred Jackson, C.J. Spiller, Bryce Brown and Anthony Dixon are the easy choices. Dixon will play a HB/FB role for the team.
Farewell Lee Smith
I tried to keep Lee Smith. He's an outstanding blocker and can contribute to a lesser extent in the passing game. That said, Smith will have to battle Chris Gragg for the third tight end spot. Gragg has the edge over Smith as he's the best athlete the team has at the position and the team's upgraded offensive line may lead to the team not needing a blocking tight end. Smith will certainly catch on elsewhere, but his stay in Buffalo may be coming to an end.
Two Kickers?!
I'm never a fan of teams carrying two kickers, but i could see the Bills doing it in 2014. Dan Carpenter had an outstanding 2013 season and is the team's starter. Dustin Hopkins was drafted in 2013 and after beating out Rian Lindell, many assumed he was the kicker of the future for Buffalo. An injury ended his 2013 season, but the talent is there. Hopkins can handle kickoff duties while Carpenter takes care of field goal attempts.
Last Three In
The last three players to sneak onto the roster were Hopkins, Randell Johnson and Jonathan Meeks. The trio edged out players like Ron Brooks, T.J. Graham, Frank Summers, Lee Smith and J.J. Unga. I wouldn't be surprised if any of the names here made the team, but every player mentioned should be considered as being on the bubble.
Buffalo's roster is deep and talented. This season, some talented players are going to find themselves being cut by the Bills. All fans should take this as a great sign. Buffalo's roster is finally ready to compete for a playoff spot.