First round draft pick Sammy Watkins, Robert Woods, Mike Williams and Marquise Goodwin are locks to make the roster. End of story. Nothing to discuss or argue about here.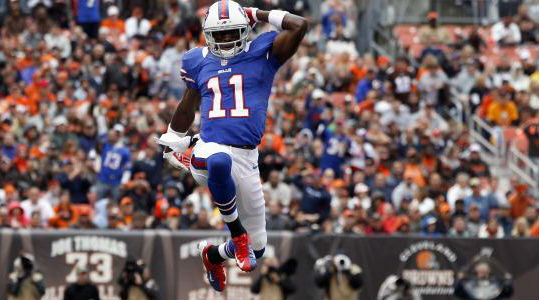 How many wide receivers will the Bills carry and who will win the final spot(s)? Now that is a topic for debate. Realistically, the Bills carry 5-6 wide receivers. Six seems to be realistic, so for the sake of this article we'll look at which two receivers have the best chance of being the team's fifth and sixth wide receiver.
Besides Buffalo's top four, here are the other WRs on the roster (in alphabetical order):
Ramses Barden, Marcus Easley, Kevin Elliott, T.J. Graham, Chris Hogan, Caleb Holley, Cordell Roberson, Chris Summers
Who wins Buffalo's last two wide receiver jobs? Let's take a look at each candidate.
The Long-Shots 
Ramses Barden, Caleb Holley, Cordell Roberson, Chris Summers
The Buffalo Bills talked about adding a large wide receiver to their roster and wide outs don't get much bigger than Ramses Barden. The WR played for the Giants from 2009-2012, where he amassed 29 receptions and 394 yards. He's never scored a touchdown in a regular season game and he wasn't in the league for the entire 2013 season. Odds are against the former 3rd round pick.
Caleb Holley was invited to Buffalo's rookie training camp and made the most of his opportunity. Besides Sammy Watkins, Chris Brown called Holley one of the most consistent players at the rookie minicamp. Holley earned himself a contract with his strong play, but making the 53-man roster is a tall task. While making the team is unlikely, he could be a candidate for the team's practice squad.
Cordell Roberson is a tall WR (6'4″), but Buffalo is the third stop in his young career. Last season, Roberson was signed as an UDFA by the Browns before being waived by the team in late August. He was then signed to the Carolina Panthers' practice squad in early October before he was cut from the team's practice squad later that month. Buffalo then picked him up and kept him on the practice squad until he was activated by the team in Week 17. Roberson isn't going to make the 53-man roster, but the team liked him enough last season to keep him on the practice squad. This could happen again in 2014.
Much like Barden and Roberson, Chris Summers is a tall wide receiver (6'4″). The Chicago Bears signed Summers as an UDFA in April of 2012. He didn't stick there and signed with the Minnesota Vikings in September of 2012. In January, the Vikings signed him to a future/reserve contract. He was cut in August of 2013 when the Vikings cut their roster down to 75 players. Buffalo signed Summers to a future/reserve contract in January of 2014. Summers will have to compete to make the practice squad. The 53-man roster isn't an option.
So You're Saying There's a Chance?
Kevin Elliott
Kevin Elliott is a darkhorse candidate to make the team and he'd certainly be deserving. In 2013, Elliott was having an outstanding training camp for Buffalo. He was making impressive plays on a daily basis and was looking like he was going to sneak onto the team's 53-man roster. Instead, Elliott had the injury bug hit. He injured his shoulder at one point and later tore his ACL against the Vikings in the preseason.
Elliott appeared on the John Murphy Show this off-season and talked about his rehab, as well as working out with EJ Manuel in Miami. At OTAs, Elliott has looked healthy and made an impressive catch or two. Elliott will have to prove his worth again at training camp and the preseason as a wide receiver and on special teams, but he certainly has a chance of making Buffalo's 53-man roster.
The "Likely" Options
Marcus Easley, T.J. Graham, Chris Hogan
Marcus Easley had an outstanding 2013 season in terms of special teams, but is that enough? Entering his 4th season, Easley has a career total of two catches for 13 yards. TWO! Many fans believe that Easley is close to a lock to make the roster due to his special teams play.
Last season, Easley found his niche as a gunner. Pro Football Focus (Subscription Required) credited Easley with 18 special teams tackles, second only to Justin Bethel of the Cardinals. Easley's special teams play gives him an edge, but his roster spot is not guaranteed by any means.
T.J. Graham is the player that fans love to hate. Just remember, Graham didn't make the Bills trade up for him. He also didn't tell the team to pass over Russell Wilson. Now that my mini-rant is over, I will admit that Graham hasn't grown much as a wide receiver. He has 54 career receptions in two seasons with the Bills, along with 683 yards and three touchdowns. Speed is Graham's greatest asset, but Buffalo has a similar speedster in Marquise Goodwin. If the team wants to develop Goodwin this may be the year where the Bills decide to cut ties with Graham. That being said, he's the most established wide receiver of the group that is on the roster bubble.
Chris Hogan is affectionately nicknamed 7-11 since he's always open. In 16 games last season, Hogan caught 10 passes for 83 yards. The wide receiver played 188 snaps during the season according to PFF.
Hogan is best as a slot receiver, so he may have a shot of backing up Robert Woods. The fact that he made the team in 2013 doesn't guarantee him anything, but the team knows what Hogan brings to the table as a wide receiver. Much like Easley, Hogan has also shown the ability to contribute on special teams.
Final Verdict
Elliott and Easley nab the final two wide receiver spots. The Elliott selection is just a gut feeling. Doug Marrone has mentioned Elliott by name in regards to having talented tall receivers already on the roster. The team was thoroughly impressed with Elliott in 2013 and if he's truly 100 percent this season, he locks down a spot on the 53-man roster.
Last, Buffalo has stressed the importance of strengthening their special teams play in 2014. Cutting one of your few bright spots on special teams doesn't really add up. Easley narrowly beats out Chris Hogan for the last wide receiver spot on the roster.