Ryan Talbot, Billsmafia Editor-in-Chief, recently posted on the website how chemistry between second year Bills quarterback EJ Manuel and his receivers is going to be critical to the offense's overall success. Even though it will be a key component, I decided to look at my earlier projected stats for Manuel and try to fit each receiver within the total.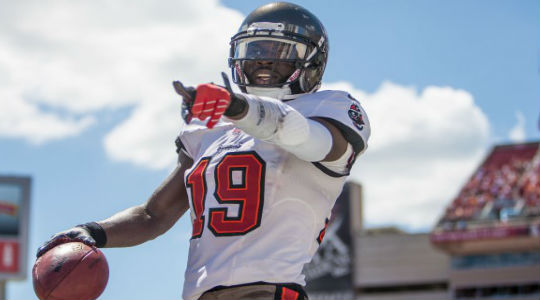 Projecting Buffalo's wide receiver stats wasn't easy. Figuring out how and where the estimated 488 passes will be targeted was tough to figure. This is a self admittedly imperfect projection of what the receivers will produce. Despite tinkering with everything from utilization, catch percentage and yards per reception, the receiver group outperforms what I projected for Manuel earlier. Note that any adjustments made were not outside each player's career norm.

These tables show two things: one is that there is a lot of talented pass catchers on the roster, and secondly Manuel has to be an accurate passer to fully realize the potential the Bills have.
By starting with the estimated 488 pass attempts Manuel will throw in a 16 game schedule and adjusting the rate accordingly, the receivers outperformed the yardage (3277 v. 3129) and touchdown production (21 v. 17), while under performing the total completions (298 v.271).
Perhaps the most notable statistic lacking is the fact that not a single receiver is projected to go over 1,000 yards. In fact, Mike Williams is the only receiver projected to cross 600 yards, while Watkins and Woods should both gain more than 500. The trio accounts for 52% of the total yards and touchdowns.
The group as a whole lacks a physical presence, but they make up for their lack of size with superb athleticism, speed and dynamic playmaking. It's clear each player has a role and if it's performed to perfection, the group as a whole succeeds.
There are certainly x-factors that could play into the overall outcome of the season. Those outliers include the emergence of either Tony Moeaki or Chris Gragg, how much Bryce Brown will steal catches away from Jackson and Spiller, injuries, and the ultimate question: how much will Sammy Watkins produce?
It's tough to figure out all of this, but from the statistical analysis it shows that EJ Manuel has every weapon he could need at his disposal. The results are ultimately going to be determined by his play. If he can get his completion percentage up to the magical 61% waterline, then this passing offense should finish in the top half of the league for the first time since the 2011 season.