Last week I wrote about what I expect Sammy Watkins' rookie year to look like stat-wise. The week before I discussed how the Bills are hoping their two new, big offensive linemen help them achieve success. However there is a positional group that could have a huge impact on the 2014 season and one player in particular from the 2014 draft class, Preston Brown, that I have seemingly overlooked… This is something I just can't do because linebackers could make or break the Bills in 2014.
In the 4-3 formation that will likely be the base of Jim Schwartz's defensive scheme, a lot of tackles must be made by linebackers. This is especially true of middle linebackers on running plays; they must be the QB of the defense and position themselves and fellow members of their corps in the right position to make the play. If they don't succeed at this and assignments are missed, demoralizing run plays for big gains will be the result.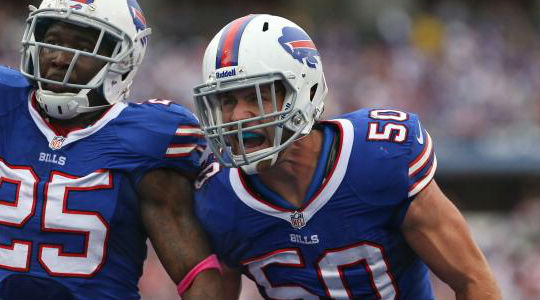 In this role last year, the Bills found a potential superstar linebacker in Kiko Alonso. Even though it was not his position coming out of college, he excelled. This offseason the Bills brought in Brandon Spikes, a perfect fit for the MLB position, but he has had injury concerns over the last three seasons. That is where Brown comes in. The Bills drafted him because he is a player in the mold of Spikes, but with even more athleticism and upside. Don't be surprised when he steps on the field during the regular season and impresses like he has been during OTAs.
The Bills additionally added Keith Rivers this offseason, presumably to start at outside linebacker opposite Alonso. However, if Nigel Bradham has anything to say about it, he'll be in the starting lineup instead. Bradham had a productive season in 2013 in terms of run defense, and a shift to the strong side might play into his strengths even better.
These storylines and more are why the linebacker positional battles are going to be my favorite to watch for the remainder of the off-season. I'm excited to see if they can come together in the fashion SB Nation predicts… calling them an "elite" unit. Coupled with a "damn good" defensive line, also according to SB Nation, the Bills defense could be one of the best in the league. On the other hand, they could struggle adjusting to a new system and learning to play together. We'll just have to wait and see.