When Doug Marrone was introduced as the head coach of the Buffalo Bills, it wasn't difficult to imagine him as a tough, hard-nosed guy from the Bronx who would bring accountability to a team sorely lacking in success for over a decade. Though Marrone has yet to produce a championship team, one can easily see similarities in his coaching style with that of Bill Parcells. We can only hope Marrone's career is half as successful.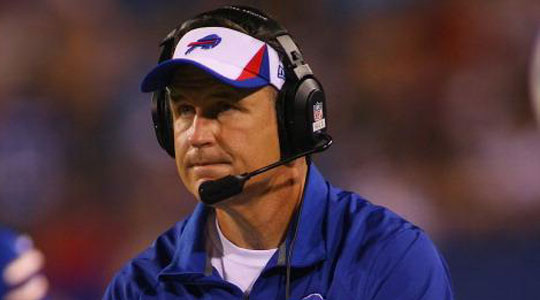 Marrone assumes responsibility for controlling every aspect of his team, right down to his infamous playlist at practice sessions. However, there was one stark contrast displayed this week by him that was a departure from what we are used to hearing from most head coaches in the NFL.
Marrone addressed the media this week concerning behavioral issues relating to Marcell Dareus and his recent law breaking activities. Marrone emphatically stated he was more concerned about players succeeding in life than winning football games. He stated this clearly and with no apology for his priorities. He said he felt it was more important to do the right thing by his players than to win football games.
That is a rare admission by a head coach in the NFL, particularly one whose future could come to an abrupt end in Buffalo when a new owner is named. The pressure to win now has never been greater for the Buffalo Bills and their coaching staff. Despite this, Marrone remains undeterred as a role model for "doing the right thing."
While he spoke about Marcell's latest brush with the law, the image of Sandra Bullock's face supplanted Marrone's in my head, and I giggled at the visual. Marrone spoke about more spending time with Marcell, and was fiercely protective in his statement that any private discussion between them would not be discussed openly in the media. You could almost sense Marrone taking Dareus under his wing, just as Sandra Bullock's character did for Michael Oher in the movie "The Blind Side."
This approach might help Marcell grow into a person who can make better choices. It also could help him on the field as much as off. It rarely hurts athletic performance to improve self-discipline and focus.
Marrone appears to have tremendous compassion for people who struggle with great challenges in their lives. He is highly emotional but can stuff it down with a finesse only achieved by people born and raised in the Bronx. There is almost a perceptible 'teddy bearish' quality he exhibits, if only for a moment. His paternal instincts are strong and define his character.
This is a match made in heaven for Marcell Dareus, who has suffered a number of unspeakable tragedies during his 24 years of life. He is a man who was forced to be a man before he should have ever had to think about being a man. Despite being dealt a difficult situation in life, Marcell's pleasing personality and sense of humor helped him survive the challenges he faced along the way.
How bizarre it must have been for Marcell to go from having little or no direction in life from adults around him to suddenly becoming a celebrity millionaire playing a game for a living. There are truly bad people in the world like Aaron Hernandez, who likely will never be able to rehabilitate themselves. Marcell Dareus is not one of them.
Although Sandra Bullock is a lot prettier, Marcell may have found his best chance to pull it all together in Doug Marrone. It's easy to visualize Marrone taking Marcell under his enormous wing and becoming his new best friend. That is arguably what Marcell now needs the most. He needs structure, focus, and the ability to trust that Marrone has his best interests at heart.
We've seen reports all the way back to college that Marcell lacked motivation from time to time. I remember Chan Gailey once mentioning the same thing at training camp a couple of years ago. It's difficult to learn self-discipline when there is little structure in place to do so. The fact that Marrone not only recognizes this, but also realizes that it's never too late to grow in this regard is a testament to his understanding of human behavior.
Marrone sees what I see in Marcell Dareus, a young man who wants to do the right thing but has no idea where to draw the line when it comes to life off the field. Along with Marrone, people like Kyle Williams can and likely will help Dareus deal with these issues as well. He needs to surround himself with people who care about his well-being and not his immense wealth.
I've read comments from fans that believe that the 'forgiving' approach Marrone is taking with Dareus may lead to potential problems from other players who struggle with staying on the right side of the law. Players like Seantrel Henderson are also on a short leash, and some fans believe that the forgiveness approach might encourage them to think they can get away with acting out as well.
Actually, the opposite outcome is just as likely if not more so to happen. Players like Henderson need to see that if you earn Marrone's trust, he will go to the wall for you (cue in the 'wyobabble' benefits of unconditional love, so you can spare yourself the boredom of reading about it here). Suffice it to state that trust begets trust. That is the foundation for where things can go wrong if that ability to trust is not in place when personality develops as a child.
So, even though I have a hard time visualizing Doug Marrone as Sandra Bullock, it certainly seems as if he has latched on to the "Blind Side" method of dealing with the ups and downs that define Marcell Dareus. It will be interesting to see how Marcell emerges from their mutual decision for him to skip the rest of organized team activities (OTAs). We can only hope that like Michael Oher, Marcell will learn to appreciate the gift of love that is being given to him at a time when he needs it the most.