Tom Golisano kept the Sabres in Buffalo and will never be forgotten for it. It's easy to retroactively pretend the threat of becoming a one-horse town wasn't real or that Queen City-loving rich dudes were queuing for the privilege of owning a sunken team whose crooked owner made Taylor Pyatt's underwhelming play seem like a comparatively petty crime.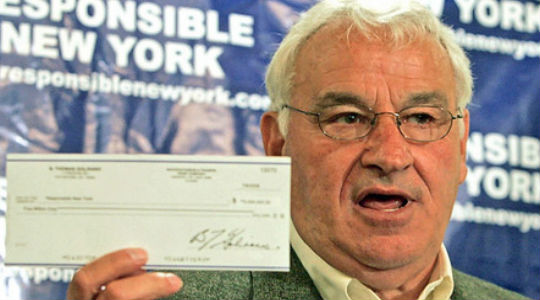 He's expressed interest in thanklessly assuaging worries about that other franchise: the Sabres third owner might end up as the second man to possess the Bills. You'd make buying Buffalo sports teams your hobby if you could, too.
Despite fantasies about someone kidnapping the squad during this last inhumanly horrid season, the Sabres fleeing thankfully never became more than a frightening scenario. It's easy to forget how many non-Golisano bids by other purportedly well-financed groups ended up as flimsy as the team was that year. At least the 2002-03 edition is no longer the worst sporting crime ever inflicted upon Buffalo.
Bad seasons or not, fans never coped with their club going to Winnipeg before the Thrashers did. And Hamilton didn't get its big-league tenant for then-Copps Coliseum. Plus, Kansas City wasn't allowed to use Buffalo's stolen team to recreate both the glorious years when they had the Scouts.
Similarly, I still hate Adams Division rivals the Nordiques with their inaccessibly strange atmosphere and remain happy that Quebec never got the horrifying chance to make make Le Colisée the home of the Sabres. That's not the right sort of French Connection.
But what if he's careful about contracts? Fans who recoil upon recalling a penny-pinching billionaire owner should know it's more fun to quibble about salary when the team hasn't left. Yes, the players still should give 110 percent while the owner pays to 100 percent of the cap. But always be thankful for the right to still complain about personnel. The only thing worse than Time Warner's regular service is when the cable goes out.
A part-time resident can still be a full-time owner. Sure, Golisano now resides in Florida for more than half the year. But the franchise's only owner so far lived in Detroit. The candidate for ownership didn't think he was getting good value for the taxes he paid, which means he has something in common with countless Bills fans who still adore the team even after they took the hint to leave New York. If politicians understood the migration pattern, they'd stop pushing policies that make it a challenge to fill the stadium. As for Golisano, he'd rather spend what he earned on things like, oh, a football team.
To be fair, gratefulness has its limits. No matter how comforting it would be to keep the moving trucks empty, this franchise would still have to do more than merely stay in place to please fans. The best way for a potential Golisano ownership to avoid the front office screw-ups that plagued the Bills' hockey equivalent would be to banish the thoroughly loathed Larry Quinn. Tom's minion knew nothing about hockey, which he thought was his specialty. Denying Quinn the chance to sink the Bills' playoff chances would aid efforts to finally make him modest.
Anyone trying to keep the Bills in town is our ally. The founder of Paychex should be much more appealing to Western New York's fans than, say, a hairspray-addled perpetrator of countless cliched assaults on rock's integrity who peaked while caterwauling to particularly shallow high school girls in 1987. And please don't fall for an impossibly disagreeable, eminent domain-abusing, bandwagon-jumping, anti-vaccine faux business titan who blighted Manhattan's skylines with his black glass monstrosities, has been involved with four corporate bankruptcies, and was already defeated by the NFL.
Prominence isn't always an asset. Sure, Jon Bon Jovi and Donald Trump are big national names. So was Drew Bledsoe. Besides, the notorious candidates would draw attention from football, and we want the new owner to be as different from Jerry Jones as possible.
And neither of the semi-blonde, squinty-eyed unpleasant celebrities feels positively about the corner of the state in question the way Rochester native Golisano does. Obnoxious Trump and the rock chump have each done enough cultural damage without obtaining a football team in an area to which they combine to feel zero loyalty.
As for Golisano, the 72-year-old may not own the team for quite as long as Ralph Wilson. But he'd provide essential stability right now. Monica Seles' honey could flip the Bills a few years later if his last foray into athletic club ownership provided indication, and it would take some nerve to profit from a business. Whatever happens after he possibly buys, it's hard to picture him then selling to anyone not committed to keeping the team in town.
Bills observers are getting picky about preferred owners, a possible good sign about the quantity of worthwhile candidates that nonetheless shouldn't lead to taking anything for granted. As for someone with the money and interest, Golisano last took over for a man led out in handcuffs, so replacing the revered founder would be a different but relatively welcome challenge.
The prospect of Golisano returning to the ownership fraternity shouldn't surprise anyone. Those who figured he was pretending to buy the local hockey club as a gubernatorial campaign tactic must've been shocked when he actually did it. Hopefully, Golisano will have learned how to keep marquee free agents. More crucially, we have every expectation that he wants to keep your team where it's always been.