Offensive rookies in the NFL don't usually make an immediate impact. This is especially true with the wide receiver position as it takes time to develop chemistry with a QB and learn the nuances of the playbook or routes in general. On the other hand, there are guys who have amazing rookie seasons and make team executives look like geniuses for drafting them.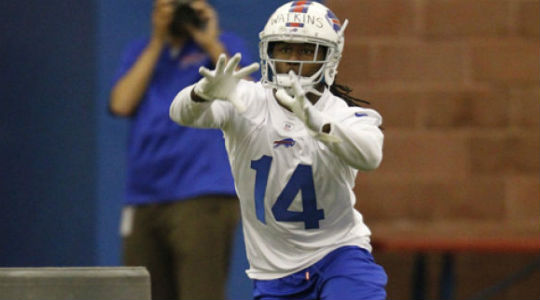 So as excited as I am to have Sammy Watkins in a Bills jersey, I think it's time I try to figure out which group he'll fall into by taking a look at the rookie seasons of some comparable wide receivers in their respective rookie seasons. I tried to use guys who Watkins drew comparisons to, were picked in the first round, had high production coming out of college or were on teams with inexperienced (2 years or fewer) starting QBs.
Based on the stats above you have a better idea of realistic expectations for Watkins and can see why the Bills took Watkins so high. If Watkins posts the average numbers from the various players I selected, the Bills will get more production than they did from Stevie Johnson in 3 of his 6 years in Buffalo. That's if Watkins is just average…
In my opinion, based off his extraordinary college production, speed, ball skills and route running he'll post numbers a lot better than that. I expect Watkins' stat line to look something like this after his first season in the NFL.
| | | | | | | | | | | |
| --- | --- | --- | --- | --- | --- | --- | --- | --- | --- | --- |
| Name | G | Rec | Yds | Avg | Yds/G | Lng | TD | 20+ | 40+ | 1st |
| Sammy Watkins | 16 | 65 | 1,000 | 15.4 | 62.5 | 74 | 8 | 15 | 5 | 40 |
While I'm confident Watkins is capable of even better numbers, he'll be competing for receptions with Robert Woods as well as Mike Williams. The team also isn't likely to rely on the pass as this is in an offense that features C.J. Spiller, Fred Jackson and Bryce Brown as a dynamic rushing attack. So let me know what you think Bills Mafia, how will Sammy Watkins do in year one?