This idea isn't entirely mine. On May 27th, the Twitter handle @Ballislife tweeted out the following:
Pick your team. How about Stockton, Jordan, Pippen, Duncan & Shaq w/ $2 left over so we can have KD on the bench? pic.twitter.com/4xdZ662ffb

— Ballislife.com (@Ballislife) May 27, 2014
The concept was simple, but there were so many possibilities to build a dream basketball team. A salary cap was put in place where you spent $15 out of a possible $25 (60 percent).
After coming up with my dream basketball team, I knew what needed to be done. I had to take this idea and make it Bills related.
It was a little more difficult with football. By the time you're done building your team you won't have 11 players on offense and defense. I didn't want to make the game too complicated.
Here are the positions you'll need to select: QB, RB, WR, TE, DE, DT, LB, CB and S. First, you may have noticed that I didn't include an offensive line category. That category is a freebie as I'm giving you the Electric Company. There's no doubt that they were the best collective line in the history of the team. In most of the other categories you're only drafting one player. Running back and linebacker are the only positions where you draft a tandem or trio.
Before you see the positions and costs, here is the only rule:
You have $27 to build the Bills.
Why $27? It's 60 percent of the highest possible total ($45). Ready to build an all-time Bills team?
Here is what you have to work with BillsMafia:
The possibilities are endless.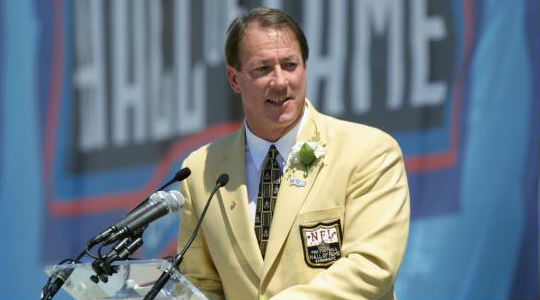 It'd be hard to build an all-time Buffalo Bills team without Jim Kelly and Bruce Smith, but can you afford both on a $27 budget? That's where the fun begins.
Want to bring back the Super Bowl Bills? You have plenty of options. The Bermuda Triangle can be yours for $6 (Fred Smerlas, Jim Haslett and Shane Nelson for you youngsters). There are AFL champions on this list, some favorites of the late 1990s-early 2000s and some current day players as well. Pick and choose who you want, but don't go over $27.
Think you have built the ultimate Bills team? Share it with us on Twitter!
Tweet your all-time Bills team with the hashtag #BuildTheBills. By tweeting out your team(s) and using the hashtag #BuildTheBills, you'll be entered to win a shirt on us (One entry per Twitter user, regardless of how many teams you submit)!
#BillsMafia, here's your chance to be GM and build the Bills.