Resisting the temptation to obsess over every scratched knee and wobbly pass during the first week of Organized Team Activities (OTAs), I've decided instead to focus my attention on sniffing out what fans might expect regarding team chemistry this season. Auditioning for a new owner means all the T's must be crossed, and the I's must be dotted. If this week was any indication, it appears Coach Marrone is not leaving a single detail to chance, including his personal playlist.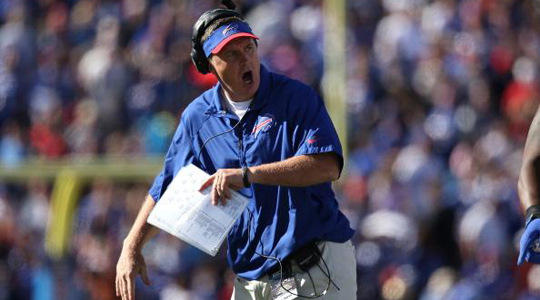 Going into a second season as a head coach for a team that is searching for a new owner is a daunting task. This is exacerbated by the fact that the Bills haven't reached the playoffs in 14 years. No pressure there. No wonder Marrone has taken control of ensuring every possible variable for success is controlled and meticulously planned.
If you listen to him speak about the type of culture and players he wants to define the face of the franchise, he clearly emphasizes the personality aspect the most. Aside from his attraction to acquiring mammoth players on the offensive line, he often refers to wanting strong leaders with strong personalities. He talks about an emphasis on bringing in players who are focused solely on winning.
It seems that Mr. Whaley and Coach Marrone are willing to work with players who have experienced difficulties in their personal lives. It's a high risk, high reward proposition to build the foundation of a franchise that is for sale around players who could easily go back to making bad choices. The consequences for doing so and failing to turn them into productive players may cost Marrone and Whaley their jobs when a new owner takes over the team.
Despite the pressure to immediately turn this franchise around, both Whaley and Marrone appear supremely confident in the players they have put together this season. Developing "team chemistry" has arguably never been more important than it is this season. How will this group of young athletes come to embrace this ultimate challenge?
With the departure of Stevie Johnson, the offense is no longer split between those who came before the latest coaching regime and those who came after. Stevie's larger than life personality never seemed to be Marrone's favorite cup of tea, and I suspect he felt that it was important that EJ Manuel be the clear and decisive leader of the offense.
After watching press conferences with players this week, there is a definite change in the vibe coming from players regarding their focus this season. Listening to Sammy Watkins raised an eyebrow in terms of how he dedicates himself as a professional. Reporters trying to poke at him about where he would be spending his money were quickly informed that he was going to be financially prudent and focused on football, not the bling.
It's interesting to note that Chris Brown and John Murphy mentioned after each day of activities this week that both Manny Lawson and Alan Branch were both non-participants. Obviously (in my best Dougie voice), this is being intentionally reported. While Coach Marrone is quick to add that these are voluntary activities, he clearly doesn't mind the staff reporting their absence to the fan base. That didn't happen on Chan Gailey's watch. Not a bad idea to hold players accountable when the opportunity presents itself.
Judging by the high turnout of veterans, it appears Marrone is developing a good relationship with players. They seem to be buying into his approach. Training camp is always a great place to get a read on how the team is getting along with each other, and much more will be revealed about team chemistry in the next couple of months.
Last season was a challenge in terms of establishing team chemistry. A new head coach and rookie QB trying to lead a bunch of veteran players is a delicate dance. When EJ Manuel missed games due to injury and was replaced by two quarterbacks with little or no NFL experience, that compounded the problem in terms of him establishing himself as a leader.
This season, EJ looks relaxed and confident. However, Coach Marrone is starting to show some traits that remind me a bit of Bill Parcells in terms of personality. It's probably a 'Bronx thing,' but the way Marrone self-flagellates and responds to optimism with a healthy dose of cynicism is actually quite endearing.
There is an edge to Coach Marrone that permeates outwardly and can be seen only for a moment when he becomes angry. You can see that it takes a fair amount of effort for him to control his emotions at times. You have to love that in a coach, at least I do. It's impossible to think that this man does not care deeply for his players. At the same time, he appears to be the kind of coach that would also not hesitate to tell you exactly what he is thinking without reservation.
So, what kind of personality will this Bills team have this season? For some reason, I have the distinct feeling that guys like Kyle Williams are ready to let it all hang out this year. You could really see a kinship forming between Kyle and Mario Williams last season at the Pro Bowl. I believe that relationship will grow even closer this season. Hopefully they will be able to take Marcell Dareus under their huge collective wingspan and mentor him along for the ride of his life.
The hostility that existed between players during the Aaron Maybin era seems to have finally dissipated. Another blessing of a rookie salary cap is the lessening of the hard feelings that existed because of great disparities in salaries. Watching how mature Sammy Watkins is in comparison to how some of Buffalo's previous first round picks behaved during their rookie year is mind-boggling, yet reassuring that the Bills have finally moved on from the draft horrors of the 2000's.
The early read on team chemistry looks good. It will be a very interesting training camp this year. When the temperatures soar and tempers flare at camp, that's when we will begin to see what this team is really made of in terms of personality. Maybe we'll even get to hear more of Marrone's playlist. Let the fun and games begin!