We're getting closer to seeing actual football, Bills fans! OTAs are in full swing and soon enough… training camp! Once the team hits St. John Fisher, we'll get to see the team up close and analyze how the team is performing. Until then, there are plenty of unknowns on each side of the ball.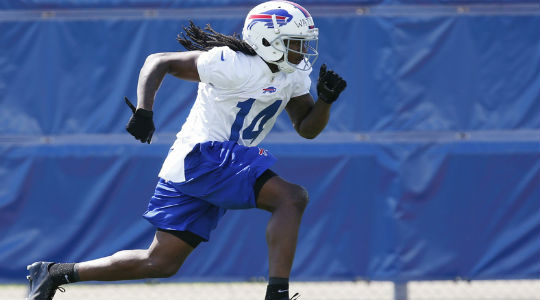 With that in mind, I thought it was the perfect time to do a #MafiaMailbag. The #BillsMafia didn't disappoint as I received some terrific questions on Twitter and Facebook. Let's jump right in and answer some Bills questions!
@RyanTalbotBills@TheBillsMafia u think our d will suffer W/O pettine n tke step bak or will Schwartz keep them goin up

— Kenny Schunk (@KennySchunk) May 24, 2014
Good question, Kenny. I loved the Jim Schwartz signing once Mike Pettine joined the Browns, but we're talking about two completely different defenses. Pettine's defense was based upon exotic blitzes and pressuring the quarterback. Schwartz also wants to generate pressure, but you won't see him sending corners and safeties on blitzes. Schwartz will expect the pressure to come from his front four. Changing from a base 3-4 to a base 4-3 also leaves me with questions at a few positions.
To answer your question, the defenses are going to be so different that I'm not sure I can say it's going to continue to go up or take a step back. I doubt Buffalo ends up with as many sacks as last year, but I also expect them to be much improved in run defense. I believe things will even out in that respect and the Bills defense will keep them in games throughout the season.
@RyanTalbotBills @TheBillsMafia Do you thinlk Ej will respond positive, with the weapons given to him?

— tina (@tinalm39) May 24, 2014
Will @EJManuel3 endure the sophomore slump? #mafiamailbag

— Alex (@alexlikechexmix) May 24, 2014
These questions aren't exactly the same, but I feel like I can address them both in one response. First, Alex's question. I'm not sure you'll even see a sophomore slump from EJ Manuel. He's still relatively unknown to his competition due to injuries last season. If Manuel plays an entire season, there's also no doubt that he'll surpass his output in completions, yards, touchdowns, etc. Based on Manuel's social media pages, he's put in a lot of work this off-season to improve his game and to work on his chemistry with his teammates. For that reason, I don't think Manuel will suffer a sophomore slump.
I expect Manuel to make the most of his new weapons in year two, Tina. Having three talents running backs that can also catch the ball, four talented wide receivers and quite a few pass catching tight ends will help Manuel. The talent and depth added to Buffalo's offensive line will also help. I expect Manuel to be considered for most improved player in the NFL in 2014.
@RyanTalbotBills what's a reasonable season catch ratio for Watkins / Williams / Goodwin ? #MafiaMailbag #BillsMafia

— Rich Quodomine (@RDQ_geography) May 24, 2014
@RyanTalbotBills and woods, too! (oops)

— Rich Quodomine (@RDQ_geography) May 24, 2014
Very difficult question to answer because we've yet to see what kind of chemistry Manuel has with Watkins and Williams. Instead of a ratio, I'm going to predict that Robert Woods leads the group in receptions, Watkins in yards and Williams in touchdowns. I'm sure the three of them would sign off on that in a heartbeat. As for Goodwin, he'll continue to be used as a deep threat and I have no doubt we'll see improvement in his route running at all. That said, it's hard for me to see Goodwin having a better season in terms of yards, receptions or touchdowns over Buffalo's starting three.
@RyanTalbotBills what do you think about a Seantrel Henderson who keeps his nose clean? could that be the absolute steal of the draft?

— cover32 Bills (@cover32_BUF) May 24, 2014
Seantrel Henderson has so much untapped potential that it's scary to think about just how good he could be if he puts it all together. If he stays out of trouble and really dedicates himself to the Bills, he could absolutely be the steal of the draft.
Right now, I see him as a strong backup at left tackle if Cordy Glenn were to get injured. He may have to compete with Chris Hairston for that job, but he has the talent to take Hairston's spot. I think Buffalo is going to make Henderson earn his spot. Hopefully he puts forth consistent effort, unlike the last troubled player the Bills took a risk on, Da'Rick Rogers.
Let's head over to the Bills Mafia Facebook page and answer some of the mailbag questions they asked.
 My way too early offensive line prediction for Week 1:
Cordy Glenn —  Chris Williams — Eric Wood — Kraig Urbik — Cyrus Kouandjio
Glenn and Wood are the only two I'm 100% certain on. Chris Williams is seemingly getting the first shot at left guard, but his career has left much to be desired. Hopefully, he fills a need and plays well for the Bills. At right guard, Urbik is still a solid player, but the team was trying to give J.J. Unga more playing time at the tail end of 2013. I'd like to think that Unga and Cyril Richardson will get a fair shake. By the end of the season, I expect Richardson to be the starter at right guard. Last, Erik Pears is still an adequate tackle and he could start, but I have him as a "surprise cut." I put that in parentheses as to the general public it'd be a surprise, but I think many Bills fans could see this scenario. Cutting Pears moves Kouandjio into the starting right tackle role.
I can't speak on everyone's behalf but if the Bills ever left Buffalo, I couldn't support that team. There'd be individuals I'd root for, but if Buffalo moved I just couldn't say I was a fan of the team in their new location. I get queasy just thinking of this situation. That said, I truly believe someone with Buffalo ties will purchase the Bills and keep them in Western New York.
I recently wrote on this exact topic! Kenny Ladler, a talented safety from Vanderbilt, is my choice for UDFA destined to make the biggest splash. Buffalo has a lot of safeties on its roster, but Ladler is talented enough to earn a roster spot in my opinion.
My second choice would be Darius Robinson of Clemson. Robinson suffered injuries at Clemson in 2011 and 2012, but played very well in 2013 for the Tigers. The talent is certainly there and you can never have enough solid cornerbacks.
That will conclude another #MafiaMailbag. Thanks for the terrific questions and if you have any other Bills questions, leave them in the comment section or find me on Twitter.