Expectations are high for second year quarterback EJ Manuel this year and that sentiment is not just from him, but from the fans, coaches and the front office. In fact, the coaches and front office went out of their way this off-season to give Manuel everything he needed to take another step forward in his progression as a franchise quarterback.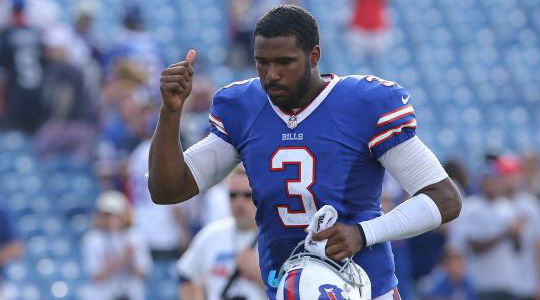 In total, the Bills added Sammy Watkins, the most dynamic offensive weapon in the draft, and added two offensive lineman to bolster the protection for him, and help the running game by creating bigger holes. The linemen were a two-pronged approach in helping Manuel stay clean, as well as help create holes for the run game.
With the moves the Bills made there now comes the question of what constitutes a successful year statistically for the second year quarterback? In order to figure that out, I took EJ's rookie year averages and projected them over a full 16 game schedule, and compared them to recently drafted quarterbacks.
It's important to keep in mind that not all offenses are created equal. The Bills actually ran the 3rd most offensive plays in the league in 2013 (1,116), but ranked only 24th in pass attempts (522) versus 1st in rushing (546). It's safe to assume that as long as Manuel is progressing as intended, the differential between the two will begin to even out. However, it's not assured that he Bills will run that many offensive plays.
When projecting Manuel's attempted passes as a rookie, his numbers are close to the average of second year passers. Don't be surprised if Manuel attempts 500 or more passes this year, but for the sake of this extrapolation I kept the median.
From there I increased the completion percentage to 61% for Manuel to get the yards and touchdown passes figured out. It's safe to adjust for improved accuracy considering the extra targets the Bills have added as well as the natural progression from year one to year two.
I kept the yards per completion the same despite the big play potential of Watkins, Goodwin and Williams. The league average per catch was (10.8) and the Bills already owned a 10.5 yard per catch average.
Here is the breakdown between recent quarterbacks and then EJ Manuel's projections:
*Projected full 16 game season
*Projected full 16 game season
Now after the extrapolation of the numbers we can start to figure out what quarterback Manuel compares best to from last year. From the sheer numbers, one player that measures up to Manuel is 2011's first overall selection, Cam Newton. Newton last year complied 3,379 yards and 24 touchdowns in 473 attempts as he completed 61.7% of his passes. Newton also led his team to a 12-4 record, a division title, and a first round bye in the playoffs.
If the numbers pan out, then it appears the Bills could have a great quarterback on their hands, and possibly the division's second best after Tom Brady. The biggest key in this is that Manuel has to hit the completion percentage mark. As long as he can increase that stat everything else projects well.
For Bills fans it's important to keep in mind that no 2013 playoff team had a quarterback complete less than 60% of his passes (Andrew Luck at 60.2% was the lowest). In EJ Manuel's second season, surpassing this threshold and then maintaining it throughout the season is necessary if the Bills are to compete for a playoff berth.