Snagging Andre Reed in the fourth round is the exception. The draft grows unfairly tricky for general managers midway through: it's unfair to expect superstars, yet those selected are still busts if they don't make an impact. The Bills don't have the luxury of shrugging off misses on later picks. They need productivity from the entire class even if new guys aren't destined to own a Hall of Fame blazer like the one that will finally be presented to Buffalo's prototypical overachiever.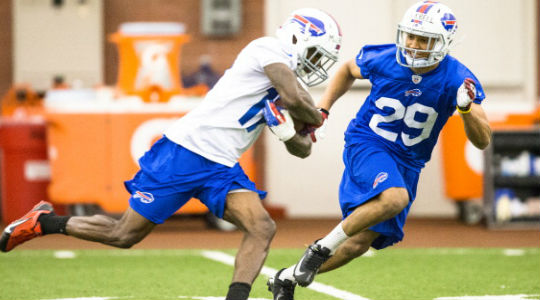 The chances against finding treasure among who's left after about 100 players are gone is tricky, which is another reason being a general manager isn't the awesomely perfect job it seems. Recent historical results illustrate the challenge of mining when so many claims have already been staked. The best player Buffalo took in the middle rounds in the last decade was the dynamically dependable Terrence McGee. By contrast, he was chosen in the same round as Sam Aiken, who as a receiver was a pretty good special teams player.
Remember forgettable selections like Shawn Nelson and Dwayne Wright? Neither had quite the police-blotter impact as fellow fourth-rounder Ko Simpson, who may not be worth millions after a career notable only for an arrest that took place during it. Fans merely dream of remembering players for more than truculently boasting to cops.
More recent fourth-round additions still have a chance to show they can make an impact. Ron Brooks has helped deepen the defensive backs pool, while Duke Williams will be looking to see more action after spending a rookie season getting his feet wet.
As pick number 100, Da'Norris Searcy has impressed as a draft steal and will get even more chances to thrive with Jairus Byrd choosing to work elsewhere. By comparison, Chris Hairston will need to show he's healthy before he gets back into the right tackle discussion. Meanwhile, Marcus Easley fans still hope he can keep up with a receiving corps filled with young speedsters. There's a training camp ahead for them to edge onto the roster.
That vague optimism takes us to Ross Cockrell, Doug Whaley's fourth pick this year and cornerback from ACC standout… Duke?! It still isn't quite a football school that also has a basketball team. But he was a big contributor in the stepchild program's quest to reach respectability, which has not been a common trait over the past half-century.
It's actually more impressive to suit up at a school not previously known as conference royalty, as Cockrell held his own while facing glamorous receivers from traditional powerhouses. Helping make the Blue Devils competitive should be the first line on his résumé.
Cockrell did a lot while playing a lot: he managed 12 interceptions during his 49 starts. He also kept playing even though he could've been done with school, as he got his diploma last year. The graduate student essentially played as he was coaching. He can ideally keep employing his academic abilities in an athletic setting.
You want leadership potential from a skilled player? Well, meet a player who was both captain and first-team All-ACC in each of his final two collegiate years. At six feet tall with decent speed, he thrived without being a combine freak. You can get far by seeing well.
Cockrell could earn a shot to line up facing the slot receiver. But their newest cornerback's greatest contribution may be as a precocious backup, particularly considering that Buffalo's remarkably hobbled secondary was apparently under a gypsy curse last season.
The Bills must succeed with their mid-range additions, and a bright Duke man may be part of that goal. If he wants a doctorate, it can wait a few seasons.