Have you ever played the game Risk? I was obsessed with the game for a short time in my teenage years. In case you're unaware of the game, Risk is a strategy game where your goal is to take over territories on the game board and eliminate players. A roll of the dice could prove costly, but there were also big gains to be had.
The Buffalo Bills are playing their own version of Risk this off-season and I'm all for it. The team has made strategic moves to improve their team in attempt to compete for an AFC East title. Here are some of the Bills' riskiest moves this off-season.
The Bills trade a 2014 6th Round Pick for Mike Williams
Giving up a sixth round pick? Big deal. Adding a player who seemingly can't stay out of trouble? There's the risk.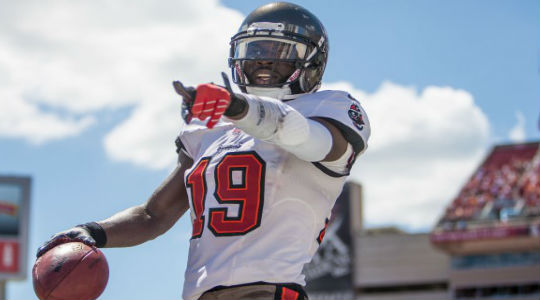 There's no denying that Buffalo's own Mike Williams is talented. From 2010-2012, Williams averaged 64 receptions, 910 yards receiving and close to 8 touchdowns per year. A hamstring injury in 2013 really limited his production and playing time, but it's not his hamstring that makes this move risky. It's Williams' problems off the field. Let's just focus on 2013.
Injuries can frustrate a player, but in 2013 Williams didn't handle it well. He skipped rehab sessions and was late to meetings. According to the Pewter Report, the Buccaneers fined Williams $200,000 and questioned his dedication. They supposedly considered releasing Williams over these actions.
On March 23rd, Williams was stabbed in the thigh by his brother. To be fair to Williams, he was the victim in this case. His brother, Eric Baylor, turned himself in and was charged with aggravated assault with a deadly weapon.
A few days later, Williams was in court on a criminal mischief charge from December involving his ex-girlfriend. He was told that the charges would be dropped if he completed an intervention program.
One day before he was traded to the Bills, it became known that Williams was facing a lawsuit from a kitchen fire in a home that he had rented.
Williams is an extremely talented receiver, but he needs to stay out of trouble. For our sake, let's hope that there's no place like home for Mike Williams.
Buffalo Trades Up for Sammy Watkins
The Bills wanted Sammy Watkins by any means necessary. They proved it by swapping 2014 1st round picks with the Cleveland Browns and throwing in their 2015 1st and 4th round picks. Watkins was the top offensive player in this draft class, so this is not what made the move risky.
The risky part of this deal was sending away their 1st and 4th round picks in 2015. In the last ten years, Buffalo's first round pick (before trading down) has been no later than pick 13. Simply put, the Bills have been bad for the last decade.
Doug Whaley, the team's general manager, is essentially "all-in" this season. It's apparent that he believes EJ Manuel will make a significant jump in year two. To Whaley's credit, he's given Manuel plenty of weapons and protection. Buffalo is three deep at running back, has four young and talented wide receivers and some solid tight ends. Whaley also added talent to the team's offensive line in free agency and the draft.
The talent is there for the Bills to surprise in 2014, but the team needs to stay healthy and win close games they've traditionally struggled to pull out.
If Whaley's bold trade up for Watkins pays off in a winning season and possibly the playoffs, no one will care about trading away the two picks in 2015. If Buffalo plays mediocre football? The trade up stings and the Browns are looking at a high draft pick thanks to Buffalo. If the latter scenario happens, Doug Whaley may be out of a job in 2015.
Buffalo Trades Stevie Johnson to the 49ers
It felt like the ink on Sammy Watkins' draft card was still drying when the team traded away Stevie Johnson. He may have had a down year in 2013 and he certainly wasn't a prototypical number one receiver, but he got the job done. In the team's history of wide receivers, Johnson is the only wide receiver to have back-to-back-to-back 1,000 yard receiving seasons.
Trading away a talent wide out like Johnson can't be easy, but it's clear Buffalo wants to let their young wide receivers grow. The only way of doing this is by increasing their playing time. Robert Woods' style of play is extremely similar to Johnson's, so he is the biggest beneficiary of the trade. Watkins will certainly be starting after being drafted 4th overall and as mentioned, Mike Williams is extremely talented. That's a strong top three and that doesn't even account for Marquise Goodwin, one of the fastest men in the NFL.
Trading away a fan favorite and talented wide receiver like Johnson is risky, but this was  a risk worth taking based upon the receivers who were waiting in the wings.
The Bills Draft Cyrus Kouandjio in Round 2
I loved this pick. Value met need, much like it did a few seasons ago when Cordy Glenn fell into Buffalo's lap. That being said, there's a reason why Kouandjio fell. Kouandjio's knee were apparently a concern to many teams. Back in February, Ian Rapoport first tweeted the news about Kouandjio's knees:
Bad news for #Bama OT Cyrus Kouandjio. I'm told several teams have failed him on his physical. Arthritic knee from failed surgery. "Ugly."

— Ian Rapoport (@RapSheet) February 22, 2014
If Kouandjio's knees are arthritic, this pick is very risky regardless of Buffalo's need for a right tackle. However, Dr. James Andrews, one of the most respected doctors in the world, refuted this report. This makes me breathe a bit easier, but I'm still a bit concerned that other teams supposedly failed him.
Doug Whaley was extremely strategic in his own personal game of Risk this offseason. His goal is to not only earn a playoff berth in 2014, but also usurp the Patriots atop the AFC East. Whaley is rolling the dice in the Buffalo Bills' game of risk. All we can do is hope the dice land in Buffalo's favor this season and for many seasons to come.