After the Buffalo Bills traded up from their ninth selection to fourth overall to grab Clemson wide receiver Sammy Watkins, speculation began on if and when Stevie Johnson would be moved. The speculation and rumors didn't last long as Johnson was then traded to the San Francisco 49ers for a 2015 fourth round pick within 24 hours of the Watkins selection. Many media members felt that Johnson's trade was because of the Watkins selection, but in reality it's more about the team believing in second year wide out Robert Woods.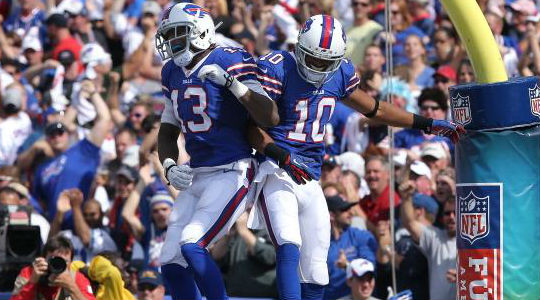 Woods was a second round draft pick out of the University at Southern California. He was projected to possibly be a first round selection, and was scouted as a disciplined route runner with an ability to get separation and make difficult catches. He wasn't noted as a burner, but instead an outside receiver that could be a prototypical complimentary to a true number one. Between that description and his physical stature it sure sounds like Woods was a Johnson clone when he came into the organization last year.
Once Woods was here it appeared that he was developing a good connection with fellow rookie, and starting quarterback, EJ Manuel. Woods tied the team lead in touchdown receptions and finished third in receiving yards, only 10 behind Johnson. His 14.7 yards per reception was good for third among receivers with over 10 catches on the team. The fact that Woods nearly matched Johnson stat for stat, in just one additional game, shows that if given a larger role he should be able to fill Johnson's shoes, though it was a down year for Johnson relatively speaking.
Comparing a down year to a rookie season is not truly reflective of the type of role Woods could play in Buffalo's offense for this and future seasons.
According to KFFL.com Woods saw 6.3 targets per game and converted just 47.5% of them into catches. Among all Bills receivers, Woods was the second most targeted player (85) behind Johnson (101 in 12 games). At that rate Johnson would have seen 135 targets if he played all 16 games.
Now if you take Johnson's targets and give them to Woods, even at his catch rate, and project them against a 16 game schedule here is what Woods would have finished with.
Woods' Projected 2013 season:
64 receptions, 941 yards, 5 TDs, 135 targets
Now compare that to Stevie Johnson's best season.
Stevie Johnson's 2010 season:
82 receptions, 1,073 yards, 10 TD,142 targets
If Woods had received as many targets as Johnson in his rookie year then he would have been within an earshot of matching Stevie's career year. This estimation further cements the idea that the loss of Johnson will not be felt as great on the field as some have made it out to be.
There still remains a lingering question for the coming season; will Woods see more passes thrown his way with the addition of Sammy Watkins and Mike Williams? It's hard to say, but with Johnson no longer in the mix it's safe to think that he should see them increase by at least 10-20 targets over the course of the season as long as Manuel plays a full 16 game schedule.
The end result still goes back to the fact that Woods can put up numbers that match, or possibly exceed, Johnson if given a bigger role, which is why the trade was made. The subtraction of Johnson is outweighed by the larger role for Woods, along with the addition of Watkins and Williams.
Don't be surprised if you see Woods match Johnson's productivity this year. So while everyone is focused on the addition of Watkins, it's really the emergence of Woods that made Johnson dispensable.