Every team did great at the draft. Or, every team did awful. Any grade given regarding taken players is for a test that hasn't been taken. NFL teams add staff who will spend months studying before the first day of school after college. All we can presently do is surmise which new freshman offer the best combination of value and addressing needs.
All theories about rookie potential include the standard qualification that there's no way to confirm them until the regular season. We're postulating about the careers of Bills who just got their stuff out of the dorms. But it's not like we can wait to know exactly what's going to happen before guessing, as that's no fun for perennial fans.
We can still browse the draftees list and ponder who possesses the ability to join the first string without any prior pro experience. It's never too early to wonder who will start from the beginning.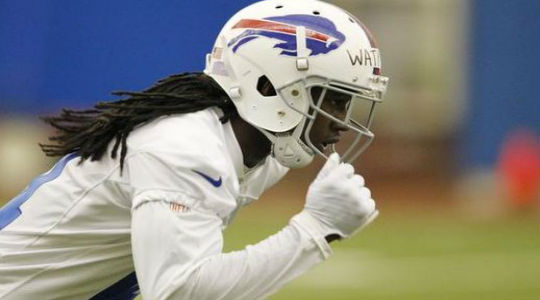 While we can only speculate on even the most invigorating rookies, we do know that Sammy Watkins should not be upset over playing time. He will receive every chance to show that his knack for catching every ball in his vicinity is merely the prelude to excitement. A player with so many expectations to confound defenses will not merely be learning by watching. Getting ahead of ourselves or not, it's justifiable to think he won't be in a reserve role on September 7.
Our favorite rookie's sharp minicamp routes and measured determination during interviews is all fans can enjoy for now. It's premature but understandable to anticipate him making an astounding college career the coming attraction before the real show.
Until then, the magnetic Watkins at least displays the right attitude. Unlike, say, former Bills first-rounder Aaron Maybin, he seems grateful to get every opportunity to improve a squad desperate to leave behind frustration. Call Maybin and ask what went wrong; he's got plenty of free time.
The first non-Sammy pick will get the chance to provide EJ Manuel with time to pass to their new wideout BFF. Cyrus Kouandjio should be ready to flummox defensive ends as much as he does spell check. If his technique improves as much as his once-wonky knee, he could be in the season's first huddle with Watkins.
Preston Brown could top the depth chart as Buffalo's third round choice and first defensive pick. The Louisville man's capacity for run-stuffing is a possible blessing for a team that's spent an offseason scheming to stop that very phenomenon. He could start even if he's off the field by third down.
There's also no rule against a fifth-rounder taking a starting spot no matter how unlikely it may seem. Cyril Richardson will get a shot at a top guard spot if he works hard and gets grinding. Regardless of going in the draft's second half, Richardson's upside could allow him to be the sort of nasty interior presence every franchise loves.
If nothing else, fans should cheer for the rookie blockers so we can call part of the line the Cyrus and Cyril Show. And even round seven's Seantrel Henderson could compete to join the alliteration if he grasps the chance to make football his focus.
The best bargain hunters time buying what's on their list with sales. Doug Whaley put his Shoppers Club card to good use. Buffalo's biggest needs were at receiver, right tackle, and linebacker, which just happens to be where they made their first three picks. For now, the value from each is as encouraging as the practicality.
Every football prediction can sadly be placed in a time capsule. The draft is football-related but not football, and even that was close to two dang weeks ago. Fans desperate for a fix can do nothing but gather information and make well-informed guesses until that glorious September Sunday afternoon when new guys truly earn their contracts.
At least management has done the best they could for now, specifically by adding possible answers to questions that won't be posed for months. The Bills prepared for the right test. That's all you can ask for a franchise with a track record of taking the SATs in crayon.