In the 2010 draft the Buffalo Bills selected running back C.J. Spiller 9th overall. The pick came as a shock to most, as the Bills already had two 1,000 yard rushers on the roster. Buddy Nix, the team's former general manager, justified the selection by saying the Bills needed excitement.
"He's a play-maker," first-time general manager Buddy Nix said. "He's exciting. We need some excitement."
Based upon Nix's explanation, it sounded like the team had a specific plan for the elite talent out of Clemson.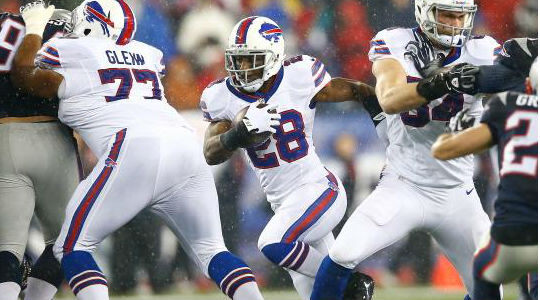 The plan started to take shape when the team traded one of their 1,000 yard rushers, Marshawn Lynch, to Seattle for a 2011 4th round pick and 2012 5th round pick. This move seemingly would pave the way for C.J. Spiller.
So what happened? Spiller played minimally in his rookie season to the tune of 74 carries. That averages out to 4.625 carries per game and a little over 1 carry per quarter. Unfortunately, this would continue well into his second season.
It should be noted that in 2011, Fred Jackson, the other 1,000 yard rusher already on the roster, was off to an MVP-like start. During the first 10 games of the season, Spiller was averaging 3.6 touches per game. In the tenth game of the season, Jackson went down with a season ending leg injury.
The silver lining to Jackson's broken leg was that Spiller finally got his shot. The result? The run game didn't miss a beat, even with former head coach Chan Gailey limiting Spiller's carries. Look no further than the Week 13 contest against the Tennessee Titans. Spiller was running all over the Titans in the first half, then only received four carries the remainder of the game.
Fast forward to 2012. Jackson gets hurt again and Spiller starts out on fire. However, Chan Gailey struck again. Spiller ended up stuck in a ridiculous time share all season, despite vastly outplaying Jackson for its entirety. Now we all love Fred Jackson, but he was clearly not one-hundred percent. Spiller was even taken off the field at times for 3rd string running back Tashard Choice.
When Doug Marrone was hired as head coach in 2013, he brought offensive coordinator Nathaniel Hackett with him. Things looked promising for Spiller when Hackett said that he would run Spiller "until he throws up." However, Spiller got off to a slow start and then suffered a high ankle sprain. Ignoring his health, some fans and media alike pointed to Spiller "regressing." There have even been some folks insisting that the team trade the electrifying back this off season. But even with a full game missed and several games where he was on and off the field grimacing in pain, Spiller still led the team in rushing with 933 yards, while averaging 4.6 yards per carry in 2013. Yes, these were major drop-offs from his breakout 2012 campaign when he registered a career-best 1,244 yards, 1,703 offensive yards and eight offensive touchdowns, but it wasn't the disastrous season some made it out to be.
Spiller, now 26 years old and entering a contract year, may only remain a Bill for the 2014 season. Regardless of whether Spiller is a Bill for the long term or not, it's really a shame how his career has transpired to this point. There is no questioning that the talent is there, but whether it be buried on the depth chart behind a veteran playing out of his mind, a stubborn coach, or a nagging injury, his career has just seemed snake-bitten from the start. Then again, as the saying goes with spilt milk, let's not cry over it. Instead, let's just look ahead to what should be a big year for C.J. Spiller in 2014.