Every player has a unique path to the NFL and his spot on the roster. While most begin their careers as draft picks, not everyone who makes a team was considered one of the top-256 or so players in the country because teams often need more depth than their allotment of picks. That is where undrafted free agents literally come into play.
This year at One Bills Drive for the annual rookie minicamp there will be 30 participants – seven drafted rookies, 10 undrafted free agents, nine first-year players and four players who will be participating on a tryout basis.
While it is unlikely that any of Buffalo's UDFA's will become a household name, it is not impossible. Some will be impressive enough to earn playing time and perhaps go on to have tremendous careers. Guys like Antonio Gates, Wes Welker, Kurt Warner and others have all proven it's possible.
In particular, there is one guy at this year's camp who has a shot of following the career archetype of the greats listed above…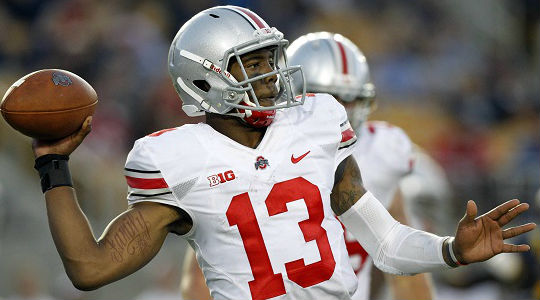 Stay with me as I make the case for Kenny G. I know the Bills don't have a need for a QB as long as EJ Manuel is on the roster and healthy, but as every Bills fan regrettably knows, health was an issue in 2013. Even the backup QBs currently on the roster that saw playing time in place of the injured Manuel had injury issues of their own.
In addition to that, the Bills invited Guiton to camp which means they must see potential in him as a competent backup QB. Perhaps Guiton could take the spot of a QB currently on the roster with a strong showing in rookie minicamp. If you're unfamiliar with Ohio State football you might not understand what exactly they see in him, but let me help you with that.
Let's start by taking a look at his measurables from his Ohio State Pro Day:
Height: 6'2″
Weight: 204 pounds
40-yard dash: 4.78 seconds
Vertical jump: 31 inches
Broad jump: 9'09
3-cone drill: 7.36
20-yard shuffle: 4.28
Guiton has decent size, decent speed and decent strength. Nothing to wow you right away, but the outline of someone who can partially fill the prototypical NFL QB mold. Where Guiton differentiates himself is in his intangibles.
He was a career backup QB at Ohio State and excelled in that role. It's not often you find a QB who is already accustomed to doing that, but potentially good enough to play in the NFL. When starting two games for an injured Braxton Miller in 2013, he casually put up stats worthy of a Heisman by completing 69 percent of his passes with 14 touchdowns and only two interceptions. Guiton also gained 330 yards on 40 rush attempts while scoring five rushing touchdowns – a true dual threat.
While it is far from a sure thing that Guiton will make Buffalo's roster or ever see playing time outside of the preseason, at least you know more about Buffalo's only QB at rookie minicamp and the potential he possesses.