Well the moment we've all been waiting for came and went in what seems like a blink of the eye, despite it being stretched over a three day period. The 2014 NFL draft is in the books.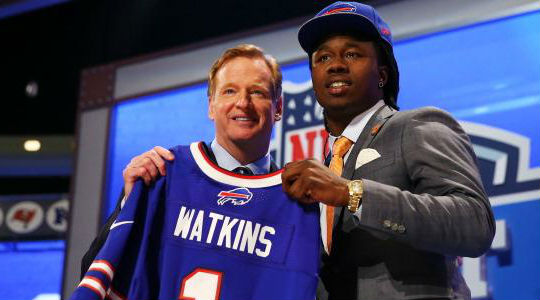 Now those of us who were already over-anxious for the season to begin are stuck watching Sammy Watkins highlights and fantasizing about how good he'll be in the red, white and blue color scheme of his childhood favorite Buffalo Bills. Madden football's Twitter handle, @EAMaddenNFL,  is also adding to my anxiousness by counting down the days until August 26 when I can play Madden 15 and tear up the Pats defense with Watkins for myself.
This is a beautiful sight for all @buffalobills fans who play Madden! #NFLDraft pic.twitter.com/xNSy9usbKf

— EA SPORTS Madden NFL (@EAMaddenNFL) May 9, 2014
Until then, talking Bills football with the BillsMafia will get me by.
Immediately following the draft, analysts first try to evaluate the 2014 draft for each team as a whole. They base this on a number of factors: what they perceived the team needed, whom they drafted, and what round the player was drafted compared to where they had them ranked as prospects. Using this criteria, I've taken a crack at grading the Bills' 2014 draft and in my opinion it is a B+.
1st Round: A
The Bills traded up five spots with the Browns to select Sammy Watkins at No. 4 overall. There is no question Watkins was the most talented offensive weapon in the draft. I loved Mike Evans too as evident by my discussion of the two in this Bills Mafia post, but Watkins was the better option due to his dynamic speed, greater versatility shown in college and a broader more polished route tree.
Giving up 2015 first round and fourth round picks in addition to the No. 9 pick in 2014 – which Cleveland then traded to move up to No. 8 and draft Justin Gilbert – seems like a steep price. However, it is not as bad as what Atlanta paid to move up for Julio Jones, just nobody talks about it. That's because the Browns essentially missed on every single additional pick they acquired except Phil Taylor possibly, and the more the Bills improve this season, the more diminished the value of those picks become.
2nd Round: B
The Bills traded down with the Rams three spots from No. 41 to No. 44 and were still able to get a first-round talent at OT in Cyrus Kouandjio. Kouandjio will most likely be a RT for the Bills and has a very good chance of being a starter in his rookie season. The trade down also netted the Bills an extra fifth round pick which was used to draft an interior lineman in Cyril Richardson. So with one trade the Bills adequately addressed two issues on their offensive line and got potential improvements over their current starters. There are some questions about Kouandjio that he'll have to answer before I'd be willing to rate this round any higher.
3rd Round: B
The Bills took an inside linebacker, which I was happy to see, and Preston Brown has some solid measurables for the position. He gives the Bills added depth at ILB and should be impactful against the run when he sees the field. He probably can't play three downs, but not every linebacker has to be able to so. If the Bills use him as a two-down run stopper, it'll be a good pick.
4th Round: B
I think Ross Cockrell was a bit of the reach, but DBs were being drafted at a faster pace than expected. The Bills landed a big corner with solid speed and great ball skills. Cockrell could see some playing time at corner this season, but will mostly contribute on special teams.
5th Round: B+
The Bills traded out of their first fifth round pick with the Buccaneers and picked up a 2015 fifth round pick and additional seventh rounder in 2014. Their second 5th round pick, acquired from the Rams, was used on Cyril Richardson, who has the possibility of starting even as a rookie because the talent is there. I think Richardson could have gone late third-early fourth round if he had had a good Senior Bowl.
7th Round: C+
The Bills got a couple of project players at positions of need in LB Randell Johnson and OT Seantrel Henderson. This is all you can really hope to accomplish with seventh round picks, but they doubled down on positions they already addressed in this draft. I would have rather they went after secondary help in Lonnie Ballentine or a project TE with great upside in Blake Annen.
The Seantrel Henderson pick was not the Bills' original pick though as they were involved in a swap of picks with the Eagles to acquire Bryce Brown via trade. The Bills also sent a conditional 2015 pick to the Eagles. The grade of this move will have to be determined depending on what pick the Eagles actually get, but I love the addition of Brown to the Buffalo backfield. I wanted the Bills to get a backup plan at RB in this draft and they did it, even without drafting one.
BillsMafia, what are your thoughts? – How would you grade Buffalo's 2014 draft?