With the first round of the 2014 NFL draft airing tonight, I decided to reflect on the best first round picks made by the Buffalo Bills (with one exception). The Bills have selected four members of the Pro Football Hall of Fame and made a lot great selections between 1983-1991.
This list is very subjective. Don't agree with my picks? Let me know your top ten in the picks below. Here are my top ten 1st round draft picks in Buffalo Bills history.
10.) Carl Eller, DE, Minnesota – 1964 draft, 5th overall:
Carl Eller had a Hall of Fame career, it just wasn't with the Bills. Instead of Buffalo, Eller went to play for the Minnesota Vikings in the NFL as the Bills were in their fourth year of the existence in the AFL. Eller was enshrined in the Pro Football Hall of Fame in 2004 and was a part of the Purple People Eaters defensive line group. It can be implied that the drafting of Eller set the precedent for Buffalo's future. Eller, their fourth first round pick, went to four Super Bowls and never won one.
9.) Nate Clements, CB, Ohio St. – 2001 draft, 21st overall:
Clements sits seventh in career interceptions (23) and is tied for first in interceptions returned for touchdowns (5) in Bills history. He played half his career, six seasons, with the Bills and formed a shut down tandem with fellow Buckeye and first round pick Antoine Winfield for two seasons. Currently 10th on Buffalo's all-time tackles list, Clements last played in 2012 with the Cincinnati Bengals.
8.) Henry Jones, DB, Illinois – 1991 draft, 26th overall:
Jones played 10 seasons with the Bills and made the postseason seven times, only missing the first Super Bowl by a year. Henry is 14th in team history for interceptions and fourth in solo tackles.
7.) Eric Moulds, WR, Mississippi St – 1996 draft, 24th overall:
Moulds played ten years with the Bills and during that time he recorded four 1,000 yard receiving seasons. He stands second in receptions, receiving yards and receiving touchdowns, trailing only Andre Reed in Bills history. Moulds made three Pro Bowls and made three playoff appearances with Buffalo. He was always reliable and a top target for the Bills for eight consecutive years.
6.) Jerry Butler, WR, Clemson – 1979 draft, 5th overall:
Butler played his entire career with the Bills and was the go-to receiver for quarterback Joe Ferguson. When he retired, Butler was third all-time in career receptions, receiving yards and touchdowns for the Bills.
5.) Joe DeLamielleure, OG, Michigan St-1973 draft, 26th overall:
DeLamielleure, the leader of the "Electric Company," helped paved the way for O.J. Simpson's 2,000-yard season. He was a player that blocked for two league MVPs (Simpson the first), was named to the Pro Bowl six times, and inducted into the Pro Football HOF in 2003.
4.) Cornelius Bennett, LB, Alabama – 1987 draft, 2nd overall:
Although he wasn't drafted by the Bills, Bennett was acquired in the Eric Dickerson three way trade between the Indianapolis Colts, Bills, and LA Rams. Bennett combined with Bruce Smith to create havoc on opposing offenses for nine years. In Bills history, Bennett ranks third all-time in career tackles and fourth in sacks. He was a five time Pro Bowler in his nine years in Buffalo.
3.) O.J. Simpson, RB, USC- 1969 draft, 1st overall:
During his nine year run in Buffalo, Simpson was beloved despite playing on one playoff team (1974). He was the first rusher in NFL history to go over 2,000 yards in a season. Simpson won the league's MVP award and also won four rushing titles as a Bill. He was elected to the Pro Football HOF in 1985. There's no denying that Simpson was one of the best players in the team's history.
2.) Jim Kelly, QB, Miami- 1983 draft, 14th overall:
Kelly was the second of two first round picks by the Bills in 1983. He played his first two professional seasons in the USFL before joining the Bills in 1986. Kelly soon took in the AFC East division and helped Marv Levy revolutionize offensive play with the K-Gun offense. Named to the Pro Bowl five times and elected to the Pro Football Hall of Fame in 2002, Kelly played his entire 11-year career in Buffalo and holds all the major passing records within the organization.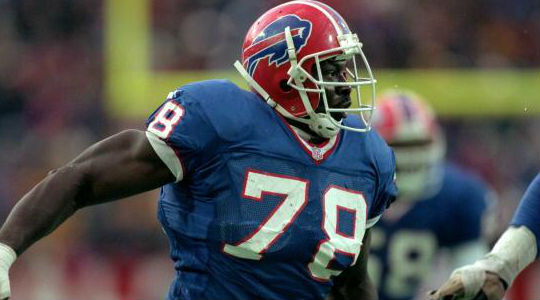 1.) Bruce Smith, DE, Virginia Tech – 1985 draft, 1st overall:
Smith played 15 years with the Bills and during that time he went to the Pro Bowl 11 times. Currently, Smith is in the Pro Football Hall of Fame and is a Wall of Fame member. Smith accumulated 171 of his NFL leading 200 career sacks while in the red, white and blue. He was the tone setter for Buffalo's defense that made four consecutive Super Bowls.
If we're lucky, 15 to 20 years from now Buffalo's 2014 first round pick will be added to this list.