Christmas is pushed back until the second week of January. The pope wouldn't try to pull such a devious calendar switcheroo. But the pope doesn't think he's Roger Goodell. Intrigue regarding what sort of team the Bills plan to field will finally be clarified starting tomorrow. What took so long? Oh, right: a commissioner tried to commandeer the space-time continuum.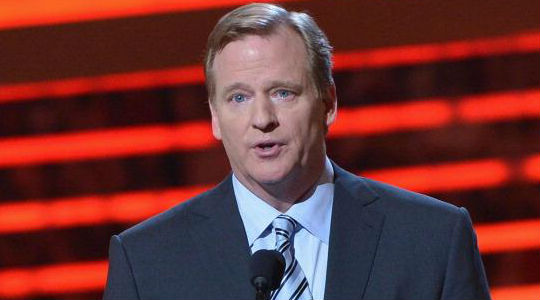 The era of mocking mock drafts is finally over. Almost. Learning about the postponement of the biggest moment in an excruciatingly long offseason felt like showing up to Wally World to discover it's closed. In this case, taking a security guard hostage wouldn't help.
It could be worse, so feel grateful. Next, watch this league compensate for the interminable pre-draft interval by adding another week between the conference championships and Super Bowl. That would shorten the present hiatus, right? There's nothing harsher than being made to learn appreciation through waiting. Maybe you need another week to reinforce the lesson.
We'll never get back these moments. These are wasted special hours that could have been spent allowing rookies and teams to get mutually familiar. Instead, the league is making everyone pause before starting relationships. Why spend so long being lonely? It's not as if the NFL's overlords created more fun with the rejiggering: there's still only the one draft even with the delay. They're not giving you something extra by moving an event to a later date.
The extended narrative leaves fans wondering if the Bills will address their biggest need, not to mention what they think that need is. Or, they could fortify their present stockpile if it means adding a prospect whom they deem the best of those remaining. Either way, the tension just isn't stretched long enough, which is why the NFL might have to make what used to be done in a weekend last for the majority of a week.
They haven't yet extended the draft into the season, but Goodell presumably isn't done messing with the schedule yet. I guess it would allow teams to analyze needs at halftime and pick players accordingly.
General managers have been forced to maintain a poker face a little longer. Hopefully, Doug Whaley has been a filthy liar every time anyone has asked him about any prospect or position, as convincing others who hold the same job title that he's a lunatic willing to try anything is the key to deception. Try to convince others the Bills plan to add both Clowney and a quarterback? Sure, why not? Next, Whaley should spend the remaining hours before draft kickoff announcing that his strategy is to add as many centers as possible. That crazy bastard might be on to something.
At least the lull's end means the next batch of downtime won't seem quite as endless. A late draft means there's less time between now and training camp if I'm correctly interpreting the way time progresses, which is the sole benefit of this extended fast. Seemingly endless debates about which player to select will thankfully soon be as obsolete as wondering if any other franchise really wants to deal for the ninth pick.
No matter how excessively long the inhumane moratorium was, we made it. It's almost time for the excitement of learning which fresh faces will join our side. Let's get wound up. Make sure to schedule a high-five with me if you're in Manhattan for the draft; call the BillsMafia Hotline to learn which item of team apparel I'll be wearing that day on which Midtown corner. I don't recall the number offhand, so just sing the Shout song at anyone in Gotham sporting a charging buffalo logo. They'll undoubtedly appreciate the enthusiasm.