Running backs are receiving no love in the prospect rankings for the 2014 NFL draft. A multitude of factors are contributing to this: The pass-happy nature of the NFL, the success of using a two or three running back platoon and the lack of consistent production from even the best rushers in the NFL. Making matters even worse is what I like to call the Trent Richardson Effect.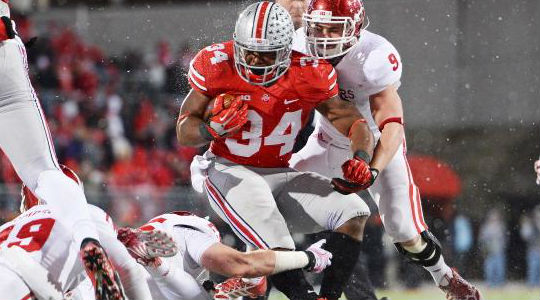 I'm not one to kick a guy while he's down, and I still think Richardson can figure it out, but the fact of the matter is right now T-Rich is a bust. When you go No. 3 overall and wind up traded to a new team just two games into your second season for the No. 26 overall pick of the 2014 draft, what else can you call it?
As we all know, the Browns drafted Richardson in 2012 behind Andrew Luck and RGIII. What the average fan probably doesn't realize is that with the last two picks of the first round, two other running backs were selected in Doug Martin and David Wilson. While the verdict is still out on Wilson, Martin was phenomenal before his injury. Both men arguably have brighter futures than Richardson.
In 2013 the Trent Richardson Effect got even worse. It resulted in not a single running back being taken in the first round, even though there were some worthy first round contenders in Giovani Bernard and Eddie Lacy. These two players were considered steals in the draft because of the success they had in their rookie seasons versus where they were drafted.
What does any of this have to do with the 2014 draft class? Teams are now even more likely to not want to risk getting burned on a first round running back when they could just wait and get someone as good if not better in later rounds.
That's why I think running back could produce the biggest steal of the draft this year. It is also why I think the Bills would be wise to be the first team to pull the trigger on a running back in the second round.
Who is the best back? In my opinion, it is Carlos Hyde. His numbers might not jump off the page until you consider he missed three games, and only had 5 attempts in another. Let's say he gets only his average yards per game in those four games and suddenly you're looking at a 2,000 yard running back.
Yes, the Bills have C.J. Spiller and Fred Jackson, but neither can stay on the field long enough to be as good as they should. It pains me to call out one of my favorite Bills in Spiller, but it's the truth. However, if Spiller stays healthy and has a great 2014 season he could opt out of his contract and demand more money than the Bills might be willing to pay. Then you have Jackson who is 33 years old and likely only has a year or two left as a player good enough to be a No. 1 running back in the NFL. Suddenly you realize RB is a lot bigger need than you might have thought.
Enter Hyde as a solution. He could be a rock in the Bills backfield for years to come with a rare blend of speed and power and above all else, the coveted "Beast Mode" made famous by Marshawn Lynch. Don't believe me? Check out this run vs. Iowa.
Additionally, few other running backs in this draft will be able to handle the workload the Bills would eventually give him and continue to get better with each touch. Sometimes we are unappreciative of this trait in the spread out speed offense of the NFL, but when you run the ball as much as Buffalo it is a necessity. Getting some insurance at running back with a second round pick – especially someone with Pro Bowl potential like Hyde – might just be the smartest thing they can do in this draft.
Thanks to Ryan Talbot for asking this question on Twitter:
How many #Bills fans would be upset if the team drafted Carlos Hyde (or any other RB for that matter) in Rd 2?

— Ryan (@RyanTalbotBills) April 28, 2014
It got me thinking about the Trent Richardson Effect and if the Bills should go RB with their second round pick in greater detail. What do you think BillsMafia, should they consider it?